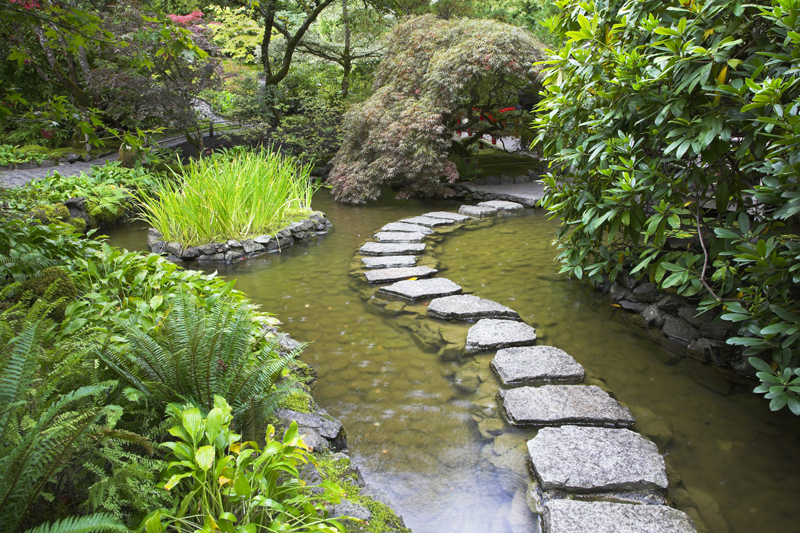 The really hot days of summer are now behind us. Before all the memories of the growing season fade, think about the changes you might want to make next year. If the landscape became neglected once the summer became increasingly warm, you might want to cut back next year on the number of bedding plants. As an alternative, you could create shade gardens.

Because I try to avoid working outdoors in direct sun, I prefer to create garden beds in partial to full shade for my own comfort. With proper planning, it is possible to have entire borders in the shade.

Wooded areas with trees and shrubs feel cool for two reasons. First, large woody plants create shade. In addition, the plants have a cooling effect as they carry out transpiration.

Realize that areas with any kind of structure or hard paving will be somewhat warmer than the area surrounding it. These materials store and transmit the heat back, thus raising the ambient temperature.

While considering which areas are suitable for shade gardens, determine the kind of shade that is present. Is it filtered by trees? Is it light, medium, heavy, or complete shade?

Also, check the soil to determine whether this is on the dry side. If you plan on planting in dry shade, be prepared to water the plants when necessary. For such areas, I would plant only those adapted to dry conditions.

Plant selection should be done after you have evaluated the site. When selecting plants, observe the recommendation for the appropriate moisture level and light needs. Plants adapted to full sun in other parts of the country may do perfectly fine in partial shade in the South and Southwest. This helps to reduce heat stress on the plants.

I've found it is easy enough to tell whether a plant in the shade is getting enough light. If it is leaning into the sun and getting stretched out of shape, it isn't fully adapted to shade. This one would rather have more
sun.

Once proper plant selection and planting is done, water as often as needed until the plants have settled in. I've found on hot dry days that even shade plants may need watering. You can't rely totally on rain. It is harder for the rainfall to reach within the drip line of tall trees and shrubs where the plants are growing.

Concerning plant selection, you will find examples of shade tolerant species in every plant group. There are trees, shrubs, vines, perennials, and annuals as well as ground covers. For evergreen shrubs, the Oregon grape hollies (Mahonias) and hollies do very well. A number of vines do well in the shade, including English ivy, periwinkle, and clematis.

Among the ground covers, I have had good luck in partial shade with paxistima, liriope, pachysandra, daylilies, and the Alpine strawberries.

Whether you are expanding a shade garden in the landscape or creating a totally new one, you'll get great enjoyment from these gardens. They become an oasis on hot days.




Related Articles
Editor's Picks Articles
Top Ten Articles
Previous Features
Site Map





Content copyright © 2022 by Connie Krochmal. All rights reserved.
This content was written by Connie Krochmal. If you wish to use this content in any manner, you need written permission. Contact Connie Krochmal for details.