Theme Gardens for the Landscape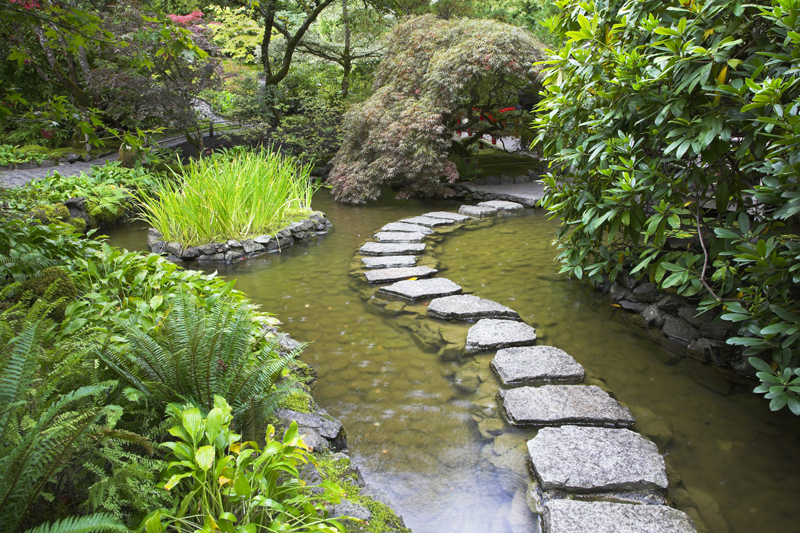 Suppose your taste runs to lanky, overgrown hollyhocks, sweet peas, balsam, and flowering tobacco. Is there a way to combine these to create an attractive landscape? Yes, if a cottage garden theme is used. Cottage gardens are only one type of theme that can be used to create special kinds of gardens throughout the landscape. Such specialty gardens exist to meet specific needs or interests. I might have an interest in moon gardening or dye gardens, while someone else prefers a curbside garden for that ugly place near the street entrance.

Some garden themes are related to a particular style, period, or plant group. Concerning historical gardens, the styles seen most often are the medieval, colonial, and Victorian. However, I'm also seeing a lot of interest in the Moorish style, which uses water features and courtyards for creating cool, shady places in hot parts of the country.

Another international influence that is increasing rather than diminishing is the Asian, particularly Japanese. Again, as with the Moorish, this is more pronounced on the West Coast. But it is being modified to suit the needs of gardeners in the East.

I've also seen expanded interest in butterfly, hummingbird, and bird gardens for a decade or more. As the environment becomes more developed, these allow us to connect with nature.

Yet another area of development has been the tremendous interest in craft gardens. As we moved closer to the millennium, which actually began in 2001, people became immersed in crafts and Do-It-Yourself projects of all sorts. Craft gardens include dye gardens, fiber gardens for papermaking, and herb gardens.

One of my favorite theme gardens is the fragrant garden with either aromatic foliage or flowers. A number of mail order catalogs note which plants are scented.

Our do-it-yourself attitude also leads to the creation of mazes and sanctuary or spiritual gardens. Mazes are associated with medieval times when spirituality was seen as a major influence in society. In the past, a spiritual garden might have meant a biblical garden in which one grew plants of the Holy Land or those mentioned in the Bible. Now the emphasis has expanded greatly in scope to include all aspects of physical, psychological, and overall healing.

The healing effects of nature and plants have been a common theme from Greek society to the gardens created by William Morris, founder of the Arts and Crafts Movement, for his factory workers. What is new is the recognition of the effects plants have on people thorough scientific research. Within the last 25 years or so, horticultural therapy finally received the credit it deserved.

Biblical gardens have long been a popular garden theme. By choosing flowers and plants carefully, you can have a pretty authentic Biblical garden. It will help if you have a reference on the subject. "Food at the Time of the Bible-from Adam's Apple to the Last Supper" by Miriam Feinberg Vamosh from Abingdon Press is an excellent guide to Biblical gardening and history. Beautifully illustrated in full color, this features authentic recipes, foodlore, dining customs, and in-depth agricultural history focusing on what was grown and used during the period.

The author presents the intriguing culinary history and the individual ingredients with quotes from the Scripture. The book emphasizes seven species grown in the Holy Land. Several of these are suited to warmer regions of the U.S., such as dates, olives, figs, and pomegranates. An entire section is devoted to grapes and wine making. There is also a section on Biblical weights and measures. Many of the recipes feature common flavorings still used now, such as black pepper, cumin, mint, cinnamon, and cardamom.



Based on our personal needs and interests, we can create gardens that meet our needs and expand our knowledge.



Related Articles
Editor's Picks Articles
Top Ten Articles
Previous Features
Site Map





Content copyright © 2023 by Connie Krochmal. All rights reserved.
This content was written by Connie Krochmal. If you wish to use this content in any manner, you need written permission. Contact Connie Krochmal for details.