The Kitchen Garden Yields Home Grown Produce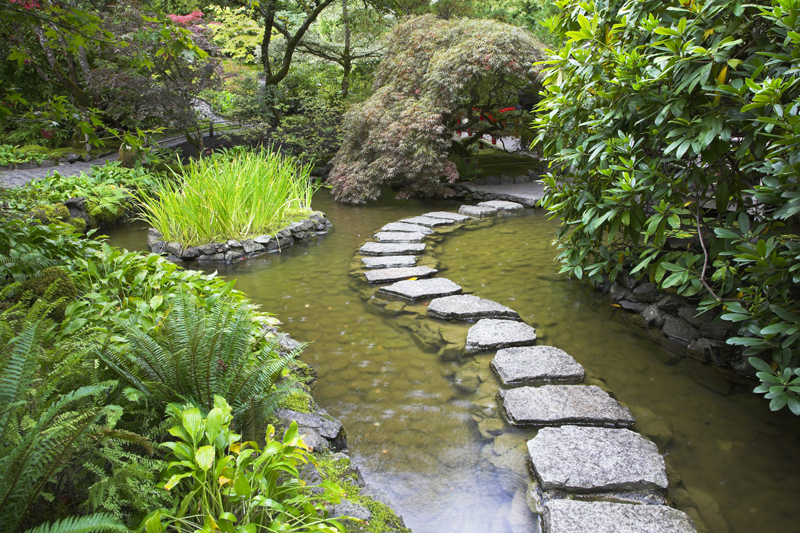 A well-planned kitchen garden containing a variety of vegetables, herbs, and edible flowers is the solution to quick meals. This is one reason we need to set aside some space in our landscapes for these edible crops. In addition to traditional kitchen gardens, we can also grow these edibles in
container gardens as well by using dwarf varieties. Some vegetables, such as colorful Swiss chard, is an ideal choice for flower beds.

A colorful stir-fry of fresh garden veggies can be prepared and cooked in very little time. Just as important, this dish will be very beautiful to serve if it is made with colorful Gourmet Burgundy swiss chard, bicolored green and yellow scallop summer squash, golden and red sweet peppers, and broccoli.

An ordinary tossed salad will be so much more attractive and nutritious if it is dressed up with some shredded purple cabbage and beets. For extra color, garnish with red Swiss chard and long, elegant, but ever so hot Kung Pao peppers.

When time permits, use garden produce as garnishes for both cooked dishes and salads. For an especially elegant touch when entertaining, decorate homemade ice bowls with produce from the kitchen garden. Fresh herbs, and edible flowers like pansies are particularly nice when sealed in ice. These ice bowls are easy to make if you have a series of nesting glass bowls. For cold seafood salads, I would use an herb like dill around the top of the ice bowl. A homemade watermelon sorbet would look lovely served in an ice bowl rimmed with orange pansies.

If time permits, surplus garden produce should be preserved for use later. Chile peppers are very easy to dry if they are strung together to form a traditional riastra. For an even more colorful touch, intermingle yellow pepper varieties with the red.

Hot chiles aren't the only peppers that are ideal for drying. Special varieties of sweet red peppers are used to prepare traditional style Hungarian paprika. This is made by drying and grinding these peppers.

Instead of letting those zucchini go to waste, harvest them when they are very tender and use them for pickles. For an even more attractive pickled dish, use the summer squash along with cucumbers, onions, red and yellow bell peppers for mixed pickles.

For home grown fruits, the same approach works. I've eaten delicious jams made from mixed fruits, such as blackberries, elderberries, rose hips, and plums.

The reason most gardeners raise their own vegetables is because they say the ones you buy in stores are either tasteless or aren't fresh. Some varieties of heirloom vegetables are still around because gardeners found these to be more flavorful.

As far as I'm concerned, rhubarb is one of the best spring garden treats. If there is a downside to this crop, it would be the fact that the season is just too short. Rhubarb fans will find "Rhubarb-More Than Just Pies" by Sandi Vitt et al with an introduction by Lois Hole is one of the most useful books around. This definitive guide was published by the University of Alberta Press.

This contains easy to make recipes for every sort of dishes from sauces and condiments to jams, soups, drinks, breads, and of course desserts. The ingredients are given in metric as well as the usual cups, spoons, etc. In addition, this contains everything you would ever want to know about rhubarb, such as its culinary history. This title features all the in-depth details on growing and caring for rhubarb in the garden, including the different varieties.

For the edible landscape, the best title by far is "Vegetables, Herbs, and Fruit-an Illustrated Encyclopedia" by vegetable specialist Matthew Biggs, herb expert Jekka McVicar and organic gardening expert Bob Flowerdew. This comprehensive guide from Firefly Books contains everything you need to know to grow, harvest, and use garden produce. Among the crops are 70 or so vegetables, 100 fruits, and 100 herbs. This is suitable for novice and experienced gardeners alike. For each specific crop in the A-Z entries, this includes details on its history and origins, the different varieties, how to select, cultivate, and store the crops. There is even information on the plants' medicinal uses. This title is fully color-illustrated with over 1800 photos and illustrations, including scrumptious dishes. This title emphasizes organic gardening methods with companion planting and organic tips from Flowerdew. All the different types of fruits are given their own section, including tree fruits, tender fruits, and soft fruits. There is even a chapter on nuts. In addition, this helpful title also contains all the basic gardening how-to novice gardeners need along with a calendar listing for the various garden activities. The appendix features a glossary as well as a list of seed sources.



Related Articles
Editor's Picks Articles
Top Ten Articles
Previous Features
Site Map





Content copyright © 2023 by Connie Krochmal. All rights reserved.
This content was written by Connie Krochmal. If you wish to use this content in any manner, you need written permission. Contact Connie Krochmal for details.