The Many Faceted Prickly Pear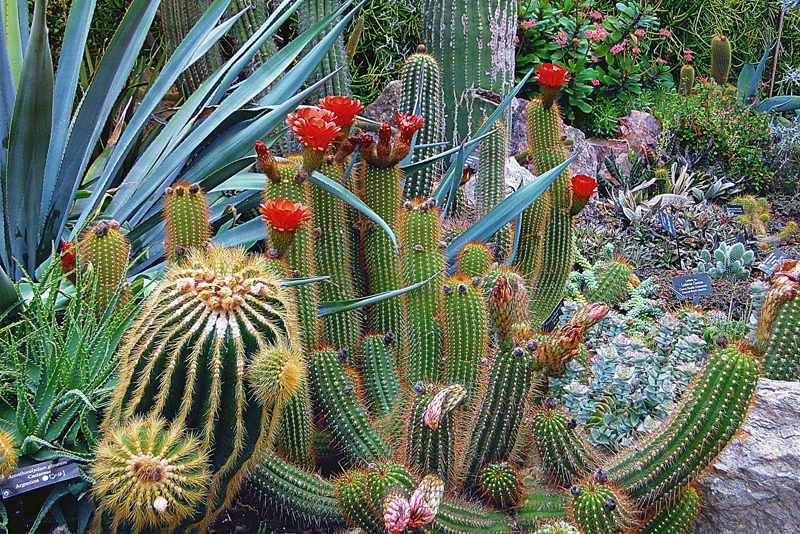 The prickly pear plant is familiar to many gardeners. Though these may be more common in the Southwest, they also occur in the East.

This plant can survive under harsh conditions, such as drought and salt spray, and flourish with minimum care. Native to the New World from New England to the tip of South America, and all over the West Indies, it has long since become established in Europe, China, and Australia as well as other parts of the world.

The plants are well suited for use in rock gardens, on open sloping banks, along shores, and waste areas. They take full to partial sun, and prefer a well-drained, sandy soil. The fruits are generally edible, and reach commercial markets from time to time. In parts of Europe, I seen the spines scraped off and the green, flat pads chopped and eaten as salad.

Historically, this was the source of a natural dye, called cochineal. The insects fed on the plants. Then, people collected the insects to extract a bright red dye. This was used for clothing, ornamental hangings, and other purposes.

The dye was so precious to the Aztecs that Montezuma collected it as part of the tax or tribute paid annually. The conquistadores took some of the insects back to the Canary Islands, and established an industry there. In some areas, vast fortunes were made. During colonial times, there was an unsuccessful attempt made to establish a cochineal industry in Georgia and South Carolina.

Around 1787, English settlers sailing to Australia carried some prickly pear pads in their luggage. They had hoped to raise cochineal for use in the royal uniforms. The cactus thrived, but the insects didn't make it in Australia to the degree they had hoped. As a result the plants actually became a real pest and invasive plant when it naturalized. To control it, a moth was introduced from Mexico that would eat the plants and control their growth.

Propagation of prickly pear is very simple using seed or pads. The seeds should be planted very shallowly.

The pads should be allowed to dry for 24 hours before planting in a light, sandy potting mix. For best results, keep the pot in a shady spot until rooting takes place. This occurs within about eight weeks.

There are many kinds of prickly pears. Some are native to the U.S., while others have been introduced. While most prickly pears do indeed have spines, a few do not. The flowers, which can be red, yellow, or white, are produced on the upper ends of the pear pads.

The multitude of uses for these plants is almost unbelievable. In the U.S., they were used by Spanish explorers, beginning in 1519. Cortes wrote of his men eating them during their long trek from Mexico. Native American used the plants for food and medicine. A tea made from the dried blossoms has been used as a diuretic. One folk remedy involves using the roots as a hair restorative.

In some parts of New Mexico, the roasted pads were placed on the neck to reduce swellings. Several Native American tribes used the plants to treat skin problems. In the Southwest, the plants were planted to mark property lines and as living fences to keep cattle from straying. In prolonged drought, ranchers torch the spines so the pads can be used as cattle feed, an approach used in Brazil as well.

In Columbia, a sticky gum similar to gum tragacanth was extracted from the pads. In some rural areas of South America, the fruits were mashed and allowed to ferment to create a very mild wine.

The plants now grow in southern Europe. In Europe, the pads were used to treat hemorrhoids and diarrhea.








This site needs an editor - click to learn more!


Related Articles
Editor's Picks Articles
Top Ten Articles
Previous Features
Site Map





Content copyright © 2023 by Connie Krochmal . All rights reserved.
This content was written by Connie Krochmal . If you wish to use this content in any manner, you need written permission. Contact BellaOnline Administration for details.