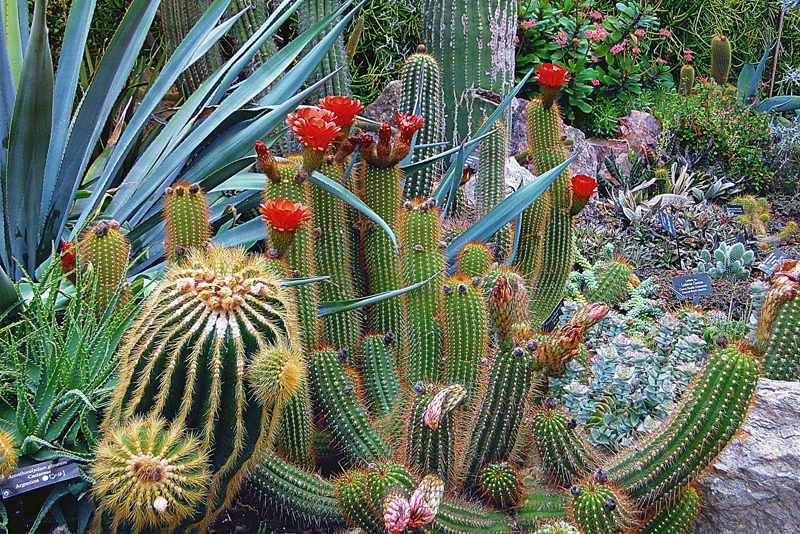 Of the night blooming cacti and succulents, the night blooming cereus is the best known. However, there are others as well. These are especially suitable for moonlight gardens.

Moonlight gardens featuring cacti and succulents offer interest from dusk to dawn. These gardens are often called commuters gardens since the daylight hours that could usually go to gardening are spent commuting to and from work. Typically, a moonlight garden contains either those species and varieties that bloom during the evening and night hours or have light colored blossoms that are visible in moonlight.

Night-blooming vines, such as the night-blooming cereus, can be trained on a fence or other support. Night flowering perennials, such as agaves and yuccas, can be used in flower beds and mixed borders to create moonlit gardens.

Avoid planting night bloomers too close to trees that might cast a shadow at night when the moon is out.

Many night blooming plants are tropical ones with a few coming from cold, temperate climates. In warmer areas, the night blooming cereus and saguaro cactus are suitable for moonlit gardens. The hedge cactus is a night blooming species. Its blossoms are over a foot or so in diameter.

So far as the plants are concerned, there are reasons that they tend to bloom at night. That is when their pollinators tend to be active. Among these are bats and night flying moths. Both play important roles as flower pollinators since night-blooming flowers are open when bees and most other insects are unavailable.

Most night blooming plants have white flowers and extra fragrance, making their detection by pollinators easier. The white flowers lack honey or nectar guides, lines which are visible in the ultra-violet light of day to bees and other insects that normally collect the nectar and pollen during daylight hours.

The fragrance of a few night-blooming flowers has been described as somewhat unpleasant, but bats don't seem to mind. It is thought that some insects, such as carrion beetles, attracted by the fragrance, may become trapped when the flower closes up during the day, but are usually able to escape when the flowers open again the following night.

Some of the night blooming plants give off a form of heat and warmth, which make them attractive to insects.

Bats play a crucial role in pollinating many of the large, cup-shaped night blooming flowers found in warmer climates. There are around 200 different groups of tropical plants that are dependent upon bats for pollination. These blossoms are often called bat flowers since they all have so much in common. They are nocturnal, yielding large amounts of nectar which attract nectar-eating bats, and large amounts of pollen which the bat often gets on its face as it drinks the nectar.

Opening times for the night blooming flowers vary from one species to another. The night blooming cereus is the most spectacular, usually opening after ten p.m. Although the individual flowers of the night blooming cereus only remain open for one night, the plant produces a large number of flowers over a period of time. This eagerly-awaited event is often captured by photographers.

Some of the orchid cacti (Epiphyllum) are night blooming as well.

Most of the night blooming plants can be recognized by their common names, such as the night blooming San Pedro, queen-of-the-night, and lady of the night.

Some other plants that tend to open initially during the night aren't as well known. The agaves and yuccas are examples. The same is true for the giant saguaro cactus. Though they may emerge during the dark of night, these remain open the following day. In fact, both bats and honeybees end up feeding on saguaro cactus blossoms on different shifts.




This site needs an editor - click to learn more!


Related Articles
Editor's Picks Articles
Top Ten Articles
Previous Features
Site Map





Content copyright © 2023 by Connie Krochmal . All rights reserved.
This content was written by Connie Krochmal . If you wish to use this content in any manner, you need written permission. Contact BellaOnline Administration for details.