Miniature Cacti and Succulents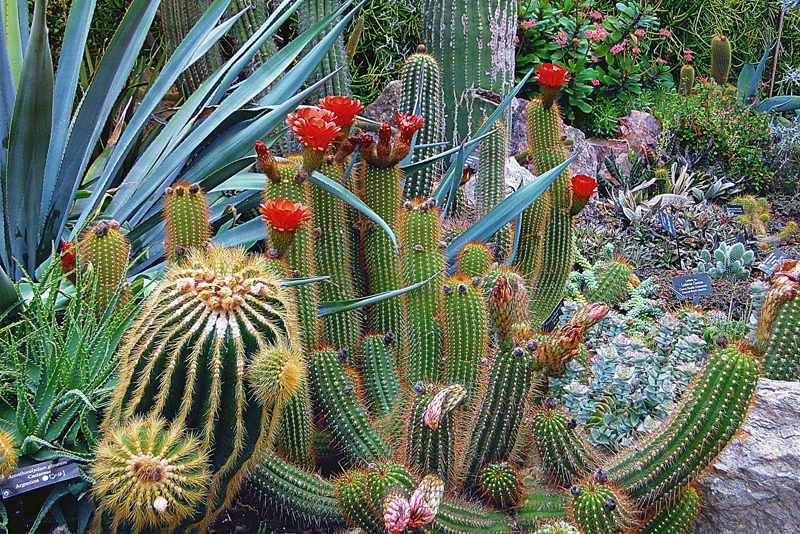 For dish gardens and indoor container gardens, we need small plants that don't grow out of bounds. There are a number of cacti and succulents that fulfill this need. These are often used as house plants, and are especially suitable for apartments and those with limited indoor space.

When you are creating these container gardens, be sure and use very porous soils. For dish gardens and mixed planters, choose ones the same rest periods.

Here are some suitable miniature species of cacti and succulents that are most suitable for growing indoors.

Cacti

The powderpuff (Mammillaria bocasana) cactus is a clump forming species. It is noted particularly for the white woolly hairs that smother the plants. Its blossoms range from pinkish to white.

The name lets you know what you're getting with the snowball pincushion (Mammillaria candida). Native to Mexico, this plant usually has a single stem. Occasionally, it will produce offsets. This white-spined species is extremely attractive.

Rainbow chin (Gymnocalycium baldianum) is one of the most commonly grown globe-like cacti. This species is especially free-flowering, and produces appealing red to pink blossoms.

Sand dollar (Astrophytum asterias) is one of the spineless, globe-like cacti. Since it has no spines, this would be a good choice if there are children in the household. Sand dollar features colorful yellow blossoms. It tends to be very slow growing. So, don't be in a hurry to repot it.

Succulents

Baby toes (Fenestraria rhopalophylla) is one of the most exquisite, smaller succulents. This features low growing, stumpy, finger-like cylindrical stems that form attractive clumps. The oversized white blossoms open from late summer into the fall months. The most remarkable thing about baby toes is the translucent windows at the very tips of the stems. These specialized structures allow the plant to receive plenty of sunlight even if the low stems are mostly covered by drifting sand. Baby toes needs a long winter rest in which it receives no water.

Fairy washboard (Haworthia limifolia) is best known for its attractive, pointed, lime green foliage. When wet, the leaves seem to glisten, which explains the common name. This grows in the form of a rosette. The flower stalks reaches over a foot in height, and feature small white blossoms.

Of the succulents, the gingham golf-ball (Euphorbia obesa) may not be the easiest to grow because it is easily overwatered. This species is particularly succulent, and can store more water than it needs. It is also called baseball plant or Turkish temple. Along its exquisite ribbed body are grooves and patterns that give it a checkered appearance, thus the name. Strangest of all is the small, knot-like growth at the very top. This globe-like plant is originally native to Madagascar and South Africa.

Partridge breast aloe (Aloe variegata) is a delightful, low growing stemless, aloe. The attractive, variegated foliage is dark green with transverse bands of white. Unlike some aloes, this has foliage arranged in three rows. Its lovely, reddish-orange blossoms appear in the spring. This species tends to produce offsets.

Pearly dots (Haworthia papillosa) is native to South Africa. This forms a sturdy rosette. Its lush, deep green foliage is beautifully decorated with whitish-green growths.

Split rock or cleft stone (Pleiospilos nelii) is native to South Africa. This is sometimes referred to as a living rock or stone. The leaves growing in pairs form split, globe-like structures that resemble rocks. On the surface this plant has dark raised dots. It produces spectacular yellow blossoms that open during the afternoon hours. Split rock needs a winter rest.

The wart plant (Haworthia margaritifera) is also called pearl plant. Native to South Africa, this stemless plant forms a rosette six inches across. The young leaves tend to curl inward. Once they mature, they start to spread out. The rich, dark greenish-black foliage has creamy pearl-like growths from which the plant gets its name. This produces white blossoms on a tall flower spike.

Window plant (Haworthia cuspidata) is also called star window plant. A native of South Africa, this features a star-like rosette of greenish-gray foliage. At the tips of the leaves are translucent windows for which the plant is named.

The zebra haworthia (Haworthia fasciata) is one of the most popular house plants. This forms a rosette that is only several inches in diameter. Unlike some haworthias, this one will tolerate some partial shade, which isn't true for many succulents. Its gorgeous, dark green foliage has white, warty-like growths appearing in bands, which explain its common name. This produces offsets.

This site needs an editor - click to learn more!


Related Articles
Editor's Picks Articles
Top Ten Articles
Previous Features
Site Map





Content copyright © 2023 by Connie Krochmal . All rights reserved.
This content was written by Connie Krochmal . If you wish to use this content in any manner, you need written permission. Contact BellaOnline Administration for details.