Cacti and Succulents for Coastal Gardens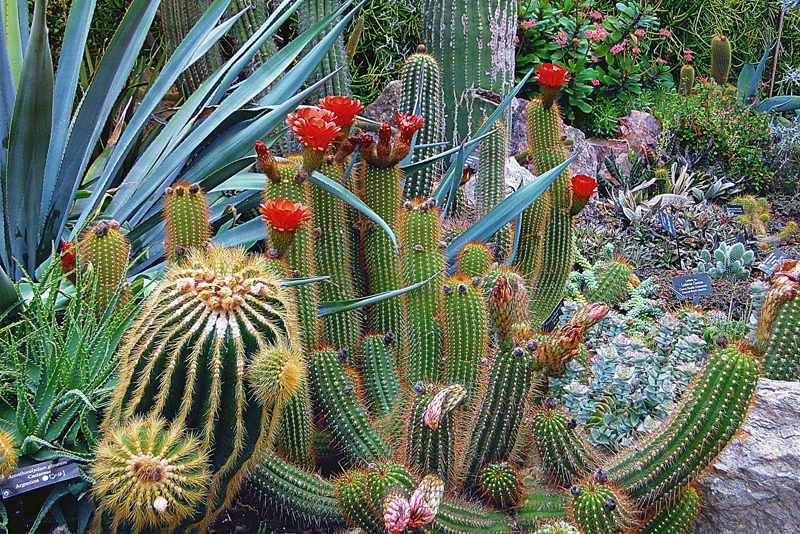 Tough places call for tough plants. For seaside gardens where the plants are bathed in salty air and windswept, choose salt tolerant cacti and succulents.

Many of the most popular cacti and succulents are indeed tolerant of salty conditions. Let's look at some of these. While some of the plants discussed here are winter hardy, others are more tender, only surviving in areas with warm winters.

For hanging baskets and containers, the moss rose or portulaca can't be beat in seaside gardens. This could also be grown as an annual in flower beds, as an annual ground cover, and in mixed borders.

Both the Agaves and the Yuccas are quite resistant to salt. These are about the best ever for seaside gardens. Some species/cultivars are hardier than others. Be sure and choose ones that are winter hardy for your area. The Agaves and Yuccas can be used in various ways along the sea. They often serve as accent or specimen plants. They can also be planted en masse to create hedges and borders.

The prickly pears or opuntias thrive in coastal areas. As with the Agaves and Yuccas, these vary in hardiness. There are ones to suit cold and warm climates. Prickly pears can be used as specimen plants much as we would a shrub. They can be used to create hedges and mixed borders as well.

Speaking of mixed borders, the Sedums are an excellent choice for seaside gardens. Often called stonecrops, these come in different shapes, sizes, and growth habits. For ground covers, choose the low growing, spreading ones. For flower beds and borders, use more upright types.

For warm climates, there are a number of other cacti and succulents that can be used along the coast. These include the hedge cactus or column cactus (Cereus peruvianus). This only tolerates moderate salt exposure. For that reason, plant it in a more protected area.

One of the most famous cacti is the night blooming cereus or Honolulu queen (Hylocereus undatus). This is a delightful choice for coastal plantings because it is salt tolerant.

In warm areas, gardeners can use a number of bushy euphorbias along the coast. Among these are the crown of thorns (Euphorbia milii), the milkstripe euphorbia or candelabra plant (Euphorbia lacteal), and pencil-tree or milk bush (Euphorbia tirucalli). All of these are very suitable shrubby landscape plants.

When looking at succulents, let's not forget the ever common snake plant (Sansevieria). This is quite tolerant of sea salt. It is often used as a ground cover, for mass plantings, and for low growing hedges as well as for perennial borders.

Gardens in colder climates can still grow some of these tender species in coastal areas in pots. For that purpose, the containers should be taken indoors during the colder months.

For coastal gardens, cacti and succulent lovers can mix and match their favorite plants with other species that tolerate salt. Some of these hardy, salt tolerant landscape species include shrubs like the Mugo pine, heaths and heathers, and others, such as the Rugosa rose. Among the perennials are the evergreen candytuft (Iberis), lavender cotton (Santolina), germander (Teucrium), sea pink or thrift (Armeria), sea lavender (Limonium), basket-of-gold (Aurinia saxatile), the various thymes, lamb's ears (Stachys), artemisias, and pinks (Dianthus).


This site needs an editor - click to learn more!


Related Articles
Editor's Picks Articles
Top Ten Articles
Previous Features
Site Map





Content copyright © 2022 by Connie Krochmal . All rights reserved.
This content was written by Connie Krochmal . If you wish to use this content in any manner, you need written permission. Contact BellaOnline Administration for details.