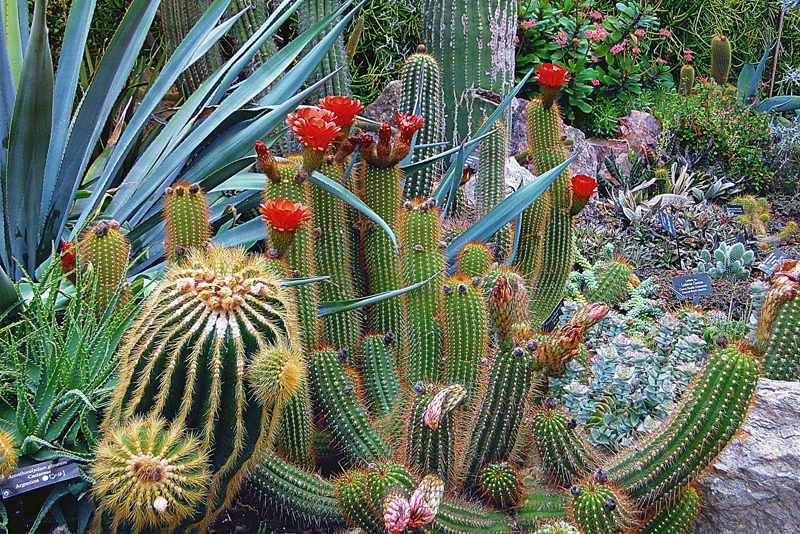 Something a little different—that's what cacti and succulent lovers are looking for. This explains why trough gardens have become so popular.

Whether they're genuine imported English trough gardens or homemade hypertufa ones, these containers are perfect for cacti and succulents. Most often, these are used as planters for patios, entryways, decks, and Japanese gardens.

Think of this as a rock garden in a container. Trough gardens look like stone. But, they are generally much lighter. These can vary in size from petite to extra large. As container gardens, they offer many advantage for cacti and succulents. These are easy to care for. Trough gardens planted with cacti and succulents will tolerate considerable neglect. So if you forget to water you don't have to worry.

Even in the worst winter, they won't freeze and break like untreated concrete or unglazed terra cotta pots. Troughs contain a sufficient number of drainage holes so that excess water will run out through the bottom. This gives cacti and succulents the good drainage they need.

Many gardeners may want to buy readymade troughs. Do-it-yourself types prefer to make their own. They are available in a number of garden catalogs as well as online. I have even seen them in larger garden centers.

Rock garden groups often offer classes on making troughs. These aren't hard to make, but they do need to be constructed properly. When you are making one, be sure and follow the proper safety precautions, such as wearing heavy-duty chemical-proof rubber gloves and a dust mask. You will be mixing Portland cement with other ingredients, and shouldn't breathe this fine dust.

After the trough is completed, it needs to cure for a certain amount of time. Then it can be hosed down carefully. After this step, the new trough is ready for planting.

So many cacti and succulents are suitable for trough gardens. For small troughs, you might be able to use tender species and take the trough into a greenhouse for the winter. However, this would be harder to do with large trough gardens.

For the most part, miniature and low growing plants are used, including cacti and succulents. It is possible to combine rock garden and alpine plants with cacti and succulents in the same trough so long as they all require the same growing conditions.

Sometimes, you can buy pre-planted troughs. I've seen beautiful ones planted with hardy sedums and sempervivums at my local garden center.

Think of a trough as a miniature landscape. This means you need to consider all the usual various landscape elements, such as form, texture, repetition, etc. when you are choosing your plants. Choose cacti and succulents with contrasting shapes, sizes, growing habits, textures, and colors that will be compatible and complement each other. Some with pendant stems planted around the edges look very nice.

Suitable cacti and succulents include Lewisias and others. These may be either flowering or foliage plants or a mixture of both.

Once you've chosen your plants, the next detail is proper placement in the trough. This is easy enough to do. Simply set the pots on top of the potting soil in the trough. Move them around until you get exactly the effect you want. Finally, remove the plants from their pots, and plant them in the trough.

For cacti and succulent lovers, garden troughs are a delightful change of pace.
This site needs an editor - click to learn more!


Related Articles
Editor's Picks Articles
Top Ten Articles
Previous Features
Site Map





Content copyright © 2022 by Connie Krochmal . All rights reserved.
This content was written by Connie Krochmal . If you wish to use this content in any manner, you need written permission. Contact BellaOnline Administration for details.