Cacti and Succulents for Period Gardens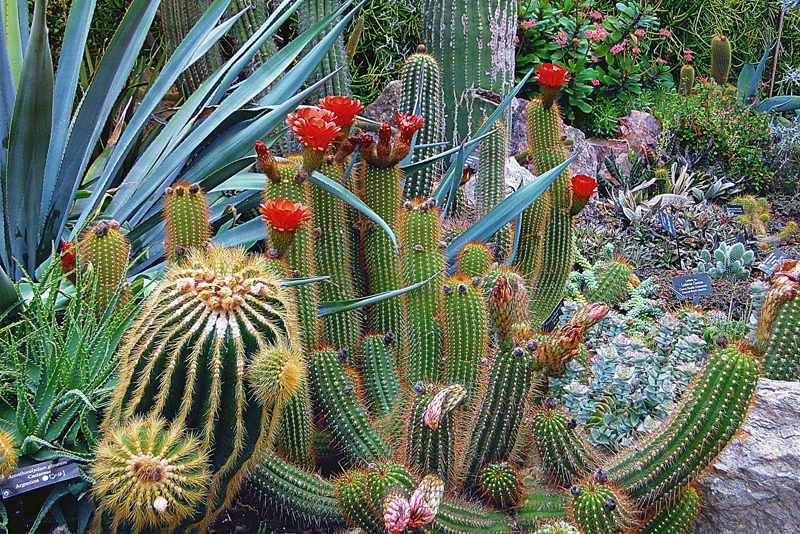 Cacti and succulents have long been popular garden plants. In fact, a number of these are heirloom plants that have been in cultivation for many years. This means they are suitable for heirloom or period gardens. I discussed the hows and whys of period gardens in an earlier article. In this one, we'll look at some suitable plants.

Agaves

Agaves were used in much the same way as yuccas. These gave an exotic or sub-tropical look to the garden. During the mid-1800's, gardeners grew both the tender and hardy agaves.

Sedums or Stonecrops

In America the sedums or stonecrops were commonly grown during the 1830's. Low growing ones were used for rock gardens. Sedums were also used during the Victorian era in colorful bedding plant schemes. These plants were appreciated for the colorful flowers and foliage as well as for their attractive growth habits.

It seems likely that most gardeners grew the ordinary species of stonecrop as opposed to the many named cultivars we now have available.

For example, I have several old seed catalogs that I use for reference. One is the Buist's 115th Garden Guide 1828-1943, published by the Robert Buist Company, which was based in Philadelphia. This catalog featured seeds of Sedum acre, which it called golden moss. A packet of seed sold for 25 cents.

I found another old catalog offering stonecrop plants. These were listed in a 1928 catalog from the H.W. Buckbee Seed and Plant Guide 1928 (the 57th year) from Rockford, Illinois. This was the garden catalog for both the Rockford Seed Farms and the Forest City Greenhouse. This particular catalog offered stonecrop plants (no species was specified) for 25 cents each, three for 70 cents, or a dozen for $2.50. All of this was postpaid.


Moss Rose or Portulacas

The moss rose or portulacas have long been a favorite container plant. This was definitely in use after the Civil War. It was featured in magazines of the period along with other flowering annuals, such as zinnias. This was grown in containers.

The Buckbee catalog sold seeds for two kinds of moss roses. These were single or double-flowering. Seeds for the single ones were cheaper. The single mixed seeds cost seven cents per packet, or l/8th of an ounce for ten cents. The doubles were a mix of flower colors, including white, yellow, salmon, or carmine. The catalog indicated these seeds had been collected from double-flowering plants. The double seeds were ten cents per pack or 15 cents for 1/8th of an ounce.

The Buist catalog offered seeds of both single and double moss rose. This catalog referred to it as rose moss or sun plant. The single mix seed costs ten cents per pack, or 50 cents for 1/8th of an ounce. On the other hand, the choice double mixed seeds were 15 cents per pack, and 40 cents for 1/16th of an ounce.


Cacti

The Buckbee catalog from 1928 offered seeds of cacti. However, it wasn't clear whether these were from tender or hardy plants. According to the catalog description, this was a good way to get new and rare varieties of plants from seed. The seed packets cost ten cents.

In addition to the cacti seed, Buckbee's also sold Christmas cactus plants. These had either scarlet or crimson scarlet flowers. This indicates that a lot of variously colored varieties we take for granted. The plants sold for 30 cents each, or three for 85 cents. This was postpaid.

Hen and Chicks

Also known as houseleeks, this perennial was grown as early as the 1670's in New England.

The Buckbee catalog offered seeds for hens and chicks, saying it was from mixed varieties. It described the plants as being four to six inches in height with bluish-green foliage. A packet of 40 seeds sold for ten cents.

The Spurges

Cypress spurge (Euphorbia cyparissias) was introduced to America during the late 1600's. It was quite popular during the reign of William and Mary. Blooming from May to June, it reaches about a foot in height. This species is noted for its distinctive, lime green floral bracts. The very slender foliage adds a nice soft texture to the landscape. This is hardy in zones four through eight.

Yuccas

In early American gardens, the various yuccas were used for different purposes in the landscape. These were seen as early as the 1830's in perennial borders. They were commonly grown throughout the 1800's in the Midwest and West. They were recommended for the central and Great Plains regions where windproof species were needed. At the same time, these could withstand considerable winter chill.

Yuccas were recommended for informal, naturalistic gardens in the 1870's. They were combined with ornamental grasses and tropical looking plants, such as ferns.


This site needs an editor - click to learn more!


Related Articles
Editor's Picks Articles
Top Ten Articles
Previous Features
Site Map





Content copyright © 2023 by Connie Krochmal . All rights reserved.
This content was written by Connie Krochmal . If you wish to use this content in any manner, you need written permission. Contact BellaOnline Administration for details.