Cacti and Succulents in Botanical Art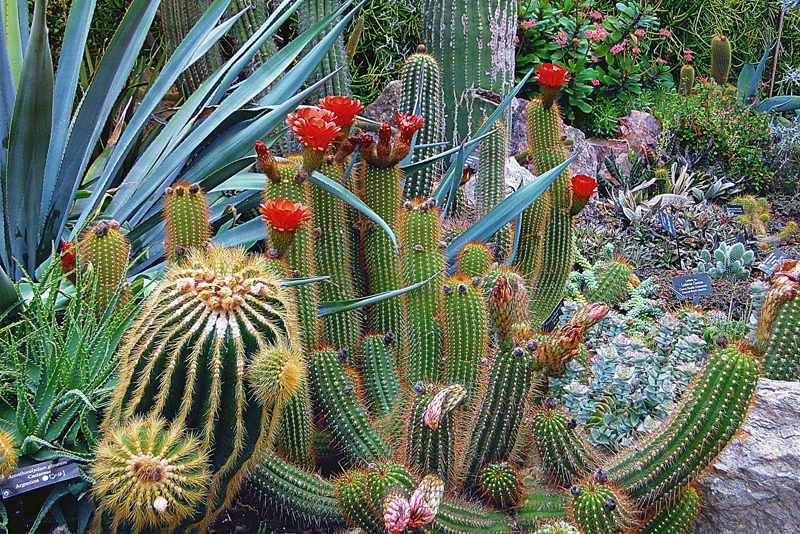 Before digital cameras were ubiquitous, plants were depicted by other means. Botanical illustration in the form of paintings, color drawings, and water colors reached its heyday during the Renaissance. It is very interesting to look back on historical botanical illustrations to see how cacti and succulents were depicted.

Some of the best examples I've found are in a book called "Garden Eden-Masterpieces of Botanical Illustration" by H. Walter Lack. This was published by Taschen some years ago when their American office was still located in New York before their move to Los Angeles. One of the plants included in this volume is a species of prickly pear (Opuntia ficus-indica). This book contains a reproduction of an original page from a German herbal dating from 1557. Unfortunately, I don't read German. So I can't read the accompanying text.

What this art shows is rather interesting nonetheless. The plant is shown in a garden setting within a perfectly round, raised bed edged with wood held in place by stakes. Grass covers the surface of the bed. The plant looks fairly realistic except for the fact that this shows branching arms radiating from the very top of a short, substantial stem.

This book also contains some wonderful illustrations of the Stapelias. These interesting succulents are noted mostly for their ill-smelling flowers. These botanical illustrations depicted the plants growing in pots, and were done by Nikolaus Joseph van Jacquin, rector of the University of Austria. He did these over a period of years, based on his observations of plants growing in the greenhouses. These paintings are works of art, depicting entire plants as well as flower buds, seeds, seed pods, and other parts of the plants.

Taschen published another book that also features some wonderful botanical illustrations of cacti and succulents. "The Garden at Eichstatt-Basilius Besler's Book of Plants" is about the world famous garden founded by Prince Bishop Johann Konrad von Gemmingen in the early 17th century. This garden was documented in a book by Besler, which was originally published in 1615. This features nearly 570 engravings. Some of these cacti and succulents were tender species that wouldn't have been hardy in such a cold climate. So, they must have been kept in an orangery or greenhouse during the winter months.

One of the plants at Eichstatt was the century plant or agave. This has been grown in Europe since the 16th century. This plant started appearing in books there as early as the 1570's. In this title, the plant looks fairly realistic. But, it wasn't shown as a mature specimen. The drawing of the flower stalk is shown behind rather than actually on the plant itself.

The ordinary aloe (Aloe vera) also appears in this book. The painting depicts an entire plan—root and all. This is referred to as Barbados aloe.

One rather tender species of the houseleek (Aeonium arboreum) also appeared in this book. Originally from the Canary Islands, this depicted a good example of the plant with yellow blooms and a tall stem with much of the foliage appearing terminally towards the ends of the stem.

The Turk's cap cactus (Melocactus intortus) was originally native to the West Indies. This book shows a fairly mature plant. This globe-like species has a fuzzy white area on the top of the plant from which the blossoms arise. This is how the plant gets its common name.

This book also featured a painting of the same prickly pear as the other title. Interestingly enough, this one grew in a raised bed—a vivid red one. Surrounding the entire plant is a red fence.

This site needs an editor - click to learn more!


Related Articles
Editor's Picks Articles
Top Ten Articles
Previous Features
Site Map





Content copyright © 2023 by Connie Krochmal . All rights reserved.
This content was written by Connie Krochmal . If you wish to use this content in any manner, you need written permission. Contact BellaOnline Administration for details.