Useful Cacti and Succulents of the Southwestern Deserts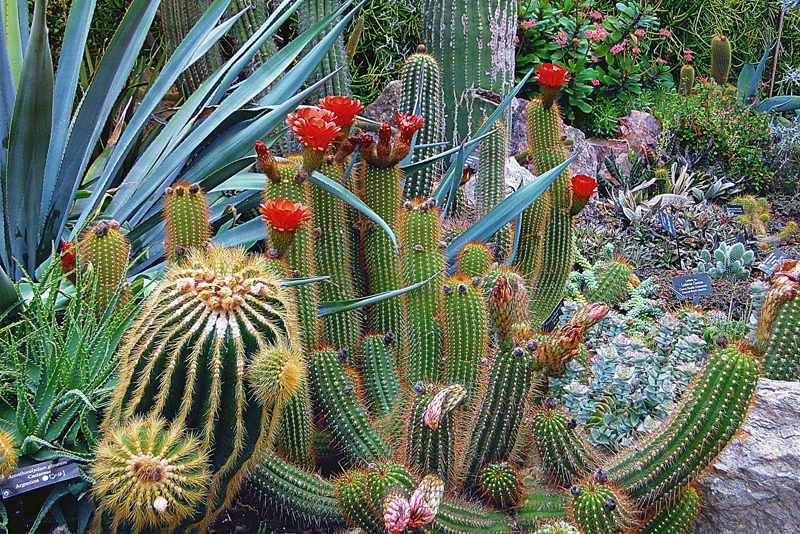 Though the deserts of the American Southwest may seem bleak places, the plants that grow in these arid places are indeed very useful. This is especially true for a number of native cacti and succulent species.

Useful Cacti

For many years, ranchers in the area have relied on these plants as stock feed during times of drought. At one point some years ago, a Texas industrial interest even began to evaluate the economic possibilities of processing prickly pears as a commercial feed source.

In addition, a number of different cacti species yield useful gums of different types. Examples are the cholla (Opuntia fulgida) and the saguaro (Cereus giganteus). However, the latter species is too endangered to ever become the source for a commercially produced gum. Yet, this still shows there are more to these plants than meets the eye. Some of these gums extracted from various cacti are much used in Mexico by textile mills to stiffen cloth. As mucilages, they have very good adhesive properties.

Besides the gums, oils have also been extracted from various species of cacti.

In some parts of the world, another prickly pear (Opuntia ficus-indica) is the source of excellent cellulose. A high yield is obtained from this plant. This species is sometimes known as the Sardinian prickly pear.

Different alkaloids have been obtained from a number of cacti species. These include the peyote or mescal (Lophophora williamsii).

In addition, the old stems of ocotillo (Fouquieria splendens) have been used to create various novelty items from the dried hollow cylinder of the woody, mesh-like growth.

One of the major economic uses for cacti is as a food source. The fruits of the barrel cactus (Echinocactus wislezenii) are often used to make jellies and a very well known cactus candy. Prickly pears also produce edible fruits as do the saguaros. The saguaro fruits are particularly important to Native Americans. They harvest these for making syrups, wines, vinegar, and dried fruits. When dealing with cactus fruits, it is important to keep in mind that their skins can be covered with dangerous spines. These should always be removed before the fruit is consumed.


Agaves

As a group, the Agaves are very useful. They are the source of a drink called pulque, which is made from the fermented sap of the Agave. Mescal or tequila as well as industrial alcohol is made from the central stems and leaf bases.

In addition, some Agave species are commercial sources of fibers, such as sisal, ixtile, and henequen. These are used mostly for cordage, ropes, and sacking. In the past, it was widely used for carpets. Agaves may have other commercial uses as well in the manufacture of pectins, Vitamin C complex, saponins, glucosides, various body and bath preparations, and emulsions.

These are only some of the many uses people have found for cacti and succulents of the Southwestern deserts.

This site needs an editor - click to learn more!


Related Articles
Editor's Picks Articles
Top Ten Articles
Previous Features
Site Map





Content copyright © 2022 by Connie Krochmal . All rights reserved.
This content was written by Connie Krochmal . If you wish to use this content in any manner, you need written permission. Contact BellaOnline Administration for details.