Native and Naturalized Eastern Cacti and Succulents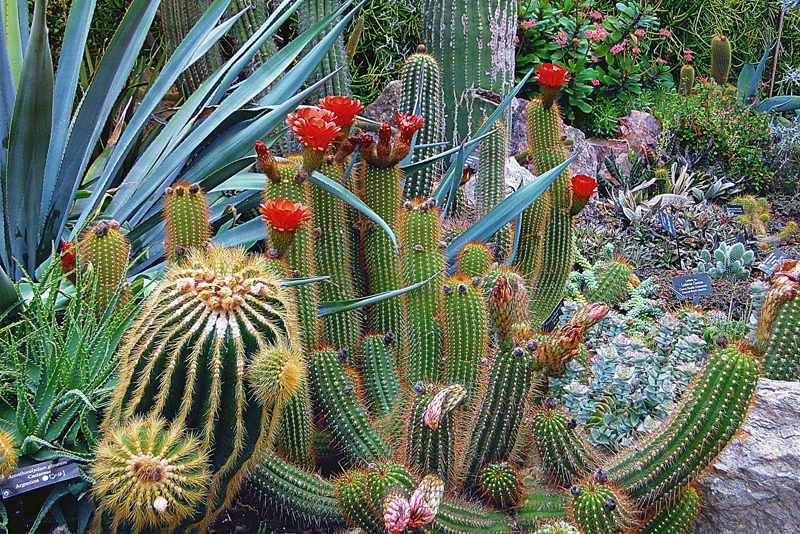 When it comes to choosing garden plants, there are many reasons to choose native plants. These are adapted to local growing conditions and require minimal care. Generally, they will often have fewer insect and disease problems. In the Southwest, the native cacti are especially plentiful. In other parts of the country, there are a number of native cacti and succulents that we can use in our gardens.

There are several native species of the Yuccas. Adam's needle (Yucca smalliana) occurs in sandy soils and old fields as well as on bluffs. This species has a somewhat limited range mostly from Tennessee south through North Carolina and Florida to Louisiana.

Silkgrass (Yucca filamentosa) is also known as spoonleaf-yucca. This is found in various kinds of habitats from dunes and beaches to old fields. Most commonly found in the coastal plains in the eastern U.S., its range extends from New Jersey south through Georgia.

Soapweed (Yucca glauca) grows wild in the sandhills and dry plains. Its natural range is in the Southwest, including Arizona, New Mexico, and Texas eastward and northward to Missouri, Iowa, North Dakota, and Montana.

So far as Agaves are concerned, these are more commonly grown in the West. In the East, there is one known as false aloe or rattlesnake master (Agave virginica). It grows mostly in thickets and dry woods and on open slopes. This species is found from Texas east to Florida northward as far as Missouri, Indiana, Illinois, Ohio, West Virginia, Virginia, and South Carolina.

Though the houseleek or hen-and-chicks are not native, one species (Sempervivum tectorum) has naturalized on a local basis in some areas of the country.

The same is true for the moss rose or portulaca. Originally introduced from South America, this can self sow and escape from cultivation. The common weedy purslane (Portulaca oleracea) was introduced from Europe and naturalized to become a weed, often in cultivated ground.

Though it is true that the prickly pears or Opuntias are most common in the Southwest, certain species grow wild in other parts of the country. Opuntia humifusa grows mostly in rocky and dry sandy places. This is found throughout much of the East. Its range extends from Oklahoma and Missouri to Minnesota as far north as Massachusetts as well as over most of the Southeast.

Opuntia macrorhiza is found from Kansas and Missouri to Texas. The range of Opuntia fragilis extends through the Midwest to Kansas and the Southwest into Arizona and Texas. Opuntia tortispina occurs from Kentucky to Ohio and Wisconsin westward to New Mexico and Colorado.

Of the sedums or stonecrops, at least eight or more species introduced from Europe have escaped and naturalized in parts of the U.S. In addition, there are several native species. These include cliff stonewort (Sedum glaucophyllum). This has a rather limited range mostly in West Virginia and Virginia where it favors damp, rocky places.

Sedum telephioides occurs in parts of the East, mostly from Georgia north to New York and Illinois. This is most common in the mountains where it frequents knobs and cliffs.

Sedum rosea or Rhodiola rosea is a cosmopolitan species whose range extends from Europe and Asia through the Arctic. In the U.S, it is found from North Carolina to Pennsylvania and New York to Vermont and Maine. It is most commonly found on sea cliffs and rocky shores.




This site needs an editor - click to learn more!


Related Articles
Editor's Picks Articles
Top Ten Articles
Previous Features
Site Map





Content copyright © 2023 by Connie Krochmal . All rights reserved.
This content was written by Connie Krochmal . If you wish to use this content in any manner, you need written permission. Contact BellaOnline Administration for details.