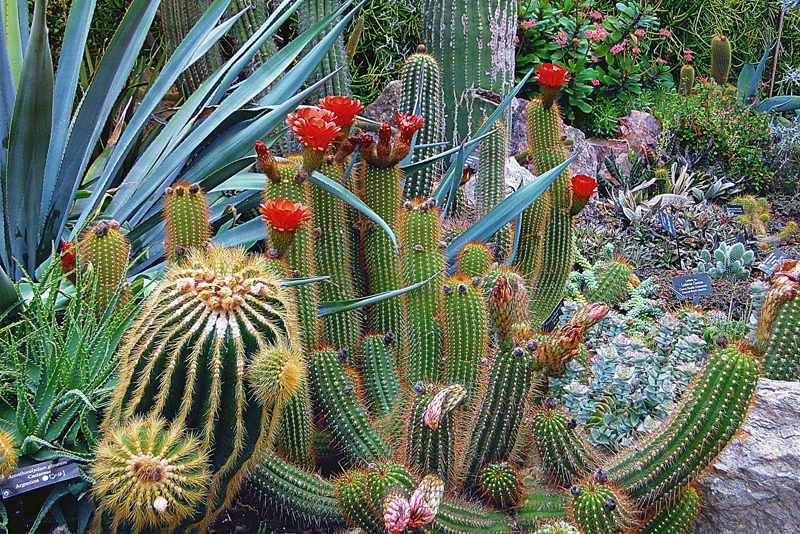 Cacti and succulents are usually trouble free plants. One pest that can cause a problem is the mealybug. Mealy bugs are unarmored scale insects. They look like tiny bits of cotton near the base of the plant or between the leaves.

Mealy bugs cause damage with their piercing sucking mouths. They also produce honeydew, which attracts ants. Ants protect mealybugs from their enemies much like a farmer takes care of the cows he milks. If you see ants around your succulents, you should look for a reason why they might be there.

To avoid mealybug infestations, you can keep new plants away from your existing collection so you can observe the plant for a while to make sure it is free from disease and insects. Any tools you use on a diseased plant should be disinfected before being used on other plants. The standard disinfectant for garden tools is one part household bleach to nine parts water. Be sure to dry your tools after using the bleach mixture because bleach can cause pits on metal.

Giving your plants a healthy environment will also discourage mealybugs. Remove dead leaves from the base of any rosette shaped succulents. While tidying up your plants you can monitor for mealybug activity and stop it before it causes too much damage.

For a minor infestation, rubbing alcohol can be applied to the mealybugs with a cotton swab. Apply it sparingly because alcohol can damage the surface of your plant. If your plants are large, you can hose the mealybugs off with a strong stream of water. Insecticidal soaps that don't work on scale will work well on mealybugs because they lack a hard protective covering.

Because succulents and cacti are not commonly eaten, a systemic insecticide can be effective. A systemic is usually applied as a liquid which is taken up by the roots and travels throughout the plant. It poisons the insects that suck on the plant juices. Imidacloprid is useful in combating mealybugs and is not as harmful to the environment as some other chemical insecticides.

There are many varieties of mealybugs, but treatment is the same for most. An especially harmful mealybug that can attract cacti and succulents in the root mealybug. It can go unnoticed until the plant's growth is stunted and it begins to yellow. Then the plant should be removed from the soil, washed off completely and repotted in clean soil. When purchasing a new plant, gently lift it from its container if possible. You can check for root mealybugs and avoid bringing them home.

By being vigilant you can keep your cacti and succulents healthy and beautiful.

This site needs an editor - click to learn more!


Related Articles
Editor's Picks Articles
Top Ten Articles
Previous Features
Site Map





Content copyright © 2022 by Linda Genis. All rights reserved.
This content was written by Linda Genis. If you wish to use this content in any manner, you need written permission. Contact BellaOnline Administration for details.