Well, it's official...my landlord says my house looks like a doll house! My husband would readily agree, but coming from my landlord it's a complement; from my husband, not so much. I've been decorating my space with dolls as long as I can remember.
As I thought about writing this article, I tried to remember a time when I wasn't surrounded by dolls. Nope, can't remember such a thing. Of course, as a child I merely kept my dolls on my bed. My bedroom was as far as my decorating influence was allowed.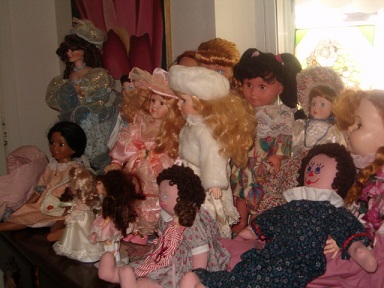 Since then my dolls have assumed a continually larger place in my decorating schemes. Lately because they just overflow my studio. The photo at right is the top of a chest of drawers in my studio, you can see the problem. So I started keeping some of my baby dolls in a vintage carriage I bought specifically for them.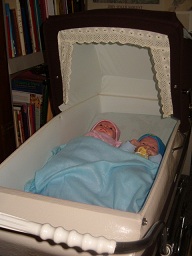 At Christmas I have a small collection of Angels that I display. The small Angels hanging from the hooks are my Christmas Angels. But I enjoyed looking at them so much that I decided to leave them out when Christmas was over. And why not add another Angel doll to the group? So the mirror in the living room became an Angel Dolls display.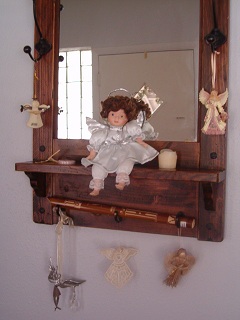 I have two porcelain dolls, in fancy outfits standing on my dresser in the bedroom, a large stuffed bear doll on the bed. Two more porcelain dolls standing, with photos of the grandkids, in the dining room, in front of a stained glass window.
The top of a large stereo speaker really needed a touch of whimsy, so of course, I stood a doll on it. Speakers are not pretty things to look at unless they are "decorated."
The speaker happens to be in the living room also. Are you starting to see a pattern here yet?
At Easter I was given a pair of cloth rabbits that I thought would look perfect on the mantel, and they did.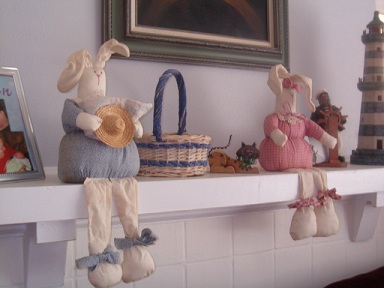 Even the colors were perfect for the living room. Unfortunately, they were the proverbial last straw.
"No more dolls in the living room!"
That's the directive I got when the rabbits when up. Oh well, there's always the bath!
Making and Dressing Cloth Dolls
Ebook with patterns and instructions to make 5 cloth dolls as well as chapters on general doll making techniques.The book includes 21 inch Lalena Doll, 21 inch David Doll, Bear Dolls, 9 inch Destiny Doll and 15 inch Annie Doll, all together in one handy book. 53 pages.
Making and Dressing Cloth Dolls
.