Succulents for Hanging Baskets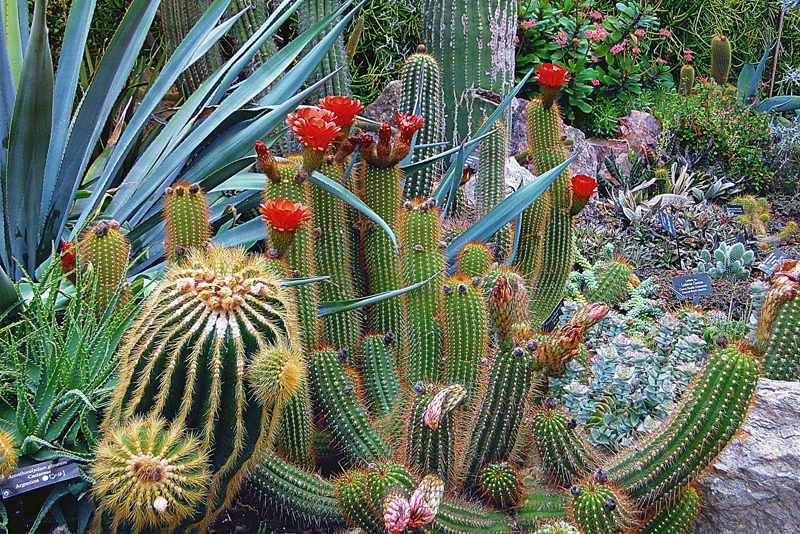 Cacti and succulents can assume many growth habits. While some kinds are upright, others may be spreading and even climbing. Here are some of the best kinds of succulents that are suitable for hanging baskets. These tend to have either spreading or pendant growth habits.

Burro's tail (Sedum morganianum)

Among the most beautiful of the tender Sedums, this features lovely pendant stems that cascade over the edges of hanging baskets. The greenish-yellow foliage is short and spindle-shaped. The leaves are massed so close together it is hard to see the stems. The entire plant is covered with a bluish-silver bloom. The pink blossoms appear terminally. This is easily propagated by cuttings.


Lamb's tail

This is also known as giant burro tail. This resembles the burro's tail for good reason, being a hybrid of that species with another Sedum. Very similar in appearance to the ordinary burro's tail, this features much larger leaves. The leaves aren't quite as tender as that of the burro's tail, which tends to drop if they are touched at all.


Flowering sansevieria (Sansevieria parva)

Originally native to East Africa, this plant starts out with an upright growth habit. Over time, it develops very lengthy pendulous runners bearing new plants. The bright green foliage features cross bands of dark green. The rather lance-like foliage is 1½ feet in length. This plant produces pinkish-white flowers.

Mexican stonecrop (Sedum mexicanum)

This succulent has attractive, flexible stems that branch freely and hang over the rims of hanging baskets. The bright green, flattish leaves resemble needles. Mexican stonecrop has lovely sunny yellow blossoms.


Ragwort vine (Othonna capensis)

A member of the daisy family, this is not as common as some succulents. But, it has much to offer. Native to South Africa, this creeping plant features slender, trailing stems. These can eventually reach several feet in length. The shiny, green leaves are usually in clusters. Spindle-shaped, these look as if they are suspended on the stems. The yellow blooms, which look like daisies, need sun to open.


String of hearts (Ceropegia woodii)

Native to South Africa, this plant is also known as heart vine or rosary vine. Its very long pendulous stems make this an ideal choice for hanging baskets. The slender, thread-like stems are purplish. This plant is named for the heart-shaped leaves, which occur in pairs. While the upper surface is blue-green with hints of silver, the underside is purplish to greenish-gray.
String of hearts features lovely purplish flowers. This plant grows from a tuber-like root. It can easily be propagated by using the tiny tubers that are produced between the stems.


Wax plant (Hoya carnosa)

A sub-tropical to tropical vine, this is native to China and Australia. This has long been a favorite house plant. This twining, fleshy vine has thick, waxy leaves that are over three inches in length. The attractive foliage is oppositely arranged.

This plant is named for its waxy looking blossoms. Appearing in summer, these whitish-pink blooms are fragrant. What is especially noticeable is their wheel-like shape. Opening in long graceful pendant clusters, these have red, star-like centers.

Wax plant prefers reliably cool indoor temperatures. It should be kept pretty dry during the winter months.


Weeping notonia (Senecio jacobsenii)

Native to Africa, this mat-forming succulent has an interesting growth habit. Initially, the stems are erect when young. Later, they become pendant. They tend to root as they creep along. The shiny green leaves are over three inches long. This has lovely orange flowers.


This site needs an editor - click to learn more!


Related Articles
Editor's Picks Articles
Top Ten Articles
Previous Features
Site Map





Content copyright © 2023 by Connie Krochmal . All rights reserved.
This content was written by Connie Krochmal . If you wish to use this content in any manner, you need written permission. Contact BellaOnline Administration for details.