Bushy and Tree-like Succulents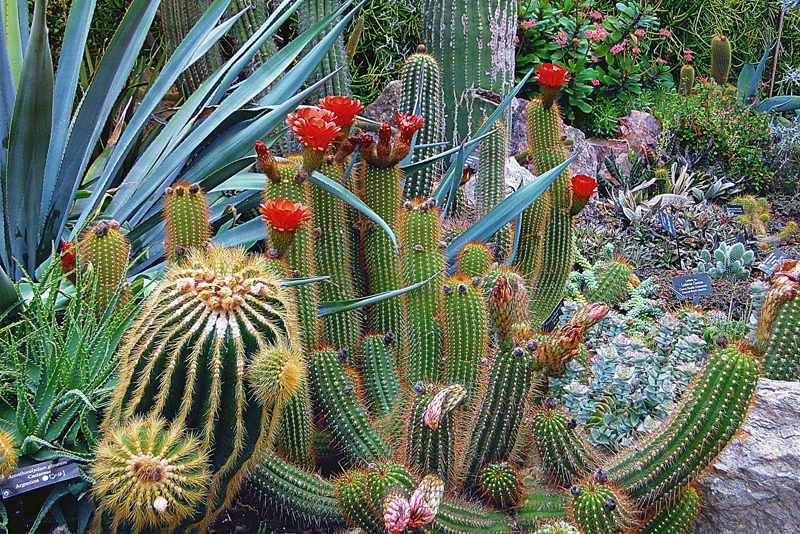 Succulents can take many forms. While some stonecrops may have spreading, creeping stems, other kinds of succulents may form neat rosettes. Still others are bushy and tree-like.

Many of the tall, bushy ones tend to be tender. So, they can't be grown outdoors year-round in colder climates. However, some of these are small enough to grow in greenhouses, conservatories, and sun porches. Here's a look at a few of the bushy ones.


Aloes (Aloe spp.)

Though we may think of aloes as small pot plants, there are tree-like and shrubby ones as well.

Aloe barbarae can grow to nearly 60 feet in height. However, it can be kept lower by pruning. Originally from South Africa, this has a trunk that can be ten feet in diameter. The leaves appear in rosettes at the top of the stems. When the plant is old enough, it will produce orange to pinkish flowers in tight clusters on branched flower stalks.

The dragon tree aloe (Aloe dichotoma) is also known as the quiver tree. This is another of the tree aloes. Native to South Africa, this can grow to over 30 feet tall. The trunk can be three feet across. It has thick bark. At the top of the trunk, this plant produces many branches. The greenish-gray leaves appear in tight rosettes along the length of the upper branches. The foliage is almost ten inches in length. This has yellow flowers.


Club foot (Pachypodium lamieri)

Among the most unusual succulents around, this has become a favorite house plant. It is native to Madagascar. Unlike some succulents, this plant doesn't have succulent stems or leaves in which it stores water. If the truth be known, it hardly resembles a succulent in the usual sense of the word.

The swollen bulbous caudex is what the plant uses to store water. Under good growing conditions, this species reaches about three to ten feet in height. It has a thick, bottle-shaped trunk with thick branches. The showy dark, green foliage is lance-like and leathery. The leaves can be over ten inches in length. Along the centers of the leaves are touches of white.

On its trunk this plant has sharp spines that arise in threes in a spiral fashion. When the plant is large enough it will produce blossoms. Appearing terminally, these are white and scented, about four inches across.


Dragon lilies (Dracaena spp.)

Dragon lilies go by other names, including dragon tree, and corn plants. These are native to Africa, Asia, and Madagascar. Some kinds have become popular house plants. The smaller, low growing ones tend to be more suitable for growing indoors. Usually if they get too tall, it is possible to cut the stems off so new stems will sprout to replace them.

The ultimate size and appearance varies greatly from one species to another.

While the smaller species have cane-likes stems, the larger ones are more tree-like when mature. The lower parts of the stems or trunks tend to be rather bare. At the top of the plant is the lance-like or sword-like, arching foliage in giant whorls. In some cases, there will be considerable variegation or streaks of white or yellow on the foliage.


Ponytail palm (Beaucarnea recurvata)

Like the club foot, the ponytail palm has a thick, almost bulbous base in which it stores water for use during dry periods. It is also known as bottle palm. Originally native to Mexico, this has become a familiar house plant.

This plant features a tapering trunk with the foliage at the top in a fountain-like fashion.

Outdoors, they can reach over 27 feet in height. The trunk can be over six feet in diameter. This has a soft, somewhat prickly skin. Eventually, the plant can get too large to keep indoors or in a greenhouse. But, this will take some years before it grows out of bounds. The individual leaves are quite long and narrow, reaching over three feet in length. The plant produces small white blossoms.

Be very careful when handling this plant. The bulbous base is easily damaged. This species will not tolerate any pruning.


Silver jade plant (Crassula arborescens)

This plant is also called silver dollar. It is noted for its tree-like shape and size. A mature plant can be over 12 feet in height. The stem is so thick that it looks pretty much like a small tree trunk. The silver jade plant has round, shiny foliage that is arranged oppositely. There are touches of red along the leaf margins. The leaves are over three inches in length. Sometimes, older plants will produce white or pink, star-shaped blossoms, mostly during the spring. The silver jade plant is very slow growing. So, gardeners can keep it around for years in the same pot.


This site needs an editor - click to learn more!


Related Articles
Editor's Picks Articles
Top Ten Articles
Previous Features
Site Map





Content copyright © 2023 by Connie Krochmal . All rights reserved.
This content was written by Connie Krochmal . If you wish to use this content in any manner, you need written permission. Contact BellaOnline Administration for details.