Creative Wedding Centerpiece Ideas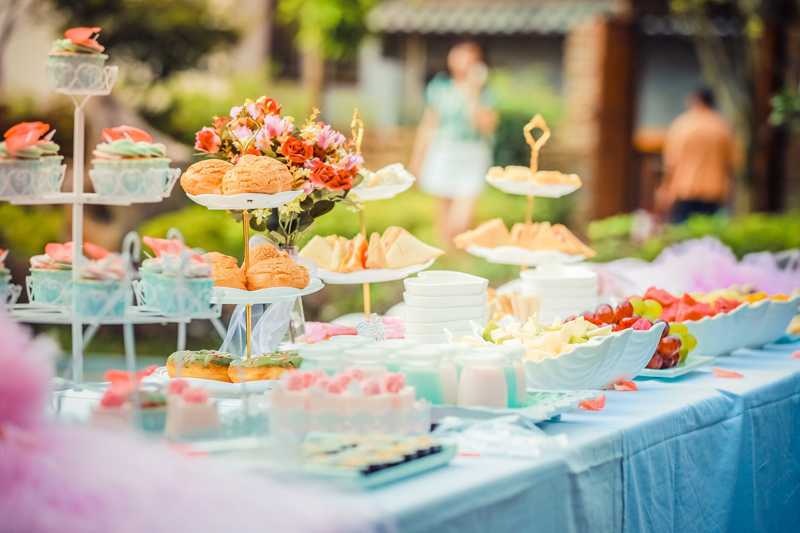 Are you looking for a one-of-a-kind wedding centerpiece idea? These important focal points don't have to be bland or boring. With a little creativity and imagination, you can create memorable and unique centerpieces. If you're on a tight budget, or a tight schedule, all of these wedding centerpiece ideas can be created easily and inexpensively.

Romantic Centerpieces

When you think of romantic wedding centerpieces, the obvious choice would be flowers or candles. Both are elegant and magical and can add a definite romantic feeling to any wedding reception. But there are alternatives that can make your centerpieces a little more personal.

Frame a beautiful portrait of the two of you and stand it in the center of the table surrounded by an arrangement of your favorite flowers. Or create a photo collage, with several pictures of your time together.

Another idea is to use the same picture frames, but instead of photos, frame the story of how you met. You could also frame romantic poems, biblical phrases or traditional wedding verses. Place a different one on each table for some variety.

Theme or Seasonal

If you're having a theme wedding, it is important to have centerpieces that follow that theme. For instance, if you're wedding reception is at a winery, then use a collection of wine bottles as the focal point of your reception tables. You could encircle the bottles with greenery and grapes to add a Mediterranean feel. Or go one step further and transform the wine bottles into lamps using store-bought kits. These lamp-making kits are readily available at craft stores and are very easy to assemble. The soft light will add a romantic glow to your reception.

For a garden wedding or afternoon reception, keep things casual and simple. Use straw hats, wicker baskets, or antique teapots filled with bouquets of fresh flowers.

A seasonal wedding, especially Christmas, lends itself to lots of wedding centerpiece ideas. Why not use homemade gingerbread houses, or a ceramic Christmas village. Place battery-operated lights inside the village pieces to add some light to your table.

For a Halloween or Fall wedding, try using hollowed pumpkins filled with flowers, or small bowls filled with your favorite Halloween candy.

Edible Centerpiece Ideas

Can a centerpiece really be edible? Sure. There's lots of ideas for edible centerpieces.

Rather than having one main wedding cake, use individually decorated cakes in the center of each table. This is a unique idea that allows you to create memorable centerpieces and provide dessert to your guests at the same time. Or use a multi tiered cake tray filled with pastries or cupcakes for your guests to enjoy.

You could also use oversize candy bars re wrapped in beautiful wedding paper to highlight the center of the table. Encourage guests to dig in once dinner is over.

Interactive Wedding Centerpiece Ideas

If you really want your guests to get involved in the wedding, an interactive centerpiece is a fun idea. Place various board games in the middle of each table and encourage guests to play during the reception. Choose games that are quiet, don't involve a lot of playing pieces and that will be familiar to most of your guests. This is a great icebreaker if people at each table are meeting for the first time.

Another interactive idea is to use photo albums as centerpieces. Buy a beautiful album for each table and fill it with pictures of each of you growing up and throughout your time together. Use photocopies, or a computer graphics program, to make multiple copies of your original images. Your guests will enjoy looking through the snapshots of your life.




Related Articles
Editor's Picks Articles
Top Ten Articles
Previous Features
Site Map





Content copyright © 2021 by Kelly Patey. All rights reserved.
This content was written by Kelly Patey. If you wish to use this content in any manner, you need written permission. Contact Shalia Hayes for details.