Thailand, an Amazing Country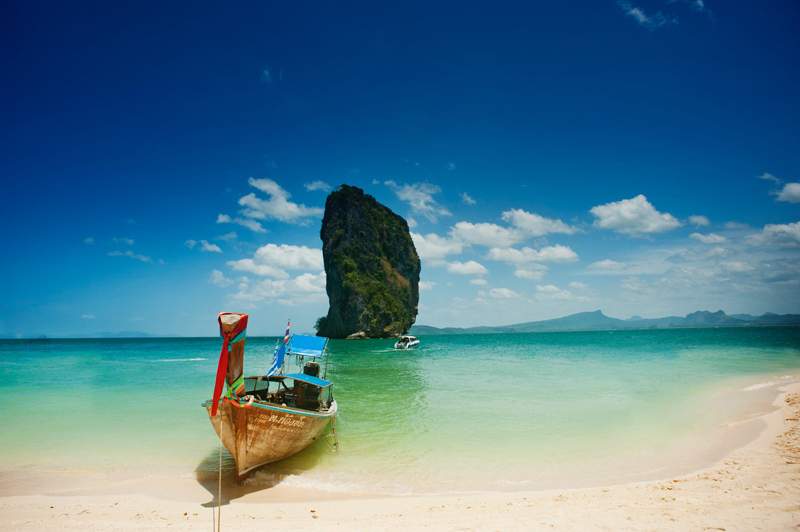 Thailand, located at the centre of Indochina Peninsula in Southeast Asia is one of the most favorite countries visited by tourists. With great beaches, crystal blue waters, thick jungles, tropical climate, fascinating culture and delicious food, Thailand is a magnet for travelers.
Her citizens call their country Mueang Thai; known as Siam until 1939, Thailand has never been occupied by a foreign country and their people are very proud of it. It is a constitutional monarchy with the King as the Head of State and the Prime Minister is the Head of Government.

Point of interests
Some of favorite tourist destinations in Thailand are :
Bangkok, Phuket, Pattaya, Ayutthala, Chiang May, Kanchanaburi

Bangkok
Bangkok is a modern city with a plenty of cultural heritage. Here you can visit the Grand Palace, a home to a collection of monuments like Wat Phra Kaew or the Emerald Buddha, the most sacred Buddhist temple in Thailand. Other attractive temples are Wat Pho and Wat Arun. For you who like silk, you might like to visit Jim Thompson House, one of the famous shops that sells good quality of Thai silk.

Phuket Island
Phuket is Thailand's largest island in the southern part facing Andaman Sea coastline. It is the most popular place among tourists. In December 2004 Phuket was severely hit by the Indian Ocean Tsunami but everything is now back to normal condition. You can do many activities on the beach like swimming, snorkeling, diving, jet-skiing or sea canoeing which is very popular in Phang Nga Bay where you can access many grottoes by canoe.

Pattaya Beach
Pattaya is a beach resort on the Eastern Gulf Coast, about 150 km southeast of Bangkok. Pattaya is very famous for its sex tourism, however, the resort is also attractive for travelers around the world as it offers a wide variety of activities and excellent food. Certainly Pattaya is not a recommended destination if you are travelling with children.

Ayutthaya
If you are interested in Thai history, you can stop by at Ayutthaya, the former capital of Thailand, located 76 km north of Bangkok. There are three palaces in Ayutthaya, Grand Palace, Chantharakasem or the Front Palace and Wang Lang or the Rear Palace. Here you can see numerous magnificent ruins in Ayutthaya historical Park which is the UNESCO World Heritage Sites, or visit Wat Chaiwatthanaram, another monastery , home to great and beautiful stupas.

Chiang May
Located at the northern part of Thailand among the foothills of Himalayan Mountains, 700 km north of Bangkok. It is a mountainous region and lush countryside, Chiang May is famous for its historical site called the Walled city where more than 300 temples remains; reflecting a mixture of Burmese, Sri Lankan and Thai culture. The most famous temple is Wat Phrathat Doi Suthep sitting at 1,073 m elevation on the slopes of Mount Suthep built in 1383. Other interesting activity you can do at Chiang May is Elephant tour, most tourists find it fun and amusing to ride the elephants, feeding and bathing them in the river. But be sure to choose your tour carefully before you decide.

Kanchanaburi
It is the place of the famous bridge over the River Kwai where the start of the World War II, Death Railway to Myanmar. You can visit the Hellfire Pass Memorial, exhibiting artifacts and the true story about the Thai-Burma Railway.
The River Kwai valleys is a region of great natural beauty with amazing number of waterfalls, caves, lakes and mountainous scenery. Most travelers also enjoy the spectacular view of Erawan Falls and the national park, the home to limestone caves and hot springs.






Related Articles
Editor's Picks Articles
Top Ten Articles
Previous Features
Site Map





Content copyright © 2022 by Hanny Suriadi. All rights reserved.
This content was written by Hanny Suriadi. If you wish to use this content in any manner, you need written permission. Contact Hanny Suriadi for details.