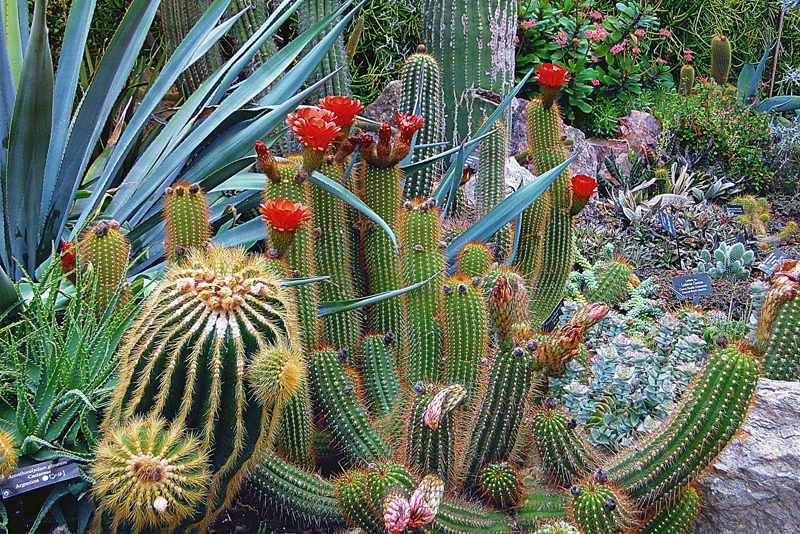 While the smaller kinds of aloes might be very suitable for growing indoors in pots, the larger bushy and tree-like ones reach their full potential when they are grown outdoors. These plants are easily damaged by frost. So, they are only suitable for outdoor gardens in warm climates. Let's look a few of the most picturesque species.


Dragon tree aloe

Native to parts of Africa, this is also known as quiver tree. This particular species is noted for its bark with very sharp edges.

Dragon tree aloe can grow to become a large tree over 30 feet in height. With forking branches, its trunk can be three feet in diameter when the plant is mature. The shiny, fleshy green leaves are almost a foot long. The toothed edges are yellowish-brown. The foliage is arranged in rosettes. The blossoms are bright yellow.


Fan aloe

Native to South Africa, this tree-like plant grows to nearly 17 feet in height. With many branches, this is covered with fleshy leaves that are arranged in the form of a fan, which explains the common name. These are blue with tinges of yellow along the edges.

Opening in loose clusters, the large blossoms are scarlet.


Ferocious aloe

Originally native to South Africa, this tree-like plant grows to around 16 feet or so in height. The stem has a rosette of foliage that is greenish-bronze. Along the edges of the leaves are reddish-brown teeth. This species has clusters of reddish-orange blossoms.

When small, this is often grown as a houseplant.


Tree Aloes

Several species of aloe are known as tree aloe, including the following.


Tree aloe (Aloe arborescens)

From the Latin name, you know this will be tree-like since the phrase 'arbor' refers to tree.

Also known as candelabra aloe and octopus plant, this reaches nearly 20 feet in height. When young, it is often grown as a houseplant as well.

This tree aloe has branching stems with rosettes of leaves. These taper to a point. The succulent foliage is blue-green. Along the edges are yellow teeth. This blooms during the summer months. Opening in long spikes, the tubular blossoms may be yellow or red.

A variegated form of this tree aloe is available.


Tree aloe (Aloe bainesii)

Native to Mozambique and South Africa, this tree aloe eventually becomes just gigantic. It can grow to 65 feet in height. At the base, the trunk can be over six feet in diameter. Its branches occur in pairs. The sword-like foliage reaches over three feet in length. The tubular flowers are a lovely peach with green tips.


Aloe marlothii

A tree-like species, this is native to Natal and Botswana. This plant can have multiple trunks. It grows to about 20 feet or so in height. The thorny foliage can be either green or blue. In the form of a rosette, the leaves reach 1½ feet in length. Its blooms are oran

This site needs an editor - click to learn more!


Related Articles
Editor's Picks Articles
Top Ten Articles
Previous Features
Site Map





Content copyright © 2022 by Connie Krochmal . All rights reserved.
This content was written by Connie Krochmal . If you wish to use this content in any manner, you need written permission. Contact BellaOnline Administration for details.