Putting vertical trims on your doll dresses can add a special touch of individuality to your creation and really make it your own design. Any commercially available ribbon or trim will work. In the photo below you will notice that I've used three pieces of 1/8 inch wide satin ribbon. You are only limited by your own imagination and how fancy or detailed you want your doll's dress to be.
If you use wider ribbon you can use just one piece and put it in the center, but for narrow ribbon it is best to use more than one. For the center piece the fold in the fabric at the center front of the bodice makes an easy line to work with and line up your ribbon on.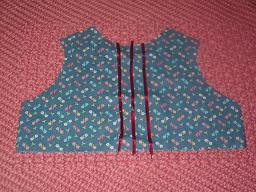 For a neat, finished appearance measure the length of the bodice, after cutting the fabric but before sewing, from the neck edge to the waist edge. For one wide piece of ribbon, measure the length in the center of the bodice. For more than one piece, place one in the center and one on either side. Decide where you want the pieces to be placed and measure the length where each one will go, since the curve around the neck edge will change the length measurement.
For a pretty, lacy effect you can use one piece of flat ribbon, 1/4 to 1 inch wide, and two pieces of gathered lace. Pin the flat ribbon in the center and place the straight edge of the gathered lace along both sides of the flat ribbon.
Be sure to use matching thread and sew the ribbon or lace onto the dress by hand, using tiny stitches so the stitching is not noticed. If there is more than one color in your ribbon, place your stitches into the areas of the ribbon that match your thread.
The dress pictured above can be seen with a stand up collar in this article:
Putting Stand Up Collars on Doll Dresses
Making and Dressing Cloth Dolls
Ebook with patterns and instructions to make 5 cloth dolls as well as chapters on general doll making techniques.The book includes 21 inch Lalena Doll, 21 inch David Doll, Bear Dolls, 9 inch Destiny Doll and 15 inch Annie Doll, all together in one handy book. 53 pages.
Making and Dressing Cloth Dolls
.