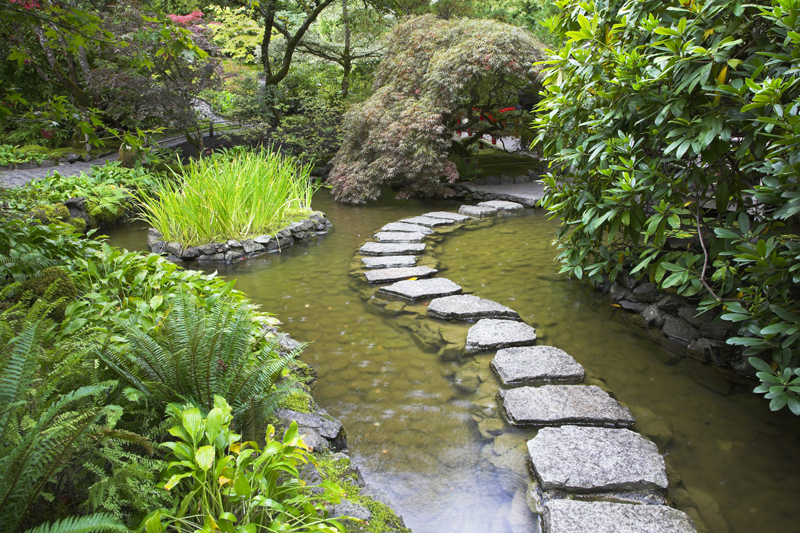 If you're looking for some great landscaping books, here are some titles to consider.

"Encyclopedia of Garden Design and Structure-Ideas and Inspiration for Your Garden" by Derek Fell was published by Firefly Books. This is the definitive guide to garden design with design tips and inspiring gardens from all over the world. Beautifully illustrated, this features over 800 color photos. Throughout this A-Z guide, the author uses examples of the most beautiful gardens imaginable, and provides practical ideas on how you can incorporate the same techniques into your own garden. There are over a hundred different categories on an array of topics from landscape features to the various styles and types of gardens, such as Japanese gardens and tropical gardens. The author emphasizes ways to turn the garden into a form of art and methods for providing year-round beauty.

"Gardens for the New Country Place" by Paul Bennett from Watson-Guptill offers a gorgeous, oversized book with dramatic works by noted landscape architects Edmund Hollander and Maryanne Connelly. The author deftly explains the origins for each of the eleven designs. He discusses all the various landscape elements, features, and materials, including the plants that were chosen. For each one, there are plans and complete in-depth descriptions. This is lavishly illustrated with stunning photos, including aerial and panoramic photography, with the principal photography by Betsy Pinover Schiff. The final chapter profiles different landscape elements, such as garden structures, water gardens, pathways, and walls.

"Water Garden Lifestyles-Exploring Water Features Across North America" was published by Aquascape Books. This reveals the richness that ponds, waterfalls, and other garden features can add not only to the home landscape but also to people's lives. This gorgeous, full-color illustrated title explores all the various facets of water features throughout all the seasons. In particular, it shows how aquatic habitats provide people a very enjoyable way to connect with nature. This title has chapters on aquatic life, aquatic plants, and the various options one can consider when choosing water features. Throughout the book are inspiring quotes about nature by luminaries, such as Albert Einstein and Frank Lloyd Wright.


When it comes to books on landscaping, there is no better publisher than Thomson/Delmar Learning. This publisher has a diverse group of titles on the subject.

When you want more than just the basics, turn to "Landscaping Principles and Practices" by Jack. E. Ingels. With step-by-step instructions, this addresses the design process, installation, planting, and landscape maintenance. This popular title is now in its sixth edition. In a clear, concise style, it presents all the how-tos one needs to plan and tackle landscape projects.

With handy tables, extensive plant lists, and lots of illustrations, it includes chapters on outdoor rooms, xeriscaping, landscape lighting, water features, and indoor landscapes. Those planning to become professional garden designers and landscapers will find some of the other chapters very useful, such as the ones on safety issues. The appendix has helpful lists of websites and sources. There is also a glossary.

"Landscape Construction" by David Sauter is now in its second edition. This comprehensive guide is an excellent choice for those planning to do their own landscape projects because these things need to be done right. This provides all the step-by-step instructions with illustrations that you will need to succeed.

It presents many different kinds of projects from basic construction techniques to installing fences, retaining walls, paving, stairs, and wood structures. There are also chapters on playgrounds, edging, water features, and planters. Other chapters deal with nitty gritty matters, such as site preparation, utilities, estimates of cost and materials, and irrigation.

"Landscape Interpretations-History, Techniques, and Design Inspiration" by Paul C. Siciliano is a groundbreaking, well-written title on landscape history. This comprehensive title looks at 36 historic garden designs in England, France, and Italy as well as contemporary designs based on these styles.

For each country, there is an introduction placing the landscape within a cultural historical context and its physical environment. The gardens featured here include ones from the Renaissance and Baroque era as well as others. In each case, there is a wonderful discussion of the particular garden's role in the culture. Beautifully illustrated in color, there are diagrams and garden plans, and time lines explaining the entire history up to the present for each garden. This title includes a CD with images, captions, garden plans, and information.




Related Articles
Editor's Picks Articles
Top Ten Articles
Previous Features
Site Map





Content copyright © 2022 by Connie Krochmal. All rights reserved.
This content was written by Connie Krochmal. If you wish to use this content in any manner, you need written permission. Contact Connie Krochmal for details.