Pygmy Goats - Pygmy Goat as a Pet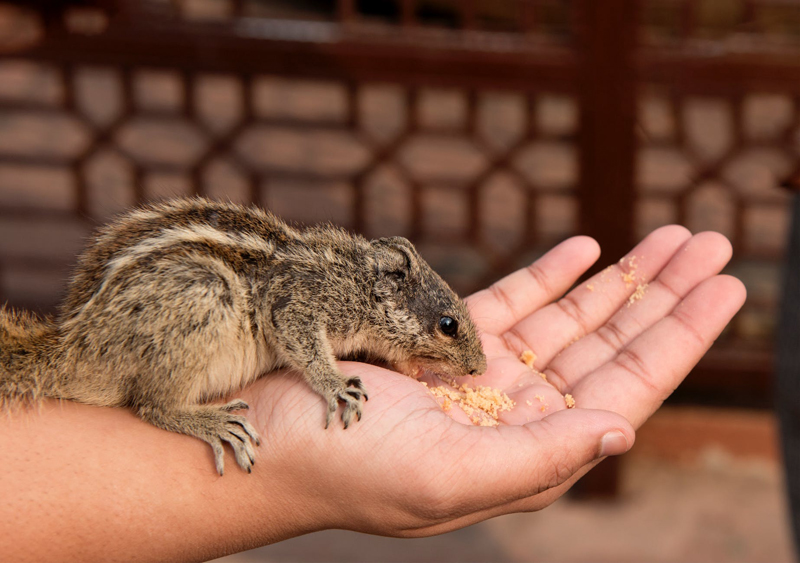 Pygmy goats are probably some of the most animated pets I've ever had. They are docile, have sweet personalities, and are quite expressive. I had the pleasure of taking care of this trio during our volunteer time with the Galt Historical Society living at the McFarland Living History Ranch. Someone had given the ranch the three pygmy goats and I really loved those pygmy goats.
Every day I would clean their shed. They had a nice outside area but I kept them locked up at night because we had coyotes and I really didn't want my goats to become snacks. One day I was cleaning the pen, while bending over one of the crazy goats jumped on my back. She thought it was rather funny. I trained them to walk on a lead. They were so gregarious – their eyes would dance with laughter. They were very affectionate.


The Pygmy goat (Agouti Bovidae) is originally from Savannahs in Africa. They were imported from Africa to the United States in the early 1950s. They weigh all of 30-50 pounds (an occasional 70 pounds isn't unheard of) and are around 16-18 inches high. They have a lifespan of 10-15 years. Because they are so small and have little defense; you must keep them safe from predators.

If you live in a rural area pygmy goats as an exotic pet can really add to the quality of life for a family. They also have a dual purpose where they can contribute milk to the family needs. Unfortunately, there would be regulations against having the pygmy goat in town.

Pigmy goats, like cows ruminate, (cud chewers) they have four compartment stomachs making it easy for them to digest roughage like hay and grain. The hay should be of high quality. They need the minerals and salt from a salt/mineral block; always keep it available to them. Allow them fresh pasture in a safe enclosure. They are small and an easy mark for prey. Their kids are tiny and could be snapped up by a bird of prey.

Keep their living areas clean and always make sure they have plenty of fresh water. They would rather die than eat dirty nasty food or water.

They are a herd animal and frankly are quite social and need to have the company of their own kind.

The gestation period is 145-155 days and they normally twin but can have from one to three kids. They are capable of breeding as early as two months of age so separated the sexes early. It would be a very unhealthy pregnancy. The babies weight from 2-4 pounds.

Make sure you have a veterinarian lined up before you bring your pygmy goats' home. Not all vets will deal with pygmy goats. The pygmy goats like the mini pigs are a cross between an exotic pet and a farm animal. You will most likely need a farm vet to care for the little guys. They will need inoculations and vaccinations. A great deal of care should be heeded in giving them medications. The dosage is determined according to the weight of the goat. A vitamin supplement is highly recommended.

Keep their hooves trimmed. Also, keep their floor clean and dry; they are susceptible to foot rot.

Goats are inclined to chew on landscaping a great deal of care should be paid to poisonous plants and toxic dangers such as lead paint, insecticides, herbicides, creosote treated wood, and other toxic materials found around a farm or yard.

Pygmy goats are delightful pets full of curiosity and enjoyment. They do require very different care than other exotic pets. Find out if they are allowed where you live before you bring one home. Also, be sure to find a veterinarian before you buy a pygmy goat.

They should not be bought as a single as they are a herd animal and would waste away and die of loneliness. Above all else enjoy your pygmy goats.

You will find a source for finding pygmy goat under the subject breeders and sellers.

Subscribe free to the exotic pets newsletter. It is quick and easy Just glance to the right or scroll a bit to the bottom and subscribe. I will only bug you once a week :) Be the first to be in the know! Your information is always private!

I am also the Bird editor if you enjoy pet birds subscribe to the Birds newsletter. Birds BellaOnline





Diana Geiger Exotic Pets Editoron


Scroll down a litter further and sign up for the exotic pet's newsletter. Your email is 100% safe, I never even see it. You will receive a newsletter twice a week. Once in a great while an emergency newsletter may go out, but this would be only for a big illness outbreak or other emergency. Subscribe so you will know when new content comes out!


Pygmy Goats: Management And Veterinary Care




Ferrets: A Complete Guide available in paperback, PDF, and Kindle. By Diana Geiger (me:) Five star reviews! Now, also available at Barnes and Noble online!






Ferrets: A Complete Guide - Paperback

Ferrets: A Complete Guide - Kindle

PDF Version Ferrets: A Complete Guide (Access to free PDF Reader)
Ferrets: A Complete Guide

This site needs an editor - click to learn more!

You Should Also Read:
Exotic Pet Site Map
Ferrets - A Complete Guide Paperback and Kindle
Exotic Pet Shopping (the safest for your pets)




Related Articles
Editor's Picks Articles
Top Ten Articles
Previous Features
Site Map





Content copyright © 2022 by Diana Geiger. All rights reserved.
This content was written by Diana Geiger. If you wish to use this content in any manner, you need written permission. Contact BellaOnline Administration for details.