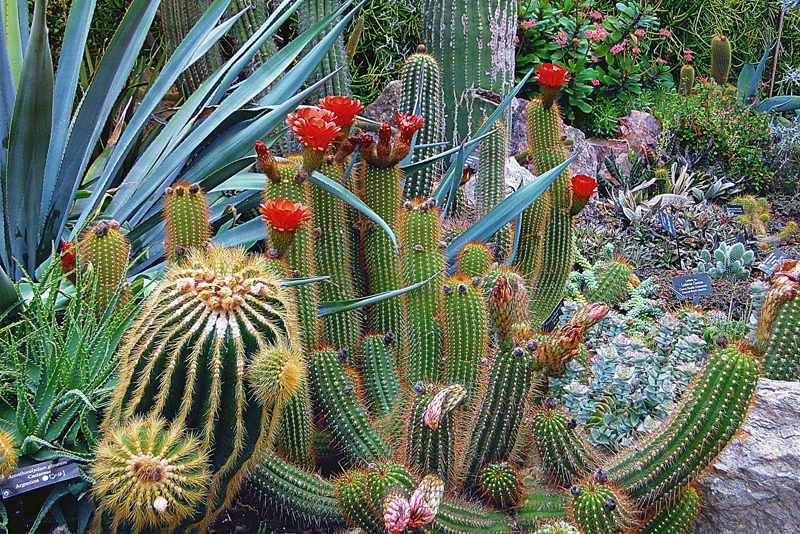 While the typical opuntias are considered to be prickly pears with jointed pads, there are some unusual looking species that are quite unlike the others.


Eve's pin cactus

Native to Central and South America, Eve's pin cactus can eventually become quite bushy or even tree-like. As a mature plant, it reaches ten feet or more in height. The body has strange-looking, short, stubby, smooth, rounded stems with warts. This species does have thick leaves, which can grow to over four inches in length. These can be deciduous.

Eve's pin cactus has a small number of very long, sharp spines. Three inches in length, these can be white or beige.

The lovely blooms are over two inches across. These range in color from orangish-red to yellowish-green.


Paper spine cactus

Judging from the common name, you would never know this is a species of Opuntia. Native to South America, this low growing species has a spreading growth habit. Grayish-green, it grows to about four inches tall. The interesting thing about this species is the strange-looking spines that stick out from every direction. Very soft and almost paper-like, these are quite elongated. They make the plant look as if it's having a bad hair day.

The blooms are creamy white.


Toothpick brush

From the common name, you know this is one unusual looking species. Native to the Southwestern U.S. and Mexico, this has very thin, stick-like joints that make the plant look like a green stick with brush bristles at the top.

When it matures, the toothpick brush can actually grow to over six feet in height. With age, the joints can become woody-like. Thin spines are found on the body. This species actually has very small deciduous foliage.

The scented blossoms are yellow. The toothpick cactus has edible fruits.


Opuntia verschaffeltii

Native to South America, this clumping species is low growing. It has a number of cylindrical stems that can grow to nearly six inches in length. The little branches emerge as warty jointed, stubby, pencil-like growth. The leaves are deciduous.

Though this is mostly free of spines, the ones that are present will be soft and beige. The areoles add a tufted, hairy texture to the plant.
The blooms are reddish-orange.

This site needs an editor - click to learn more!


Related Articles
Editor's Picks Articles
Top Ten Articles
Previous Features
Site Map





Content copyright © 2023 by Connie Krochmal . All rights reserved.
This content was written by Connie Krochmal . If you wish to use this content in any manner, you need written permission. Contact BellaOnline Administration for details.