NASCAR listens to Stewart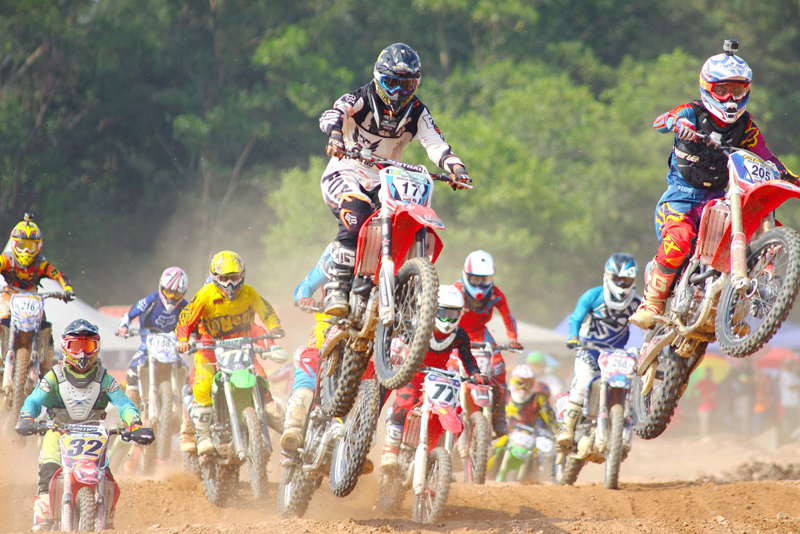 Sometimes it takes being the Champion to get NASCAR to listen. It worked this week for Tony Stewart. After an incredibly rough Shootout, he offhandedly joked that he was going to make sure that his insurance policy was up to date. He then went on to seriously say that someone was going to get killed at either Daytona or Talladega if something wasn't done to calm down the aggressiveness at the restrictor plate races. Stewart commented that at one point his head was slammed into his head rest, and usually that only happens when he backs into a wall.

The Shootout was one of the most aggressive races that I have ever watched. There was a lot more of the 'slam drafting' than 'bump drafting' going on. When you figure that there was less than half the number of the normal lineup on the track, and there was still a 'Big One', you would tend to agree that something has to be done. It was one of the most grueling races that I have ever watched. There was a lot more of the 'slam drafting' than 'bump drafting' going on.

On the positive side however, it was an exciting race. Not because it was so rough, but because it was so close the entire race, and until the checkered flag fell, it could have gone any number of ways. In the end, it was rookie Denny Hamlin that won the first race of the season, and this win guarantees him a starting spot in the Shootout for life. Hamlin's teammate Stewart had given him a few pointers before the race, and evidently they were good ones.

NASCAR has implemented a 'No Zone' in response to Stewart's comments after the Shootout. They have set up certain areas that are marked for no bump drafting. These areas are in the corners and the tri-oval. A driver that is noticed as being too rough in one of these areas will be penalized. Most likely a first offense would be a drive through penalty, and multiple infractions would probably result in a stop and go penalty. This was implemented for the Gatorade 125's on Thursday.

This has brought about mixed reactions from the drivers. There are some that feel that the drivers should be able to police themselves, that NASCAR can't truly see what they need to see to be fair, and that they feel that everyone is being punished for what is done by just a few. There are others that are glad that something is being done, they just don't know if this will be the solution or not. The most popular opinion seems to be that punishment isn't going to be the solution, but rather they should take off the reinforced area across the front of the car, making it so that if they bump drafted, they would damage their cars.

Elliott Sadler is one driver that feels something needs to be done. "When we're all complaining about the same thing for our safety, then I think NASCAR needs to step in and do something. I think they need to take away these bumpers. It's crazy. The Shootout was crazy last week. It was like Martinsville at 190 miles an hour and that was only 20 cars, so I have a feeling the twin races and the 500 is gonna be pretty crazy."

The attitudes of the drivers were totally different for the Gatorade 125's. There didn't appear to be any of that overly aggressive driving. Everyone seemed to want to protect their cars for the 500. There was still plenty of racing, it just seemed to be a little more under control. Sadler easily carried the first of the duels, and Jeff Gordon looked like his old self and won the second duel. Last year wasn't very kind to either of these drivers, maybe starting the year off with a win will bring back the old spirit from them that we are used to seeing.

It seems that every year, Daytona is full of not just action but controversy. This year is no different. Monday, Chad Knaus, crew chief for Jimmie Johnson, was suspended from all Daytona events. Knaus has been accused of lowering the rear window on Johnson's car to alter the aerodynamics. The infraction was discovered in post-race inspection following the Shootout. Knaus has a reputation for being 'creative', and perhaps it is because of this creativity that NASCAR chose to not call this a suspension, but rather an ejection. By doing this, it makes it so that Knaus cannot appeal the decision. NASCAR is considering this a blatant attempt at breaking the rules, and they want to make sure to get the point across to everyone that they mean business. There are likely to be further penalties and perhaps suspension to be announced next week.

Til next week....
This site needs an editor - click to learn more!


Related Articles
Editor's Picks Articles
Top Ten Articles
Previous Features
Site Map





Content copyright © 2022 by De Powell. All rights reserved.
This content was written by De Powell. If you wish to use this content in any manner, you need written permission. Contact BellaOnline Administration for details.