Containers for Cacti and Succulents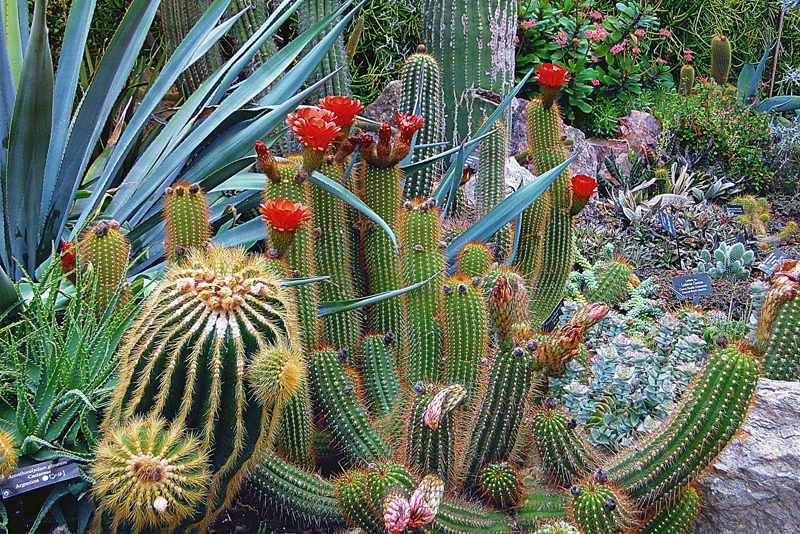 As interest in container gardening continues to expand, cacti and succulents are becoming more popular than ever.

Growing succulents and cacti in pots and other containers makes a lot of sense especially for those with small gardens. It means we can utilize all of the gardening space available, including out of the way spots and niches with less than perfect drainage.

For gardeners living in cold climates, this approach widens the plant palette in some instances. In such situations, we can grow ones that aren't winter hardy. With this approach, the plants can provide seasonal color during the growing season. Then, when temperatures drop, they can be moved to greenhouses or indoors during the winter months.

From decorative to plain, all sorts of containers are suitable for cacti and succulents. The shape doesn't really matter. So, you can select novelty pots that you particularly like. The plants don't really care.

The size of the containers can also vary, depending on the species being grown. When growing in the ground, some species may tend to have deep root systems. But, when grown in pots many of these seem to adapt fairly well to container culture. Those plants with shallow root systems, such as hen-and-chicks, don't really need deep pots. Just go ahead and use squat ones.

Whatever container you choose, it needs to provide two things for the plant. First and foremost, the drainage must be excellent. Otherwise, the roots are likely to develop root rot. In addition, the pot must be capable of supporting the weight of the plant. When you're growing tall plants, such as the taller cacti, this is an important consideration as the plants tend to be top heavy. Obviously, for small rosette-like species, this isn't an important factor.

When you look in garden centers, you'll find pots made from various kinds of materials. These include everything from plastic, resin, and concrete, to granite, fiberglass, terra cotta, and ceramics. There are no hard and fast rules when it comes to suitable materials. For some people, price can be a serious consideration. In that case plastic is the obvious choice even though it has some drawbacks.

Concrete planters, stone, and trough planters are suitable for permanent plantings. However, most of these are too heavy to move about from spot to spot on a whim. These materials wouldn't be good for more tender species that you want to move indoors at the end of the growing season.

In some instances, the pot's adaptability to freezing temperatures is in question. Not all materials are made to survive the alternate thawing and freezing that takes place in cold climates. This cycle will destroy some unglazed terra cotta pots, for example. Sometimes, all you need to make the container frostproof is to add a suitable finish. Succulents and cacti do better in airy, porous materials. So some finishes are more suitable than others. In addition, decorative glazes and finishes are a matter of personal choice. I prefer that the container complement the plant rather than compete for one's interest.

Novelty pots are widely available. But, if these use a strongly seasonal motif, such as pumpkin shapes, they aren't as suitable for permanent plantings of cacti and succulents. Instead, use these novelties for fall mums or other annual flowers.

Pots in the shapes of animals or other themes work fine so long as the drainage is sufficient.

In general, unless you're dealing with heavy trough gardens or the like, pots are portable. This means you can move them to wherever you need a focal point in your garden. This versatility alone probably accounts for much of the popularity of container gardens.

This site needs an editor - click to learn more!


Related Articles
Editor's Picks Articles
Top Ten Articles
Previous Features
Site Map





Content copyright © 2022 by Connie Krochmal . All rights reserved.
This content was written by Connie Krochmal . If you wish to use this content in any manner, you need written permission. Contact BellaOnline Administration for details.