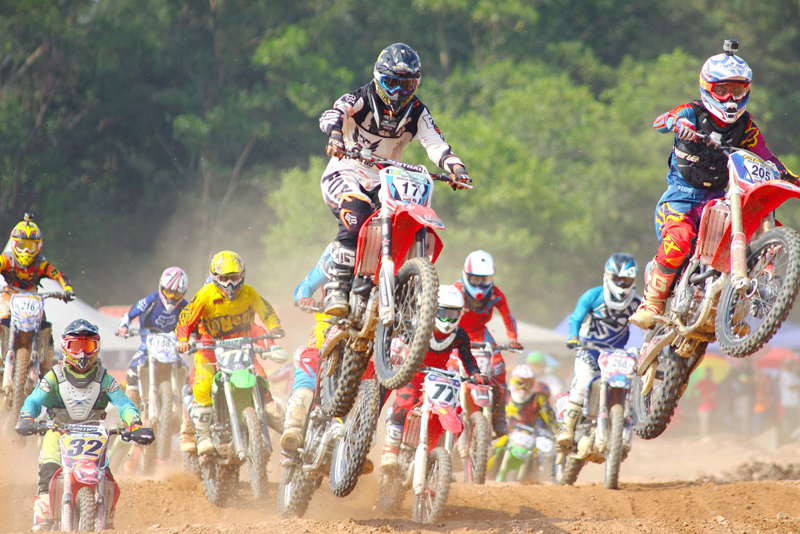 Seeing a sore loser, especially in NASCAR is not an unusual sight. A sore WINNER on the other hand is not only uncommon, but the epitome of unsportsmanlike conduct. Jimmie Johnson seemed to easily take the lead with 14 laps to go and was obviously thrilled to be in the Winner's Circle. But, while everyone cheered, he actually had the audacity to stand there and dedicate his win to the #48 haters. Up until that moment, I can say I wasn't one of his biggest fans, but I did respect him, and it was a clean win. And up until that moment, I was not thinking of him as the bad guy, just a victim of an overzealous crew chief. He lost my respect with that single statement.

Chad Knaus, crew chief for Johnson is one that repeatedly pushes the envelope, maneuvers his way around the rule book, and certainly keeps the inspector's on their toes. This does not make him a bad crew chief, quite the opposite. The fact that he can continue to find ways to manipulate the smallest item to gain a little more speed is brilliant. NASCAR obviously decided that this time he had crossed that line that he so carefully balances on.

NASCAR issued the remaining penalties to Knaus this week. They have sent out the message to all the teams that they are not going to be tolerant of cheating this year. Knaus has been suspended until May 22nd and is on probation until December 31st. This is in addition to the $25,000 fine. There were no driver or owner points taken away. This surprised me, especially since Terry Labonte's team did have points taken away for their infractions.

I consider myself in the group of the many that do not understand the NASCAR rule book. Yes, although it is not a book that many are privy to, it does exist. I did not understand how Labonte's new team that had no prior infractions lost points and a multiple abuser was not docked at all. So, before bringing my outrage to a public forum, I did some research. I'm glad that I did, for I found the answer that I was searching for.

FOX Sports analyst Larry McReynolds explained it very well. "If you maliciously put something on a car that's made or machined, and it's an unapproved piece that can be confiscated, the team will be fined, the crew chief will be suspended and the driver and owner will lose 25 points. If you take something that's already on the car and use it to beat the spirit of the rule, then it warrants a suspension and a fine, but it does not warrant the loss of 25 driver and owner points." This made me feel a little better about the whole situation. The parts that were on Labonte's car were unapproved parts, whereas the parts that were used on the #48 car were parts that were altered but still parts that are normally on the car.

The Gentlemen's Agreement was forgotten early into the Daytona 500. Unfortunately, the most outspoken driver for the aggressive driving in the restrictor plate races was the first victim of the penalties. After Tony Stewart's second incident of the day, NASCAR sent him to the back of the longest line for aggressive driving. His first incident was with Jeff Gordon on lap 49, and although he wasn't penalized for that one, they certainly attributed the incident with Matt Kenseth on lap 110 as being so. Kenseth was none too happy, and the usually unemotional Kenseth was screaming for justice. Evidently he didn't feel that NASCAR punished Stewart enough and he resorted to inflict some of his own on Stewart as they merged back into traffic coming off the pits. NASCAR didn't agree and then penalized Kenseth. I guess NASCAR didn't like the fact that Kenseth was reluctant to respond to the demand that he come in to serve a drive through penalty. Kenseth was heard questioning the call on the radio, and demanded an explanation. That was the wrong thing to do, as NASCAR then didn't score that lap for Kenseth. I think that not only Kenseth, but the entire field learned that when NASCAR says to come in, then you had best come in. You can argue about it later.

This week they are heading to Fontana for the Auto Club 500. Greg Biffle is the defending winner, and I fully expect to see him coming out strong again this week. I also expect to see Jamie McMurray do well. This is the type of track that Roush drivers do very well on, so I think that we will be likely to see most of them in the top 10.

Til next week.....
This site needs an editor - click to learn more!


Related Articles
Editor's Picks Articles
Top Ten Articles
Previous Features
Site Map





Content copyright © 2022 by De Powell. All rights reserved.
This content was written by De Powell. If you wish to use this content in any manner, you need written permission. Contact BellaOnline Administration for details.