My favorite way to put faces on cloth dolls is with paint and brushes.
This is probably because my concentration
in college was painting, but don't let the idea scare you. You don't
have to be an artist to do this,it's easier than you may think and I will
walk you through it. I'll even give you a pattern to use. We will work with
one feature at a time to break it down into small, easily done parts.
The easiest paints to work with are acrylic craft paints in small
bottles. These are rather inexpensive and are available at any craft
supply store. Choose colors that are somewhat muted since facial features
tend to look best in these tones. For lips and noses choose dusty rose, peach
or mocha. For eyes, lashes and brows choose avocado green, taupe, raw umber,
ocher or burnt sienna as well as grayish blue or light teal. You will also
need black and white and very small brushes such as a size 00 liner brush
and a very small flat brush no wider than 1/4 inch.
I have drawn the features on a pattern piece for a cloth doll that I will
be writing about in the near future. Look at the placement of the features.
You may print out the pattern and transfer it to your fabric or use it
as a guide to draw the features onto your fabric, lightly, in pencil.
You can draw the features on the fabric before or after cutting your
pattern piece out or after the doll is assembled. I do it after assembly
because I draw it on freehand. If you are transferring my design onto
the fabric it will be easier before it's cut out. When painting on uncut
fabric be sure to put cardboard or waxed paper under the fabric to catch any
paint that seeps through.You must clean your brushes between colors with water, but don't thin the paint. Make sure you blot your brush on a cloth or paper towel to absorb most of the water.
Start with the irises (the colored part of the eye).Paint in the irises
first using your small, flat brush and your chosen eye color. While the
paint is still wet, using your smallest liner brush and white paint, put
in white lines and slightly blend them radiating from the center out all
the way around. Don't over blend, you don't want it to be a solid color.
Let it dry. Then put a small (less than 1/8 inch) black dot in the center
of each iris and let it dry. On the outside edge of the black dot put a tiny
white dot (1/16 inch)and let it dry. Make sure you put the white dot in the
same place on both eyes. Now outline the eyes and add the lashes and brows
using the small liner brush and paint in the same color as you want the doll's
hair to be.
To paint the nose and mouth paint the lines with the rose, peach or mocha
then fill in the lips with the small, flat brush. To give a three dimensional
look you can blend a few white lines into the bottom lip, radiating from the
center top out to the bottom and sides, using the same technique as on the eyes.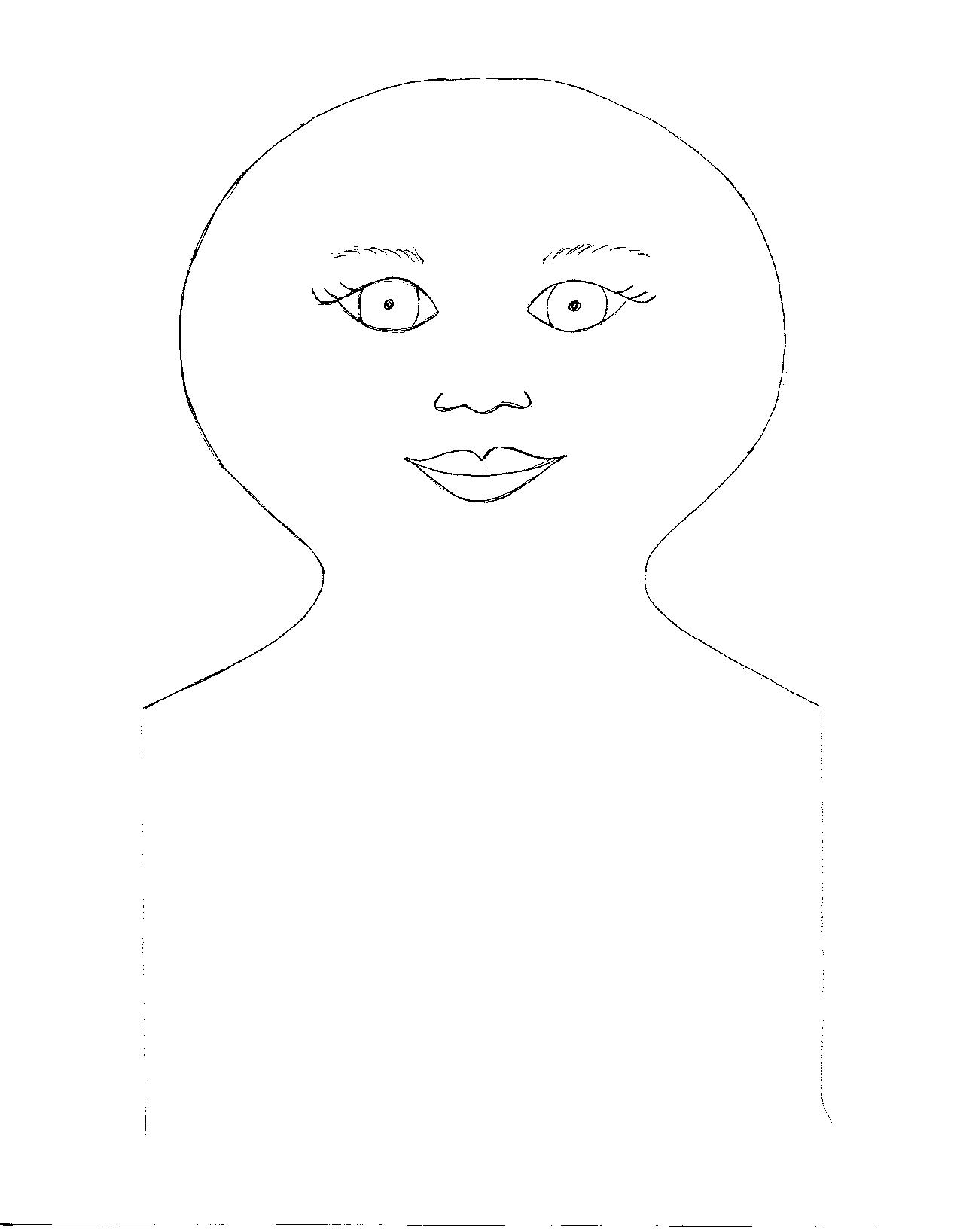 Making and Dressing Cloth Dolls
Ebook with patterns and instructions to make 5 cloth dolls as well as chapters on general doll making techniques.The book includes 21 inch Lalena Doll, 21 inch David Doll, Bear Dolls, 9 inch Destiny Doll and 15 inch Annie Doll, all together in one handy book. 53 pages.
Making and Dressing Cloth Dolls
.