Never Throw Away Your Ticket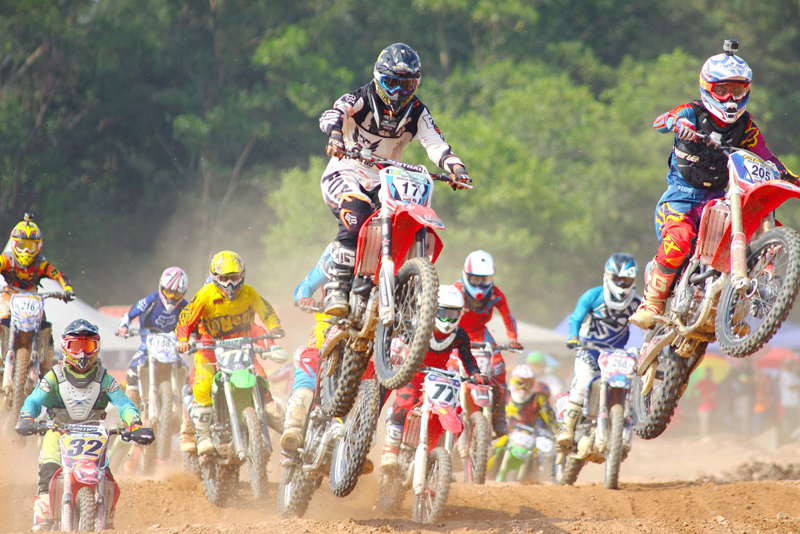 Never throw away your ticket until the checkered flag flies! Especially when in Las Vegas and Matt Kenseth and Jimmie Johnson are racing for the win.

Kenseth had led 146 laps of the 270 lap race, and even though Johnson was making gains on him, there weren't enough laps left to overcome the more than one second lead that he had. All that changed when the caution flag flew on lap 264 for debris. At that time, Kenseth called it a ridiculous caution. He seemed to know at that point that the odds for his second consecutive win had suddenly shifted. Not only would his lead be diminished down to mere feet, but he was reporting ignition problems as well. Sure enough, after the restart on lap 269, Johnson continued to gain on Kenseth. On turn 3 of lap 271, Johnson roared past Kenseth and claimed victory after leading less than one lap. It looked smooth, effortless and very impressive. But the only important lap to lead is the last one, right?

Definitely a nail-biting finish for the leaders, but not all of the excitement was at the front. For the second time in the short 3 races this season, Kyle Busch and Tony Stewart were at odds with each other. The problems this week started shortly after the midpoint of the race when Busch was running in second and Stewart in third. "What I'm upset about is that with 80 laps to go we're sitting there for 15-20 laps behind [Busch] trying to get by and he's holding us up for no reason," Stewart said. "With 80 laps to go he's holding us up and we all have another pit stop to make. Work on your car and go on," Stewart said of what he felt was Busch's best option. "There's just an etiquette. I'm frustrated with it and I honestly think I have every right to be. There's absolutely no reason to hold a driver up when there's 80 laps to go. That's the only thing I was disappointed about." Stewart stated after the race.

Busch wasn't sure why Stewart was so upset. "The first time we really got going after each other was with about 40 [laps] to go," Busch said. "That's the perfect amount of laps to go where it's time to dig in deep and get after it and get on top of the wheel and start going. There is no more rolling over and playing dead and letting guys go and stuff like that -- It's time to race and it's time to get after it and that's what I was doing. "If I might have aggravated Stewart a little bit, then I apologize to him for that."

The reason behind this mini-feud is up for speculation. Kyle is young and still relatively inexperienced, yet full of talent. Perhaps Stewart sees this and is taking the hard line with him to teach him to be a Champion. Busch stated that he intends to seek out Stewart and discuss the events and get the air cleared before this week's race. Busch really seems to respect Stewart's opinion, and hopefully, they'll be able to talk this out and race without incident in Atlanta this week. I see similarities in their driving styles, and thoroughly enjoy seeing the two of them battle on the track when it is true racing and not tempers.

Even though we are only three races into the season, there has already been some impressive and unexpected stand-outs.

I am thoroughly enjoying seeing Jeff Burton being so competitive again. I am hoping to see him in Victory Lane at least once this year, and if he continues on the same course as he has so far this year, he just might make the Chase as well.

Kasey Kahne seems to have regained his fire. He is looking smooth and polished out there. It seems that he has the same drive that he did in his rookie year two years ago, and the black cloud hanging over his head from last year seems to have blown away.

Casey Mears is another to keep an eye on. Where did he come from? All of a sudden he is finishing top five consistently! His racing style is more quiet and unassuming, he just seems to race his race and finish strong. I think he has surprised many and shown that he is a real competitor. I fully expect to see him win at least one race this season and possibly be a contender for the Chase.

The rookies are not disappointing us in the least. Four of them are in the top half of the field, and are holding their own out there. Clint Bowyer is leading the pack and is seventh in the standings. Martin Truex Jr. and Denny Hamlin are fifteenth and sixteenth and J.J. Yeley is in twenty-first.

This week we're off to Atlanta for the Golden Corral 500. It's one of my favorite tracks, and is the fastest track on the circuit that isn't a restrictor plate race. There is such good racing there, usually a lot of side by side racing and generally not a runaway for anyone. Carl Edwards won both events in Atlanta last year, but so far this year hasn't been treating him too well. There are a few drivers that are generally higher in the standings that have had some bad luck. Atlanta is the type of track that can bring changes and surprises. Although nothing is for sure, it's certain to be a good race.

Til next week.....
This site needs an editor - click to learn more!


Related Articles
Editor's Picks Articles
Top Ten Articles
Previous Features
Site Map





Content copyright © 2019 by De Powell. All rights reserved.
This content was written by De Powell. If you wish to use this content in any manner, you need written permission. Contact BellaOnline Administration for details.