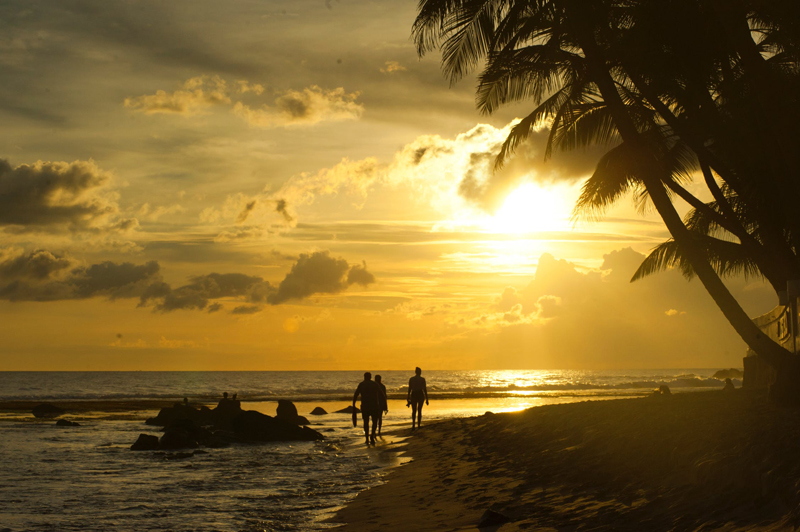 In amongst the abundance of conventional fruit found in the Caribbean are some lesser-known indigenous delights that spice up the activity for visiting tourists and satisfy pangs of nostalgia for the ex-pats when they crop up in local grocery stores. Taste or smell these just once and you'll always be carried back to the Caribbean whenever your paths next cross. Each fruit is known by a variety of names, so English, Spanish and French versions are listed.

Guava/Guayaba
The name of this sharp-scented pear-like fruit has Arawak origins, and although the guava is now cultivated worldwide, it is native to the Caribbean and South America. The fruit can be eaten straight off the tree, thrown into a rum punch, or typically boiled up with plenty of sugar to make the delicious 'Guava Cheese' or guava paste, a sweet jam/marmalade that rounds off many a dinner.

Soursop/Guanabana/Corossol
The Soursop is a Caribbean super tree that bears a bulbous, green pulpy fruit covered in horned spikes. Inside is a soft, milky mush with a sweet/sour taste that is squeezed into juice, or frozen into ice cream. The leaves of the tree are a vital component of bush tea and ensure a good night's sleep along with a host of other claimed medicinal properties.

West Indian Cherry/Acerola
High in antioxidants and vitamin C, the West Indian cherry is now cultivated as far afield as Texas and Hawaii. The cherries have a sharp, sweet taste that is great off the tree, but even better in a jam.

Guinep/Mamoncillo/Spanish Lime
Come the sweltering summer months and a common sight along the roadside is groups of children hawking branches of guineps for passing motorists. Even on the drier islands, these trees always produce their yield of fruit; a crisp, papery shell that squeezes open easily to reveal a stone covered in a furry, tart flesh with a dash of sweet jelly. Guineps are neither particularly refreshing nor instantly pleasant, but they are the taste of the hurricane season.

Naseberry/Nipero/ Sapodillo
Popular throughout the Caribbean and Asia, the Naseberry tree bears an enigmatic, delicious fruit with a rough skin that splits easily in half to unearth a sweet, malty flesh with a slightly sandy texture, and shiny black seeds that are inedible. The rubbery sap of the Naseberry tree was allegedly one of the early ingredients for chewing gum, but the fruit is a pleasure all by itself.

Papaya
The thin branches of the papaya tree seem to surge out the soil in a matter of months and in no time the umbrella-like leaves are providing their shade for a cluster of fresh fruit with a distinctive aroma. The fruit can be sliced open and the small black seeds hollowed out for a juicy, melony experience that is great with a dash of lime juice. Alternatively, papaya chunks can be blended with evaporated milk and cinnamon for an indulgent smoothie.

Passion Fruit/Chinola
Found throughout South America and the Caribbean, the hard, purple shell of the passion fruit breaks open to reveal a gluey mess of hard black seeds with a tangy, sharp aroma. The pulp is strained, blended and used as a base for many a rum sundowner, or as the catalyst for a refreshing thirst quencher.



Related Articles
Editor's Picks Articles
Top Ten Articles
Previous Features
Site Map





Content copyright © 2022 by Nick Marshall. All rights reserved.
This content was written by Nick Marshall. If you wish to use this content in any manner, you need written permission. Contact Nick Marshall for details.