Just Roll With the Punches!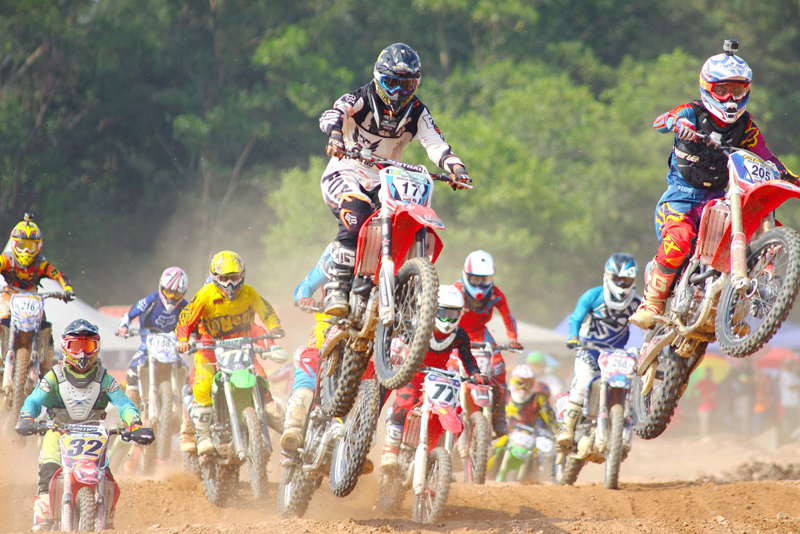 Just roll with the punches! That could be the slogan for Bristol's Food City 500. There is always something unexpected at Bristol, and we should know by now to expect the unexpected. On Saturday there was a freak blizzard that stopped the Busch race for over an hour, and it was still unseasonably cold on Sunday. The fans may have been chilled but the excitement on the track was as hot as ever - so were the tempers.

We saw both good and bad bump-and-runs. A good bump-and-run is just a tiny tap that moves the driver in front of you but doesn't make them lose control. Kurt Busch demonstrated a good one with four laps to go on then leader Matt Kenseth. Since Busch is the driver that people love to hate, it wasn't taken very well by fans or by Kenseth. Busch held onto his lead and raced victoriously across the Finish Line, as the crowd loudly showed their disapproval, but he didn't seem to care as he got out of his car and made 'snow angels' on the Start/Finish line. At the time of the pass, Kenseth was being help up by Dale Jarrett who was trying to stay on the lead lap. Busch, knowing there wasn't much time left, did what he needed to do to get the lead.

Kenseth appeared to let the sourness of that moment affect him as he tried the same maneuver on Jeff Gordon just a short bit later. He demonstrated a bad bump-and-run, and sent Gordon into a spin, changing a pretty certain top five finish into a finish of 21st for Gordon. Unfortunately, following the race, Gordon was told to park his car behind Kenseth on pit road. As he got out of his car, Kenseth approached him to apologize, but Gordon, not having had enough time to cool off, shoved Kenseth. It wasn't hard, but it was certainly uncharacteristic of Gordon, and certainly took Kenseth by surprise. Kenseth later said that he should have known to wait a little while before going to talk to Gordon. Gordon later said that it was just the heat of the moment, and he would probably have not done so with some time to cool. However, Gordon also said that he isn't necessarily the same person that he has been in the past. "I guess that's maybe the Jeff Gordon that's evolved over the years is that when in the past I've reserved a lot of my emotions, I'm not afraid of showing them these days. You know, I'm just being me, and sometimes that's showing my anger and sometimes that's walking away from an incident." Gordon said. Gordon, who hasn't ever been fined for conduct previously, was fined $10,000 and put on probation. Personally, it was refreshing to see Gordon show some emotion for a change. Has NASCAR's good boy gone bad?

A major topic of conversation this week has been the accidental airing of some swearing over the radio of rookie Martin Truex Jr. by his crew chief Kevin 'Bono' Manion, immediately following Truex being wrecked. I have received emails all week asking me what I think. In my opinion, absolutely nothing should happen to the Truex team. They were communicating on their private radio channel. FOX chose to listen in, and just as with anyone that eavesdrops, you are taking your chances with what you might overhear. There are some watchdog groups that were on this situation nearly as soon as the word was uttered. I think they need to focus more of their time looking for good instead of nitpicking every little thing apart trying to find bad. There are many things on TV far more offensive than one curse word overheard on a radio. FOX Broadcasting openly admits that it was a mistake on their part. They normally have a 5 second delay on radio transmission broadcasts so that if possible they can edit. This time the delay failed. It was a mistake, and Mike Joy issued an apology mere seconds after the airing. Shouldn't that be enough? Personally, I think that FOX handled the situation well.

Bristol is probably one of the best tracks to teach the rookies how it should be. Truex was sent spinning twice, and Brent Sherman took four different spins on the track. Since patience and Bristol don't generally go hand in hand, they learned their lessons the hard way. The veterans weren't spared either though. Before the day was done, there was less than a handful of cars that hadn't been involved in at least one incident, and even the truck that picks up debris had damage. Typical of Bristol, there were many cautions. I was disappointed that on many of the restarts, FOX didn't resume broadcasting.

There are feuds that happen at Bristol, some are new, some are already brewing and just get more fuel there. I'm sure that the phone lines were pretty busy this week between the drivers calling each other to apologize or at least talk things out. One of the most humorous as well as most talked about feud is the one between Kevin Harvick and Busch. In a pre-race press conference, Harvick laughingly talked about what all he would like to do to Busch and then went on to comment that he shouldn't have said it, but you could tell he didn't want to take it back either. This is one of those feuds that will probably not get any better this week, in fact, this one will quite possibly continue for a long while. Although, since Harvick finished second to Busch, we could say that Busch got revenge in one of the best ways that he could.

This week we're off to Martinsville, another of the short tracks. Will the feuds that started last week be carried over? Will new ones start? All I know is that is going to be another week that tries the patience of the drivers, and just as at Bristol, there will be a lot of bumpin' and rubbin'. All of which makes for an exciting race for the fans.

Til next week......
This site needs an editor - click to learn more!


Related Articles
Editor's Picks Articles
Top Ten Articles
Previous Features
Site Map





Content copyright © 2019 by De Powell. All rights reserved.
This content was written by De Powell. If you wish to use this content in any manner, you need written permission. Contact BellaOnline Administration for details.