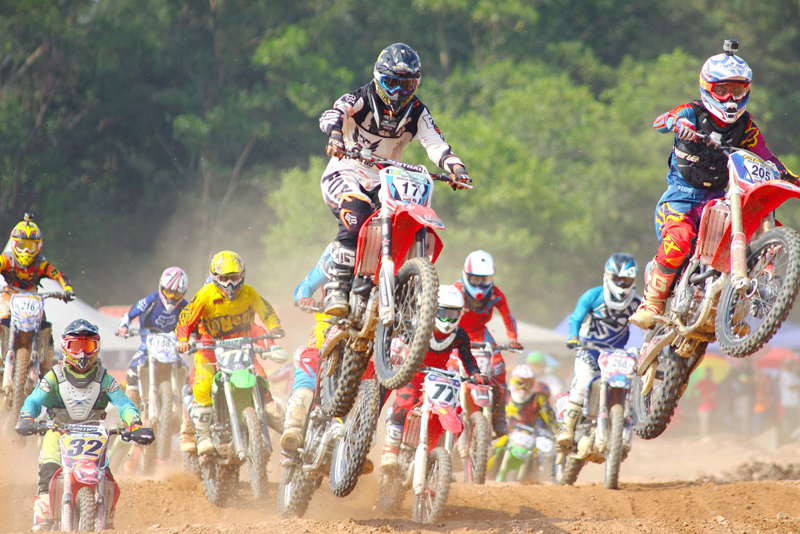 Persistence pays off! Tony Stewart has had a year where he has received more bonus points for leading laps than any other driver, yet not leading that all important last lap. At the DirecTV from Martinsville last week, he not only led the most laps, but overcame a rapidly gaining Jeff Gordon on not one but two late caution restarts to get the checkered flag. Stewart still had enough energy in him to scramble up the fence after his first win of the season. Typically, Stewart does better in the later part of the season, but this year they have gotten off to an early start.

Having had the fun of watching back to back short track races reminds us of why we really like racing. Martinsville is the type of track where very few cars cross the finish line looking like they did when they started the race. Thankfully, aerodynamics are not nearly as important as they are at tracks like Daytona and Talladega, where even the slightest rumple on the nose of the car can knock a driver out of contention for a win.

Dale Earnhardt, Jr. was the best example of this. On just lap two he was caught up in a seven car crash. His crew went to work on making repairs to his car, while keeping him on the lead lap. His car was anything but pretty with the entire right front fender missing, but it didn't seem to slow him down. Before long, Earnhardt was closing in on the front, and had worked his way up to fourth position. Unfortunately though, his troubles weren't over as he and Ryan Newman got into each other on lap 316 and he banged in his left front. I couldn't believe it when I saw that his car still seemed to be as fast as ever. Amazingly enough, he finished in fourth place with one of the most banged up cars I've ever seen. "This was a fun race, man," Earnhardt said. "We kept on coming back. We knew we were putting on a good show." It certainly seems that Jr. and team are back with all of the personality and style that we are used to seeing from them, and I don't think it will be long at all until he's back in Victory Lane.

Finishing second was something that wasn't predictable for Jeff Gordon as he was another that had early race issues. While racing with Kasey Kahne on lap 90, Gordon cut a tire. He made it to the pits, with no damage on his car, but was penalized for pitting too early and was sent to the end of the longest line by NASCAR. He rallied back and certainly gave race winner Stewart a run for his money at the end. It looks like Gordon's team has gotten back at least some of the magic they have had in the past.

With the Race for the Chase format, the season is technically cut by ten races for the drivers. This seems to have created an urgency for early aggressiveness. It's almost like they don't pace themselves anymore. When the green flag falls, it seems like patience goes out the window along with common sense. It's almost like they don't realize that the first lap is just that. I like exciting racing as much as any driver, but I have to say that I am getting tired of seeing great drivers with really good cars limping around the track early on merely because of someone's impatience in the first 20 laps.

A bit of surprise this year is the lack of dominance from the Roush drivers. Although certainly not doing poorly, they just don't look as strong as they did last year at this time. The Samsung/Radio Shack 500 from Texas Motor Speedway this week may change that. Texas is certainly the type of track that makes the Roush drivers shine. Although there are other drivers that will challenge them, I think that they are going to be the ones to reckon with this week.

Til next week......
This site needs an editor - click to learn more!


Related Articles
Editor's Picks Articles
Top Ten Articles
Previous Features
Site Map





Content copyright © 2022 by De Powell. All rights reserved.
This content was written by De Powell. If you wish to use this content in any manner, you need written permission. Contact BellaOnline Administration for details.