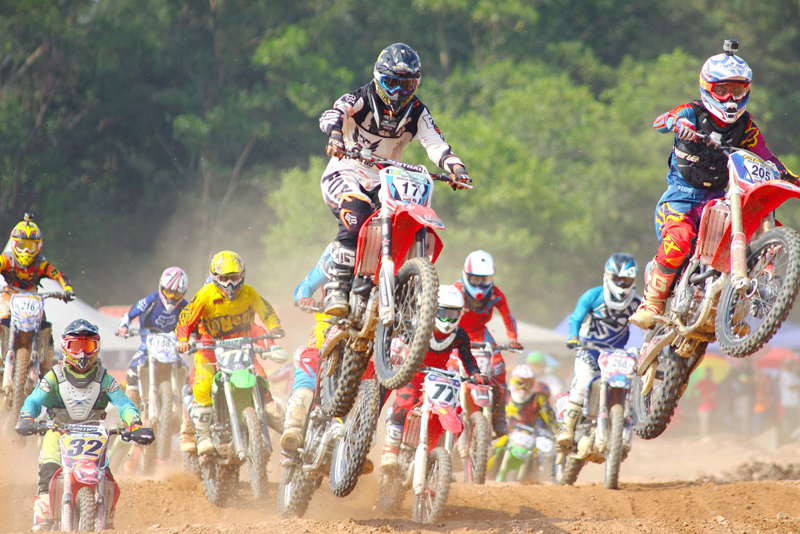 Fussin' and feudin' is the name of the game in NASCAR. There is very rarely even one race that is held when there aren't at least two drivers that are upset with each other. Sometimes it gets settled with a simple phone call on Monday morning. There are some that have been brought to the public ear in the press. And sometimes, the miffed driver takes his anger out on the other driver with his body or his car. Some of the feuds this year have been humorous, others have been surprising, but there are certainly plenty to go around.

Possibly the most blatant one centers around Kevin Harvick and Kurt Busch. Their long-standing feud has just as much fuel as ever. These two are starting to remind me of Cale Yarborough and Donnie Allison. When Harvick mentioned a few times in a press conference what he would like to do to Busch off the track, it told all that this feud still has plenty of fire to keep it burning for some time. I have little doubt that this feud will provide more to talk about before it's through. Let's just hope they continue to keep it off the track rather than on.

Who would have ever thought that we would see Jeff Gordon not only lose his temper but physically shove another driver? Although this was more of a fuss than feud, it was a shock to see usually composed Gordon lose his composure even for a moment. And even more amusing, the victim, Matt Kenseth is the one that apologized for approaching Gordon too quickly.

There are some feuds that are just beginning to brew. Ryan Newman just isn't up to his usual standards this year and he seems to put the blame on everyone else but himself. Sorry you are having a bad year Ryan, but talking bad about Sterling Marlin's toupee was just mean.

Although no one will ever replace 'The Intimidator' Dale Earnhardt, it seems that Tony Stewart has unofficially become 'The Enforcer'. Lately it seems that whenever there is a driver on the track holding up the others, Stewart is there to subtly remind them that they need to move. Well, maybe not so subtle, but then again, when is Stewart ever subtle?

Even though there is a great group of very talented rookies this year, they still have to go through the learning process. One of the major things they need to learn is patience. If their car isn't fast enough or good enough, they need to learn to hang back, and let the cars that are better get by and hope that they can make the necessary improvements to get to the front later on. By hanging up other drivers, they are not gaining the respect of the veterans, and they certainly won't get any breaks from those that they have wronged. And if that doesn't work, they'd better hope that Enforcer Stewart isn't close. He's already taught Martin Truex, Jr. that lesson.

It looks like little brother Kyle Busch is following in the footsteps of older brother Kurt. Not just with driving talent on the track, but with a lack of common sense out on the roads with regular drivers. Just to refresh our memories, older brother Kurt had a scuffle with the law last October in Phoenix when he was pulled over for erratic driving, running a stop sign and speeding. For this, not only did he receive fines and tickets in Phoenix, but NASCAR also suspended him from the final two races of the season. He just completed his 50 hours of community service this week. Now this past week, the younger Busch, was stopped for reckless driving in a Richmond suburb. NASCAR seems to be keeping out of this one, though. A Busch driving recklessly, who would have thought?

Not letting a ticket dampen his spirits, Kyle qualified fastest for the Subway Fresh 500 at Phoenix this Saturday night. This track, a favorite of the younger Busch is where he got his last win, and he certainly acts like he plans on repeating this feat. He's got some tough company behind to contend with though. No surprise that three of the Roush drivers qualified well, as this is the type of track at which they excel. Also looking good at qualifying were the DEI cars of Martin Truex, Jr. and Dale Earnhardt, Jr. Joe Gibbs Racing is well represented with Tony Stewart and Denny Hamlin. As we all know though, it's not where you start that's important, it's where you finish. I think we are in for some good racing this weekend, and possibly even some more feudin'.

As always, I've enjoyed your emails this week. You've all expressed a variety of opinions this week about the feuds, the Chase and your predictions. I enjoy them all, and please keep letting me know what you think!

Til next week.....
This site needs an editor - click to learn more!


Related Articles
Editor's Picks Articles
Top Ten Articles
Previous Features
Site Map





Content copyright © 2022 by De Powell. All rights reserved.
This content was written by De Powell. If you wish to use this content in any manner, you need written permission. Contact BellaOnline Administration for details.