Why Were They Five Wide to Begin With?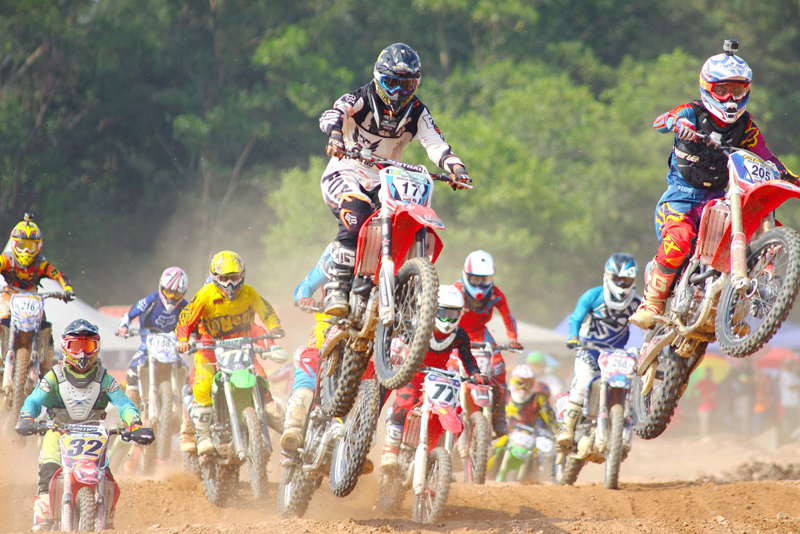 Waiting an extra day to have the Aaron's 499 from Talladega didn't dampen the level of excitement. It didn't take long at all for it to turn into a typical Restrictor Plate race. Nine laps to be exact. I was holding my breath when I saw that they were five wide going into the corner. They were just asking for trouble and trouble is what they got. Why were they five wide at all? Talladega is a wide track, but it isn't that wide! The wreck involved thirteen cars and took three of the runners in the Chase out of contention. Kasey Kahne, Mark Martin and Kyle Busch all took hard hits both to their cars and to their points. Seeing that kind of carnage out on the track so early let us know this race was going to be anything but pretty.

NASCAR's efforts at controlling the bump-drafting by using the softer bumpers seems to have helped a bit, but there could still be some further steps taken. Although there did seem to be less bump-drafting, the level of aggressiveness was still great. I can't deny that the level of excitement was high, though. With over 50 lead changes, you never knew what was going to happen from one lap to the next. There were some laps with more than one lead change on the same lap! And for once, there was not any single driver that was clearly dominant. It literally came down to the last 5 laps before there was even a clue as to who was going to cross that finish line first.

Once again, Tony Stewart was the bridesmaid and not the bride, bringing home his sixth 2nd place finish at Talladega out of the last 11 races. Nothing to feel bad about though, that 2nd place finish moved him up two places in the standings. Jimmie Johnson got his third win of the season, and his first win at Talladega, as well as regaining the lead in the points, after some drafting help pushed him in front of teammate Brian Vickers with 5 laps to go. He only had to hold off Tony Stewart and his teammates to get that trophy. No easy task with all the action going on behind him, but he came through with relative ease.

You could hear the groans from the Dale Earnhardt, Jr. fans when he had an engine failure on lap 153. Engine failure isn't something that Earnhardt, Jr. is used to dealing with, but his spin on lap 89 was quite possibly the reason for the failure. All of you Jr. fans cheer up, he only fell one spot and he'll be back next week more determined than ever. "It was four-wide and I got loose and got into Carl [Edwards] and spun himself out," Earnhardt said. "I might have spun the motor backwards. That's probably why I blew up. "We don't normally have engine failures. It was a tough day for us, but oh, well."
With only 16 laps to go, there was yet another big wreck, this one caused by rookie Denny Hamlin. He was penalized one lap for aggressive driving, but even with that penalty, he fared better than two of the victims that were caught up in the crash. Michael Waltrip and Joe Nemechek had both been looking like they would be assured a top 20 finish, ended up instead finishing 25th and 27th.

Drivers can't go to a restrictor plate race expecting anything but the worst. Sometimes, just finishing the race is can be an accomplishment. There is always someone that gets caught up in a mess that isn't of their doing. Just the slightest tap from another car can take a great car and turn it into a pile of junk. Aerodynamics are more important at Talladega and Daytona than perhaps any other tracks. I like the way that Mark Martin summed it up. "In 1982, it was just a blast to race here," Martin said. "But in today's day and age, it's hard to have fun when you know the pin is out of the grenade. It's just a matter of time before it goes off."

This week we are heading to Richmond for the Crown Royal 400. Night racing and a short track. Two favorites of mine that rarely disappoint. Of course with the short tracks come the short tempers, and I'm sure this week will be no different. I'm sure we are in for some great racing.

I appreciate all of your e-mails every week. Please keep letting me know what you think!

Til next week.....
This site needs an editor - click to learn more!


Related Articles
Editor's Picks Articles
Top Ten Articles
Previous Features
Site Map





Content copyright © 2022 by De Powell. All rights reserved.
This content was written by De Powell. If you wish to use this content in any manner, you need written permission. Contact BellaOnline Administration for details.