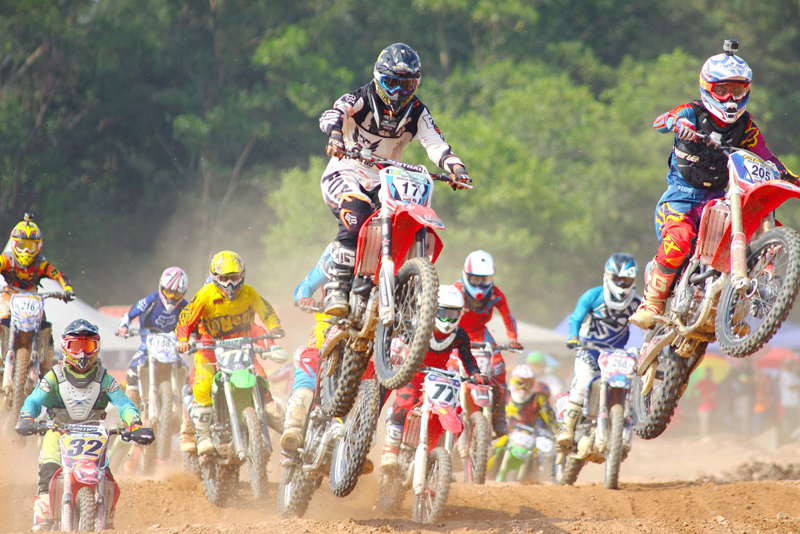 Fast and furious would describe the mode and mood - well, furious at least. We just thought that we were in for a couple of quick shootouts last Saturday at the NASCAR Nextel Open and the NASCAR Nextel Challenge from Lowe's. With only 120 laps total between the two races, even with the breaks and the inversion and all the ceremony, it should still be the fastest event of the season. Mother Nature had more than a little to say about that. The festivities were delayed more than once due to rain. Finally, after nearly six hours, Jimmie Johnson won the Challenge and pocketed the million dollar prize.

It doesn't matter how much money you have, a million dollars is still a lot of money, and those guys out on the track meant business. They call the All-Star race 'wreckers or checkers' for a reason. There was very little giving and a whole lot of taking as they battled it out, and at times it was brutal. The biggest crash occurred during the second segment when seven cars were caught up in an incident that began with Mark Martin and Kasey Kahne. I had to keep reminding myself that this was not Daytona or Talladega, because it certainly resembled it. Keep in mind that there was less than half of the normal field. By the end of the race, only half of the starters were still on the track.

To say they were having a bad night would be a serious understatement when referring to Matt Kenseth and Tony Stewart. Both were involved in the large crash in the second segment, but they were both able to stay on the lead lap and be competitive. That is, until the final segment. With less than 20 laps to go, Stewart had a run on Kenseth, or so he thought. Kenseth squeezed him off and the two got together and wound up crashing hard, putting themselves out of the race. Stewart went to his hauler to cool off before talking to the press, so Kenseth was able to state his viewpoint first. "At the finish line, I could see that Tony was getting a run and I was going to try to stay on the bottom," Kenseth said. "Maybe he was a way in there and I squeezed him off. I didn't think he could have got in there that good to have that good of a run, but he must have." Stewart was able to see Kenseth's interview and the replay during this time, and instead of cooling off, he seemed to have gotten hotter. "I had a pretty definitive view from what I saw. I got a run on him, at least he got that part right," Stewart stated. "That's a pretty demented view in my opinion. I think he screwed up on this one. If he thinks I did that and that was my fault, he's screwed up in the head." Knowing how NASCAR frowns upon drivers confronting each other, you would think that would have been the end of the story. However, Stewart wasn't done and he went over to confront Kenseth's crew chief Robbie Reiser. After a heated exchange, Stewart was pulled away, and Reiser just said, "That's racing, boys."

Kenseth and Stewart are as different as night and day, in both personality and driving style. However, both are professional, and although tempers may flare, they get over it and get things settled. On Thursday, the two met with NASCAR officials, and assured them that it was over. Kenseth admitted that he didn't give Stewart enough room, although he added that Stewart could have gotten out of the gas too. Stewart said that it is in the past. "This is a whole new week," Stewart said. "We're just figuring out what we've got to do for 600 miles now and not worry about an all-star race. It's a different breed.''

The Challenge showed us just a bit of what we are going to be seeing in this week's Coca-Cola 600. The recent resurfacing of the track was supposed to help solve some of the issues that have been experienced in the past. With the rain and the hard rubber compound on the tires what we saw during the Challenge was a lot of single groove driving. More likely we will see a lot more of that this week. I am hoping that there will be a second groove to open up so that we will get some good side by side racing and passing. The Coca-Cola 600 is notoriously hard on engines though. Making these cars go an extra 100 miles is more of a strain on the cars and there are often more that fail to finish due to engine woes than to crashes. So generally, what we see is an endurance race rather than a hard racing type of race.

Catch phrases are only funny or cute for a short while. After you've heard the same phrase more than a dozen times, it is annoying, redundant and unoriginal. I heard 'House of Johnson' more times than I cared to count the other day. We all know that Lowe's Motor Speedway is quite possibly the best track for Jimmie Johnson. The last time any other driver won there was in October of 2003. Johnson puts on a great race there, no doubt about that, and his dominance seems to be unbeatable. However, there are 42 other drivers out there that are going to be doing their best to break his streak. Let's just hope that we actually hear about some of them. I used to prefer the coverage by FOX over that of NBC, however this year, FOX has repeatedly missed restarts and wrecks during commercials. At least NBC breaks in for them. Come on FOX, get it together!

Most of your e-mails this week have focused on the Lowe's team dominance and what it might take to stop it. Some of you were really creative! As always, I enjoyed hearing from you. Please keep letting me know what you think by e-mailing me at letsgoracin8820@yahoo.com or visit the forum on my website www.bellaonline.com/NASCAR

Til next week.....
This site needs an editor - click to learn more!


Related Articles
Editor's Picks Articles
Top Ten Articles
Previous Features
Site Map





Content copyright © 2019 by De Powell. All rights reserved.
This content was written by De Powell. If you wish to use this content in any manner, you need written permission. Contact BellaOnline Administration for details.