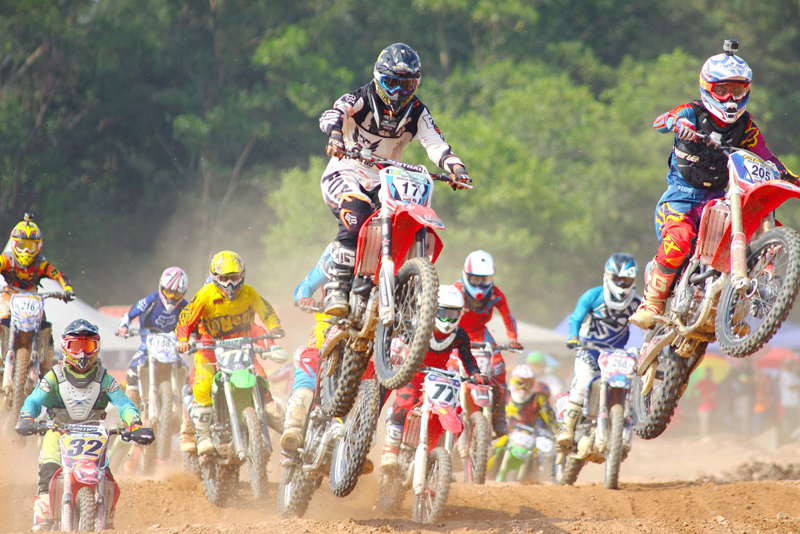 "Whose house is it now?" That was just one of many colorful statements that I heard immediately following the Coca-Cola from Lowe's Motorspeedway last Sunday, when Kasey Kahne easily defeated Jimmie Johnson by more than 2 seconds. There were many people that wore t-shirts that said 'Anyone but Johnson', due to the fact that Johnson has won seven out of the last 10 races at Lowe's. Johnson made his best effort, but Kahne's car could drive anywhere on the track, which proved to be a great advantage. Kahne looked strong all night, but when he took the lead with 29 laps to go, he didn't look back, and de-throned the reigning king of Lowe's. Kahne put a Dodge in Victory Lane at Lowe's for the first time since Richard Petty in 1977. "That's all I ever wanted here, was a car that could race with Jimmie at the end,'' Kahne said. "You know every time you get to the end of a race at Charlotte, Jimmie Johnson is the guy to beat," Kahne said after the race. It's Kahne's third win of the season.

They were major changes made for this race. The track was resurfaced, used a smaller fuel cell and had a hard tire compound. They got the track right, the small fuel cell made it where the cars were pitting so often that it seemed the majority of the race was in the pits, and the tires couldn't have been more wrong. The hard tire that Goodyear equipped the drivers with was so hard that they actually chirped on the pavement in the pits. This tire compound made it where there was not enough rubber being laid down on the track and when a driver would get loose, he often lost control.

That's exactly what happened on lap 314 when Casey Mears got loose and took out Kyle Busch in the process. The wreck was clearly not intentional, but the immature Busch, clearly upset at being taken out of the race must have thought that Mears was at fault. Even though he had track officials with him at the time, he managed to weakly throw his HANS device at Mears. Although upset about the incident, Mears seems to expect it from Kyle. "What do you say about it?" Mears said. "It's kind of the same thing over and over again with him overreacting. ... At some point he has to learn how to carry himself a little better, grow up a little bit and not react like that."

Of course, this turned what should have been just some bad luck for Busch into an invitation for him at the NASCAR office. It's getting to be a habit with him, a bad habit that needs to be broken. The resulting punishment was unfortunately pretty predictable. He was docked 25 driver points, fined $50,000, put on probation through the end of the year and his team owner, Rick Hendricks, was also docked 25 owner points. If this was the first such incident, this punishment would have been fine. But it seems that the younger Busch brother has the same temper problems that his older brother Kurt has, and this is an ongoing issue with him. It's not even the first time this season that his temper has gotten him into trouble. I think NASCAR needs to start adding onto the infractions when there is more than one incident in a season. In my opinion, Kyle should have been docked 50 points for this infraction and made to set out 1 race. NASCAR has to keep the sponsors happy though. One has to wonder how many more times this has to happen before Hendricks has had enough. Kyle's contract doesn't have that long to go and it makes me wonder if it will be renewed. There are plenty of other young drivers that would love the opportunity to have top notch equipment. Also, predictably, Kyle was quite apologetic in a statement after the punishment was handed down. "I lost my composure and disrespected NASCAR, especially its officials, and put my own team in a difficult position," Busch stated. "The bottom line is I made a mistake that's a poor reflection on everyone I care about and there isn't anything that justifies it." I really like the way that Rusty Wallace put it best though. Wallace has never been one to mince words, and he has often said that the younger drivers don't have the proper respect. "If I had been there I'd have stopped, backed up and got out of the car, and smacked Busch's face off. Then I would have gotten back in the car and took off," Rusty stated. Somehow, I think he would have.

It was a really bad night for past champions. Dale Jarrett was taken out of the race on lap 1 when he got into Robby Gordon. There seemed to be a mis-communication between Jarrett and his new spotter, which had disastrous results for Jarrett. He left the track nearly immediately after exiting his car, obviously upset with the incident.

It was a really bad weekend for Tony Stewart. While competing in the Busch race the day before, he was involved in a bad wreck that left him sore on his right side. A mere 33 laps into the Cup race, he cut a tire, slamming him hard into the wall. Everyone waited for what seemed to be an awfully long time before knowing if he was injured. He didn't immediately put his window net down which is a signal to all that the driver is alright. Eventually he got out with some assistance, clearly in pain and holding his right side. Stewart was taken to a local hospital and it was later announced that he had a "minimally displaced fracture" at the tip of his right shoulder blade. Stewart's team has arranged to have Ricky Rudd qualify Stewart's car for this weekend's race and possibly be back-up driver if Stewart cannot complete the race. NASCAR allows the driver's to receive whatever points the back-up driver earns as long as the driver has completed at least one lap. Stewart is tough, but this may be one instance where he has to take it easy so that he can get stronger for the remainder of the season.

This week we are heading to Dover for the Neighborhood Excellence 400 presented by Bank of America. This is a track at which the Roush drivers shine, so expect to see at least one of them up in the front. However, I am thinking that Kahne will be a contender as well. And let's not count out rookie Denny Hamlin. He seems to be getting stronger with every race, and this may well be the one that he gets his first win.

Your e-mails this week have been primarily about the temper tantrum of Kyle Busch. He certainly didn't gain any fans this week. Please keep letting me know how you feel!

Til next week....

This site needs an editor - click to learn more!


Related Articles
Editor's Picks Articles
Top Ten Articles
Previous Features
Site Map





Content copyright © 2019 by De Powell. All rights reserved.
This content was written by De Powell. If you wish to use this content in any manner, you need written permission. Contact BellaOnline Administration for details.