Bold Designs for Round Accent Rugs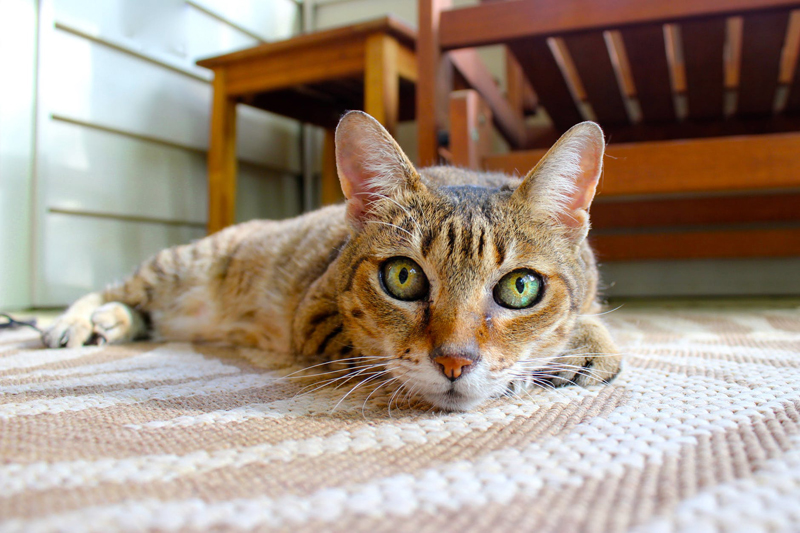 The knitted radial rug lends itself to bold designs. One way to do this is to add some striped sections. These little rugs are made in ten to twelve sections. Because of a special technique, they do not need assembling. It will be assembled as you knit, leaving only one seam to join the last section to the first one.

Materials. Determine how coarse the rug is to be. Then select the right yarn or combine yarns to reach the desired thickness. See the article on Yarn Magic. Use heavy needles. The size depends on the yarn and the desired "feel". Paper and pencil will help in visualizing the design. Coloring pencils or felt markers can also help in balancing the colors.

These small rugs are not meant for heavy traffic areas, but rather to add a colorful accent. They are equally suitable as chair rugs, sofa accents, and can even be used as a cushion cover. Such a small rug can be completed in about twenty hours. Fast knitters will do much better than that. It is a short project with lots of opportunity to experiment with designs.

Knitting instructions: Begin by casting on 60 stitches. Knit one row, leaving two stitches on the needle and return. Repeat this process. The decreases happen in the center of the rug and it will soon see how this becomes a wedge shape, or "a piece of the pie". Continue until the last two stitches have been knit. To start the next section, knit all stitches again - returning to the center - then repeat this process nine times in different colors.

When knitting a striped section, change colors every 10th row. For narrower or wider stripes, adjust accordingly, taking care to change color on the odd rows, so that all changes of color take place on the outer edge of the rug. As the section progresses, the stripes will get shorter. This is the way it is supposed to be.

Usually there are ten sections. Three or five of these can be striped. When adding three striped sections, alternate as follows: one striped, two solid, one striped, two solid, one striped, three solid. Other variations are possible. Expect some of these to be asymmetrical. Breaking symmetry provides added interest. To determine what would look best, draw a diagram of a 10-section pie, and draw in the striped sections. A design should be well balanced. Color in the sections and the stripes for a good feel of the final result.

Using three or four colors will give a good variety. For added interest, use a different combination of these colors for each striped section. When choosing colors, take one dark color, two light colors and two medium colors. For example: dark brown, off white and pale yellow, medium green and rust. For stripes use brown and off-white, brown and yellow. If the combination of brown and rust does not give adequate contrast, used rust and off-white or rust and yellow for one of the striped sections.

Now you are ready to choose a combination of your favorite colors and create one of these little rugs. Having made one, you will want to make more, as you discover several places in your rooms that deserve such a colorful accent.

For more information, instructions and tips on how to construct such rugs, check out the links below.

This site needs an editor - click to learn more!

You Should Also Read:
Yarn Magic
2 Halves Make a Whole Different Round Knitted Rug




Related Articles
Editor's Picks Articles
Top Ten Articles
Previous Features
Site Map





Content copyright © 2022 by Iris ten Holder. All rights reserved.
This content was written by Iris ten Holder. If you wish to use this content in any manner, you need written permission. Contact BellaOnline Administration for details.