Sizzlin' Hot and Getting Hotter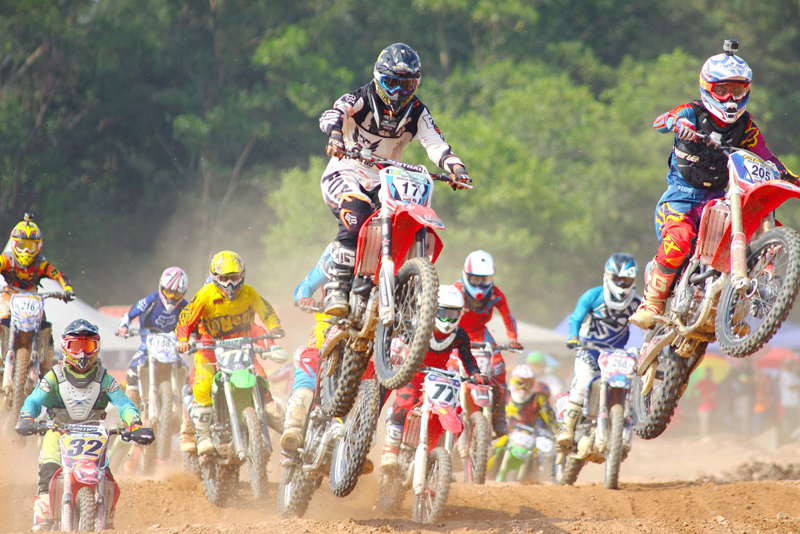 Sizzlin' hot and getting hotter - that's rookie sensation Denny Hamlin. It is no surprise that this rookie got his first win this past week at the Pocono 500. No surprise that is, if you only saw half of the race. Hamlin started the day on the pole and from the beginning it looked as if the young rookie was going to dominate. Then on lap 51, he blew the left rear tire which also ripped a hole in the fender, but he managed to spin the car in the grass, keeping him from doing further damage to the car. His team did the necessary repairs, using a lot of tape, and got him back in the race. Getting down to as low as 40th place, it certainly didn't look like he was going to be able to get back to the front. It's really amazing what skill and determination will do. Shortly after the halfway point in the race, Hamlin was back up in the front and vying for the lead. It wasn't an easy win for sure, he had Kurt Busch, (last year's winner of the race) on his bumper and teammate Tony Stewart was rapidly gaining as well. He held them all off and cruised on into Victory Lane. This win moves Hamlin into the 9th position in the standings, putting him in the Chase. He is striving to be the first rookie to make the Chase. "We're trying to get into the Chase and this is a great way to do it," Hamlin said, "The whole crew did a great job putting the car back together." Congratulations to Hamlin, crew chief Mike Ford and his whole crew for an incredible win after that potentially race-ending blowout.

Stewart did an amazing job as well, finishing 3rd only two weeks after breaking his shoulder blade. The fact that Pocono has more straightaway than corners helped, but I'm sure that it still caused some discomfort. "I feel really good. I thought I would be a lot worse off than I am right now," Stewart said. "This is as good as a win for me right now." Just shows us how much these guys can endure. I doubt that I could drive around the block with a broken shoulder blade, let alone a 500 mile race. Tony's shoulder doesn't seem to be an issue anymore as this finish gained him back one of the spots he fell in the standings.

Taking a really hard hit was Jeff Gordon, who lost control, went through the grass and then crashed hard into the SAFER barrier wall with only 10 laps to go. "That was one of the hardest hits I have ever taken," Gordon said. "Between the soft wall and the seat and the safety device, I never got knocked out and I was surprised that I feel pretty good." It was good to see him get out of the car unharmed, in fact he started looking at his car to figure out what happened. That crash took Gordon out of the Chase, dropping him to 11th. Although a better year than last year, we still aren't really seeing the Gordon of a few years ago.

Jimmie Johnson is still out front in the points standings, but Matt Kenseth has been solid for the past few weeks and rapidly closing in on Johnson's lead. Kenseth is looking like he did when he won the Championship, with solid top 5 and top 10 finishes. Not to wish Kenseth and Johnson any bad luck, but it would certainly tighten up the points standings if the two of them had a bad week or two. That would make it more exciting at least. We are just past the halfway mark to the Chase, so those that are skirting near the top ten only have 12 more races to get the job done.

Happy Father's Day to all the Father's out there! There will be some special paint schemes honoring the dads, and it is sure to be an exciting race in Michigan for the 3M Performance 400. Dale Earnhardt, Jr. has a very nostalgic paint scheme to honor both his father Dale Earnhardt, Sr, and his grandfather Ralph Earnhardt. His car is painted a cream color with the old Budweiser bowtie. There will also be a special commercial tribute that will be aired during the race, showing all three Earnhardt generations.

Racing at Michigan is usually a pretty good show. Look for at least one Roush driver to be in the front, but also look for the Gibbs drivers to be there. It may surprise some, but I think that we will see a Yates driver near the front too, as this is a track that they do well on.

Your e-mails this week surprisingly didn't focus on the race at all, but something that happens before the race. Many of you have commented about the singers of the National Anthem. I have to agree with you on this. The National Anthem is supposed to honor your love and loyalty to your country, not be a showcase or an audition. Let's keep it respectful! Keep letting me know how you feel!

Til next week.....

This site needs an editor - click to learn more!


Related Articles
Editor's Picks Articles
Top Ten Articles
Previous Features
Site Map





Content copyright © 2019 by De Powell. All rights reserved.
This content was written by De Powell. If you wish to use this content in any manner, you need written permission. Contact BellaOnline Administration for details.