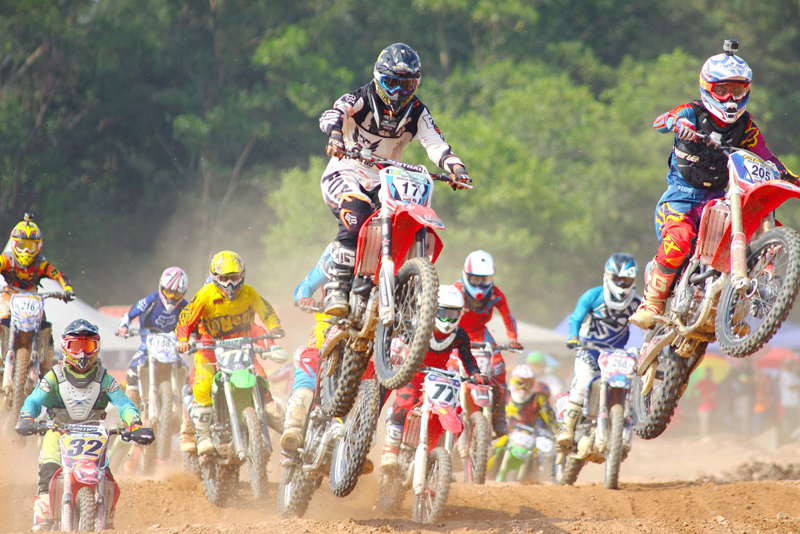 He's earned the right to be called 'King of the Road'! Jeff Gordon easily held off all of his competition for the first road course of the season in Sonoma last week. This win was perhaps a triple victory for Gordon. Not only does it make him the undisputed leader in road course wins, but it also moved him back into the Chase in 8th place , and showed owner Rick Hendrick that Jimmie Johnson isn't the only member in the Hendrick stable that can win races. A great ending to his weekend as he also formally announced his engagement to Ingrid Vandebosch.

The Dodge/Save Mart 350 started off like it was going to be one of those races that spent more time in cautions than in actual racing after a crash involving 6 cars occurred on lap 1. The race was red-flagged for over 10 minutes before going back to green. After that however, it was a typical road race, with very few incidents. That is until 5 laps to go when another 6 cars were involved in a crash which red-flagged it yet again. I've never made it a secret that I don't enjoy the road races and this one was no exception. It just isn't my type of racing because there are very few places on the track to pass and I don't like the 'hired guns' that only race in NASCAR for these races. Just turning right now and then does not make it a more exciting race.

Tony Stewart went from being favored to feeble as contact with 'hired gun' Boris Said on lap 51 started a series of problems for the defending Champion. After the contact, he was penalized for speeding on Pit Road and had to serve a drive-through penalty. Stewart and Said weren't through with their beating and banging on each other yet though. Once Stewart got near Said, there was still more to come. That contact however, looked more retaliatory than necessary. If Said didn't know before that point how Stewart felt, that should certainly have told him. "Tony Stewart is the greatest racecar driver in the world, and he is a friend, but it's an emotional sport, and I let him by in the beginning," Said commented. "I let him back by and he ended up nerfing me off the track. Stewart was obviously frustrated when discussing the incident. "I'm not asking him to give me anything. But if a guy gets a run, don't drive him across the racetrack," Stewart said. "Yeah, this is a road-course race, but it's also a NASCAR race. This isn't European road racing where you block and run guys all over the racetrack. We're not going to do that. They're not going to do that to me. I don't care if they do it to the rest of the field, but the one thing I think we established today was that they're not going to race me that way." Stewart managed to get his car back up to second, but all that damage had taken its toll. His car started smoking on lap 91 and he started falling back quickly. He finished in 28th place and fell another place in the standings to seventh. He's had some bad breaks over this past month, but Stewart is coming to his best part of the season and his team has proven time and again that they know how to win.

There have been some shifts in the standings in the top ten, but unless there are some major upsets over the next few races, the Chase will only have 10 drivers, and most likely none of the drivers that are 14th or worse at this time will make the Chase. It is rumored that Brian France is thinking about doing some tweaking on the Chase format for the 2007 season. He has said that it wouldn't be major changes, just implementing a few things that could improve it overall. I'll be watching closely to see what he decides on.

From Road Racing to Restrictor Plates! This week we go back to Daytona for the Pepsi 400. You can always count on a good show when you combine Daytona with night racing. Dale Earnhardt, Jr. is always a favorite here, but Stewart won this race last year, and is likely to give Earnhardt, Jr. a run for his money. Don't count out Gordon either though, fresh off his win and usually great at Daytona, he is likely to be a front runner as well. Then again, at Daytona you learn to expect the unexpected. One thing that is expected though is the 'Big One'. It's just a matter of when it happens and who it takes out. No matter what though, Daytona is a favorite track for many.

Your e-mails this week varied on numerous ideas, but there was more than one of you that commented about how early Silly Season has started. I have to agree with you, there have already been so many changes announced for next year that you have to wonder what it's going to be like come the end of the season. Keep letting me know what you think!

Til next week......


This site needs an editor - click to learn more!


Related Articles
Editor's Picks Articles
Top Ten Articles
Previous Features
Site Map





Content copyright © 2022 by De Powell. All rights reserved.
This content was written by De Powell. If you wish to use this content in any manner, you need written permission. Contact BellaOnline Administration for details.