Some Landscaping Books for the Dog Days of Summer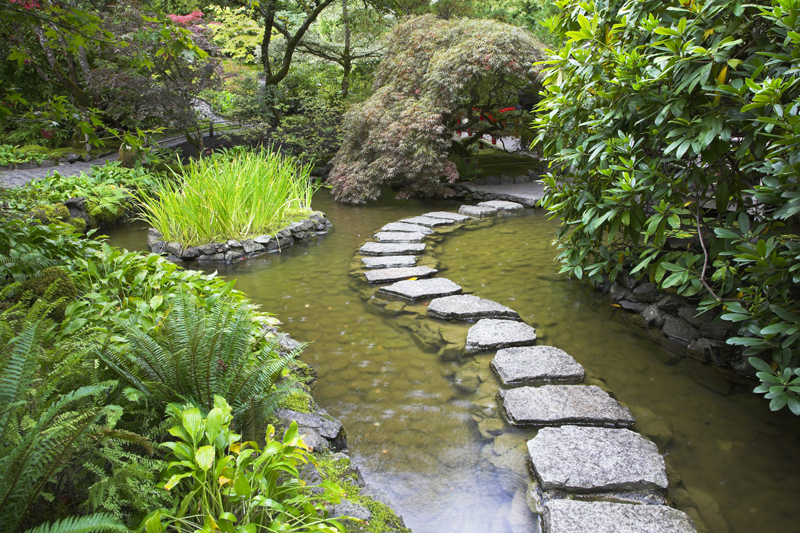 In the dog days of late summer when the weather is hot and muggy, take a break from the garden. This is an ideal time to delve into some landscaping books.

"Planting Plans" from Ryland Peters and Small is by far the most clever garden design book you'll find. If you've felt put-off by garden design, this practical title breaks it down into a series of simple steps. First, start with the set of tear-off cards in the handy pad. On one side of the card, record the names of the plants you want to feature, and a record of how many you will need, and other information about them. On the other side is graph paper to use in drawing your planting plan. This kit also features a handy pocket for storing the completed cards as well as any magazine clippings you're saving. In addition, there is a pencil, and a slot to store it.

Sunset's "Before and After Garden Makeovers" by Vicki Webster et al reveals how we can take a ho-hum landscape and turn it into a showplace. For each of the 40 designs, this presents before photos showing what the designers began with. There is a step-by-step account explaining how the new design meets the personal needs of the owners. The color diagrams show the before and after plans. These transformations are so inspiring there'll be more ideas than you could ever use. It features a host of different styles from the sub-tropical paradise to a desert oasis.

Sunset's "Landscaping-Southern Gardens-the Best in Southern Garden Design" was edited by Pamela Cornelison et al. This title shows the valuable role that regional landscaping books fill. Presenting wonderful examples from private gardens throughout the region, this color-illustrated guide walks readers through the design process. Newcomers to the area will appreciate the valuable advice on climate considerations and the step-by-step treatment showing how the different elements work together to create a year-round, picture-perfect garden. The authors take readers through all the basics, from choosing plants and caring for them to choosing garden features. There are also practical projects, such as paths and patios.

Garden railroads are finally getting the attention they deserve. These are a great activity for the entire family. Now there's a groundbreaking book on the subject. "Gorgeous Garden Railways" by railroad gardening experts Marc Horovitz and Pat Hayward was released by Kalmbach Books. Between the two of them, they present everything you need to know to create your own backyard garden railroad. There is practical advice on choosing the trains and related items as well as instructions on incorporating plants and water features into a garden railroad. This title features 140 color photos of the world's most breathtaking garden railroads. Gardeners will be especially interested in the depth of detail using plants in working model landscapes. One example shows the use of cacti and succulents. This is a hobby that can foster a great deal of self-expression and creativity. The authors explain what makes each of the examples unique. This softcover can be ordered by calling Kalmbach at their toll-free number (800-533-6644) or at their website.

"Making Gardens Works of Art-Creating Your Own Personal Paradise" by award-winning designer and artist Keeyla Meadows was published by Sasquatch Books. This shows before and after photos of what is possible when one applies creativity to all aspects of garden design. She draws on the wealth of her personal experience, and explains ingenuous ways to use various elements, such as color and shapes, and how to apply an artistic approach to various parts of the landscape. There is also valuable advice on how to choose and use plants for the best effect. Throughout the book are boxes with quick and practical tips and projects, such as painting pots and locating focal points. This is beautifully illustrated with color photos of stunning garden features that readers can use as a jumping off point.

"Rodale's Illustrated Encyclopedia of Perennials" by Ellen Phillips and Colston Burrell is a revised and expanded edition of a best-selling title originally published in 1994. Lushly illustrated in full color, this paperback contains all the details one needs to design perennial beds and borders as well as information on choosing, growing, and caring for perennials. Readers will learn how to create pleasing plant combos as well as the basics on propagating, diseases and pests, and climate considerations. There is also an entire chapter of sample garden designs by seven leading garden designers. For each design, there is a complete discussion of its creation, a list of the plants used, color layouts and planting plans. The encyclopedia in this new edition features over 75 new plants. For each plant, there is a description along with tips on growing and using it in the landscape with details on when it blooms and its cultural requirements.


Related Articles
Editor's Picks Articles
Top Ten Articles
Previous Features
Site Map





Content copyright © 2023 by Connie Krochmal. All rights reserved.
This content was written by Connie Krochmal. If you wish to use this content in any manner, you need written permission. Contact Connie Krochmal for details.