Fence Climbing and a Mosh Pit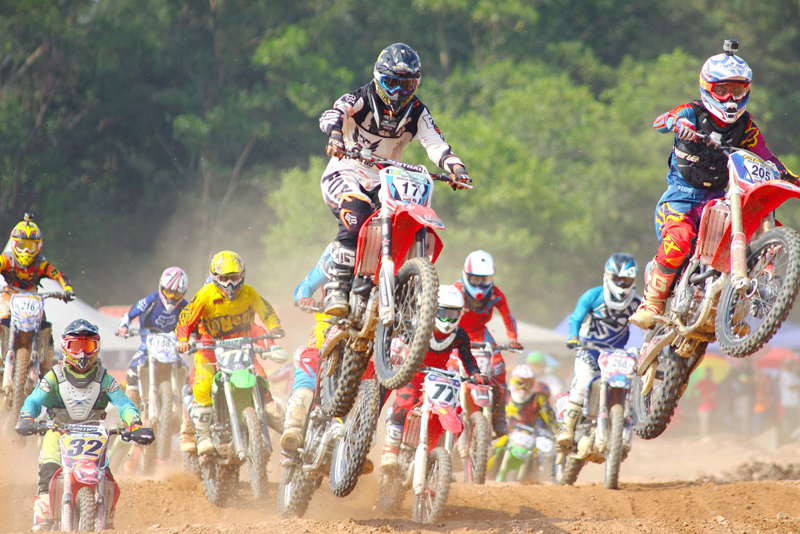 Fence climbing and a mosh pit - a surprising ending for defending champion Tony Stewart. We all have come to enjoy watching him climb the fence to get the checkered flag when he wins a race. At the Pepsi 400, he went down the other side of the fence and into a mosh pit before working his way to Victory Lane. "I don't know why I do half the stupid stuff I do," said Stewart, "I felt good after the end of the race until I got stupid and went up the flag stand again."(But) there was no way I was going to let those race fans down. I was either going to get all the way up or I was going to fall off and fall on my butt. But I wasn't going to stop. It was every bit as big, if not bigger, than it was last year."

This win moved Stewart up 2 places in the standings, now in 5th. Stewart no longer is thought of as dominant on just short tracks. He has shown that he can win on all types and sizes of tracks. In years past, one could almost count on dominance from Jeff Gordon, Dale Earnhardt, Jr., and Jimmie Johnson at Daytona. Their days of winning might not be over, but Stewart has certainly put himself into that mix as well. For the second straight year,he has been the victor of the Pepsi 400, dominating nearly the entire race both times. Last year, he led all but 9 laps. This past Saturday night he wasn't quite as dominant, but he led more than half of the race and that all important last lap. Pole sitter Boris Said had the lead with 2 laps to go, then Stewart got some unexpected help from Kyle Busch and was pushed to the lead. I have little doubt that the younger Busch brother intended to stay in 2nd, but a debris caution on the last lap cheated us all out of the close finish that was getting ready to play out. I am still puzzled as to why they would call a debris caution on the last lap, and I and many others felt it was unnecessary because the spotters could have told the drivers to watch out for it as they went through that area and allowed the race to finish under green.

Sonoma giveth and Daytona taketh away. Gordon not only wasn't able to achieve back to back wins, he fell more spots in the standings than he climbed the previous week with his win in Sonoma. He is now in 12th place but only 14 points from tenth. In true Gordon fashion though, he placed blame of his woes on someone other than himself. Gordon sounded nearly hysterical on his scanner yelling for NASCAR to enforce the rule for aggressive driving on Earnhardt, Jr. "If they're going to have a freakin' rule, tell them to have a freakin' rule," he said. "The 8 car is driving into people every freakin' corner." he screamed to crew chief Steve Letarte. Letarte complied, but NASCAR officials did not see it Gordon's way and no penalties were given. I went back and reviewed the incident that Gordon was screeching about, and yes, Earnhardt Jr. did bump him, but it was clean bumping, the kind necessary in restrictor plate racing. And Gordon's car didn't even wiggle when he did it, and he didn't lose control or even any positions when it happened. In fact, it was favorable for him as well. Both Gordon and teammate Johnson seem to overreact when they are around Earnhardt Jr. on restrictor plate tracks. Gordon is still great on the road courses, but can't seem to remember what it takes on restrictor plate tracks. Perhaps he needs to go back and review some of his old restrictor plate wins.

Boris Said may have thought that he wouldn't do well at a Restrictor Plate race, but he showed both himself and everyone else that not only could he qualify for the pole, he could finish strong as well. Shortly after the green flag, he fell back from the pole position and seemed pretty content to be mid-pack for most of the race. After staying out while the leaders pitted, Said regained the lead on a late caution and kept it until 2 laps to go. He finished 4th, which is still awesome for a team that is only running part time.

Points leader Johnson had the opposite luck than he did during the Daytona 500. A crash with only 12 laps to go took both Johnson and Bobby Labonte out of the race. This made the lead that he had on Matt Kenseth tighter than ever. Kenseth now only trails him by 8 points going into a track at which he performs well. We'll see if Kenseth can overtake the leader this weekend at the Chicagoland Speedway.

The announcement by Brian France last week of possible changes in the Chase format certainly brought some reactions from you readers. There were many well thought out suggestions that could certainly improve the Chase. Ray from Colorado had a few that I really liked. He feels that the Chase should include drivers that are within 100 from 10th place, but, any drivers that were below the top ten going into the final 5 races should then be eliminated from the Chase. This would make the final 5 races even more exciting. Jerry from Wisconsin feels that the Chase should include every type of track. This would juggle the schedule even more than it is now, but I have to agree. Since the Chase is supposed to be the best of the best, then they should have to prove it on all types of tracks. As Always, I love hearing from you. Thanks for sharing your thoughts with me! Please continue to let me know what you think!

Til next week.....
This site needs an editor - click to learn more!


Related Articles
Editor's Picks Articles
Top Ten Articles
Previous Features
Site Map





Content copyright © 2019 by De Powell. All rights reserved.
This content was written by De Powell. If you wish to use this content in any manner, you need written permission. Contact BellaOnline Administration for details.