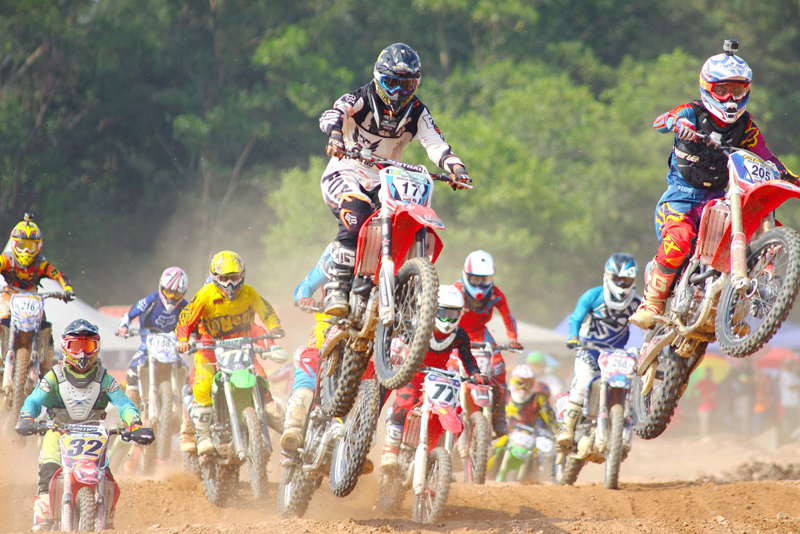 Hunger or retaliation? No matter what color you paint it, it's still dirty driving. But, it's what we've come to expect out of the Hendricks garage. We've also come to expect NASCAR to turn their heads when it comes to these same drivers. Not only did Jeff Gordon manage to win the USG Sheetrock 400 in Joliet by punting leader Matt Kenseth out of the way with 4 laps to go, but he also saved the points lead for teammate Jimmie Johnson by keeping Kenseth from a strong finish, and he got even with Kenseth for a similar incident in Bristol this past spring. "I drove right in the back of him," Gordon said. "I didn't mean to wreck him, but I didn't mind moving him out of the way. If we can get the win, we are going to go really hard to get that win." He needs an acting coach to work on his sincerity, because I didn't quite believe that he didn't mean to wreck him.

Gordon was placed on probation earlier in the season when he pushed Kenseth following the Bristol incident. But, NASCAR doesn't view this as a violation of his probation, just hard racing. I don't want to see NASCAR black-flagging every incident however. But, I'm also not so sure that every other driver would have been viewed with the same result. Gordon, who missed the Chase last year seems prepared to do anything it takes to keep that from happening again. He warned all earlier in the season that he was not the same as he's been in the past, that being the nice guy wasn't going to continue. So, who's next on his 'hit list'?

I watched the 'accident' happen, and watched the replay many times from many angles. The way I saw it, Gordon got a run on Kenseth when he slowed down a bit in the corner. At that point Gordon had the faster car. However, being the seasoned veteran that he is, with all of the wins he has, he knew that with a little patience, a lap at the most, he could have gotten by Kenseth without crashing him. A bump and run is not supposed to put the bumpee into the wall! A bump and run should never put the lives of other drivers in danger. So, although not cheating, it was unnecessary, and hypocritical. Let us not forget he was whining on his radio just one week ago for NASCAR to do something to Dale Earnhardt Jr. for bumping him. So, let us all get this part clear - it's ok for Gordon to bump the leader and send him out of control, but it's not ok for someone to bump him and improve the position of both drivers. Did NASCAR make the right call? It's one word against the other. Gordon says it wasn't in retaliation for Bristol. Kenseth says it was. The only one that can honestly answer that is Gordon. However, many of his actions this season tend to make me believe that it was intentional.

Kenseth had led most of the laps in Joliet, but his car was fading fast. And as was seen following the incident, he didn't have enough fuel to win anyway. Kenseth's day went from bad to worse as he was mired back in traffic and got tangled with David Stremme after the checkered flag dropped. Regarding the incident with Gordon, Kenseth was very clear as to his opinion. "In two laps, he could have passed me clean," Kenseth said. "He just dumped me." "That wasn't an accident. The last one was an accident, the first one wasn't. He just ran over me. On the re-start he was hanging back and NASCAR has a rule you can't hang back two car lengths or one car length, although I've never seen it enforced. But he was hanging back because I was a little weak on re-starts, and trying to get me and then I could drive away. Or, apparently he was mad because I blocked him on that re-start when he got a run, but, I don't know. It's just the way it goes, I guess." Unfortunately, his woes continued over to the next day as he was rear-ended in his rental car while leaving the airport in Indianapolis to go to testing.

Tony Stewart looked strong throughout the entire race. He started near the back of the field, but was up near the front in a very short time and certainly looked like a contender for the win. Unfortunately, he ran out of gas with just a few laps to go and finished 32nd, falling 2 spots in the standings to 7th place.

Jeff Gordon is not new to driving a racecar. Quite the opposite. I have been flooded with e-mails this week, some defending Gordon, and others saying that he couldn't win without cheating. First of all, what he did wasn't cheating. BUT, what he did was dirty and low class. His crew cheering while watching Kenseth spin was low class. When other drivers have done exactly the same thing in the past, Gordon has said he wouldn't want to win that way. So, in the past 3 races, Gordon has gone from having an incredible win, to sounding like a whining baby, to winning a race in a manner that he himself has said he wouldn't want. But, that's racing. Jeff Burton put it the best I think. "Matt's a hard-nosed racer, and there'll be retribution for that, I'm sure.'' Burton said if NASCAR isn't willing to issue rough driving penalties, it will be up to drivers to settle issues on the track. "If NASCAR doesn't handle it, then we need to handle it,'' Burton said. "And that's OK.'' Something tells me that karma could come back and bite Gordon.

At least one positive thing can be said about the race in Joliet - those last few laps certainly took an otherwise average race and made it quite exciting and controversial. I have thoroughly enjoyed hearing from you this week. There was not a single one of you that didn't have an opinion on the Gordon-Kenseth issue. Please keep letting me know what you think!

Til next week....

This site needs an editor - click to learn more!


Related Articles
Editor's Picks Articles
Top Ten Articles
Previous Features
Site Map





Content copyright © 2022 by De Powell. All rights reserved.
This content was written by De Powell. If you wish to use this content in any manner, you need written permission. Contact BellaOnline Administration for details.