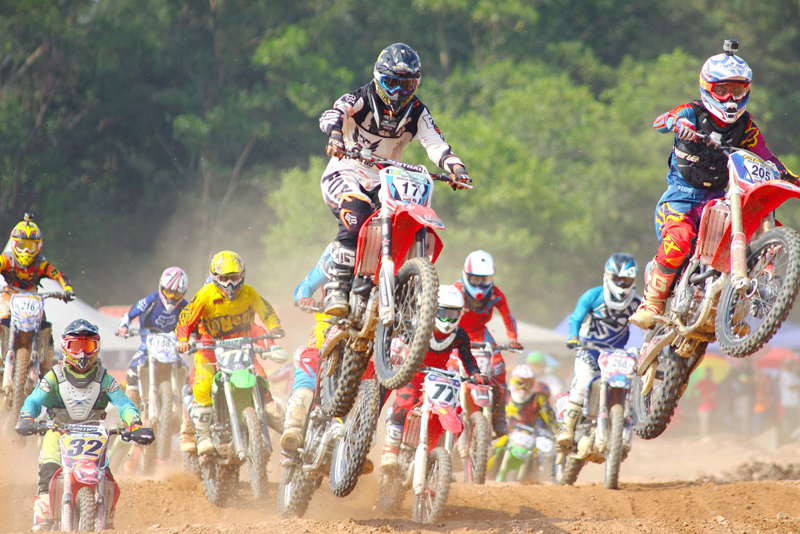 Sometimes there's a race that just makes you sit back and shake your head. The Lenox Industrial Tools 300 from Louden was one of those races. Jokingly, I was wondering if someone had paid pole sitter Ryan Newman to take out as many front runners in the Chase as he could. Typical of Newman, when he qualifies well, his car wasn't a winning car, and it showed. Going into turn 3, he was on the low side of leader Tony Stewart and it looked like he didn't even try to keep his line as he made contact with Stewart. Stewart's body damage wasn't too severe, but he didn't even complete another lap before his radiator started spewing like a geyser. He immediately went into the garage to make the necessary repairs, knowing that his chances of winning his third race at Louden were over and that he was only going to be salvaging a few points.

Never one to be shy about his opinions, Stewart had plenty to say about the situation that knocked him out of the top ten. "The 12 car just took us out," said Stewart. "All I did was race him the same way he races us and he wrecks us. I don't even think he tried to make the corner. We're starting to learn to race him like he races us," Stewart commented. "He doesn't give anybody a break, so I wasn't about to give him a break. Everybody races each other differently. And there are guys who are really good at give and take and there are guys that aren't. Ryan is one of those guys who is not good at the giving part. He's really good at taking, but he's not very good at giving. We're racing everybody the way they race us and most of the guys get it, but there are a couple of them who don't. After a while, you finally get tired of giving guys spots and them not doing the same thing. You watch Ryan at the beginning of the race holding the No. 2 car (Kurt Busch) up. We just bullied our way by him but never touched him. We did what we had to do to get by him. It's frustrating, but there's nothing we can do about it. We have a great group of guys here who did everything they could to get us back out there to do what we could." I think maybe Stewart needs to rethink how he races around Newman.

Newman, although not quite as vocal, placed the blame on Stewart, "We were on fresh tires", Newman explained. "I don't know if Tony knew that or not, but regardless, he didn't live up to what he preaches and that's move over and let a faster car go especially a car on fresh tires trying to get a lap back. He came down on us a little bit. I came up on him a little bit and we hit. He got the raw end of the deal. It didn't do us any favors, but he sure didn't live up to what he preaches."

Now one would think that taking out one top contender was enough for one race. But not for Newman! A mere 4 laps later on the restart, Newman spun around and nearly collected Jeff Gordon and Kasey Kahne as well. This one actually looked like an accident as a bump from Michael Waltrip initiated his spin. This was all it took to take Newman out of the picture though, and he went to the garage. Stewart and Newman returned to the track on lap 124. Stewart finished 37th and Newman finished 39th. This dropped Stewart down 4 places to 11th and Newman lost 1 position and is now 19th. Stewart is only 11 points out of 10th however, whereas Newman is over 300 points from making the Chase.

Congratulations to Kyle Busch for winning the race. Luck was on his side as he missed the wrecks that happened around him and also managed to keep enough fuel in the tank to make it to the end, which was something that many weren't able to do as they went into extra laps following a late caution. He even had enough gas left to do some impressive burnouts. This win certainly gave him a boost in the points, moving him up 4 spots to 4th place in the Chase. Although still an aggressive driver, he is learning with every race what it takes to finish well. And for a change, he wasn't the driver that was booed the most. Fans react when they see a change in attitude.

This week we are heading back to Pocono for the Pocono 500. Rookie Denny Hamlin won at this track in June, but it is a track on which the Roush racers shine. I expect to see Kasey Kahne near the front as well. I always enjoy this track, it's usually a good show for the fans.

I knew that I would need my thicker skin for the e-mails this week due to the comments that I made about Jeff Gordon this week. I thought I was prepared for the messages I received, but I have to say some of them surprised me. I have never tried to change the minds of loyal fans, and just as I am loyal to my drivers, they are loyal to theirs. However, if my driver makes a bone-headed move, I will be first in line to say so. I received e-mails from many Gordon fans that were upset with me, but an equal number that said that even though they are fans, they didn't agree with what he did. I applaud those that were at least civil with their messages to me. There were some however, that were quite brutal and some that were downright mean. There was one that just told me to go away and called me an idiot. I'm not sure, but I think they were a Gordon fan, but they didn't say. At any rate, it was very eye-opening to hear your opinions. I always enjoy hearing from you - even when you disagree with me. Please keep letting me know what your opinions are!

Til next week.....
This site needs an editor - click to learn more!


Related Articles
Editor's Picks Articles
Top Ten Articles
Previous Features
Site Map





Content copyright © 2022 by De Powell. All rights reserved.
This content was written by De Powell. If you wish to use this content in any manner, you need written permission. Contact BellaOnline Administration for details.