Painted Summer Rug - modern oilcloth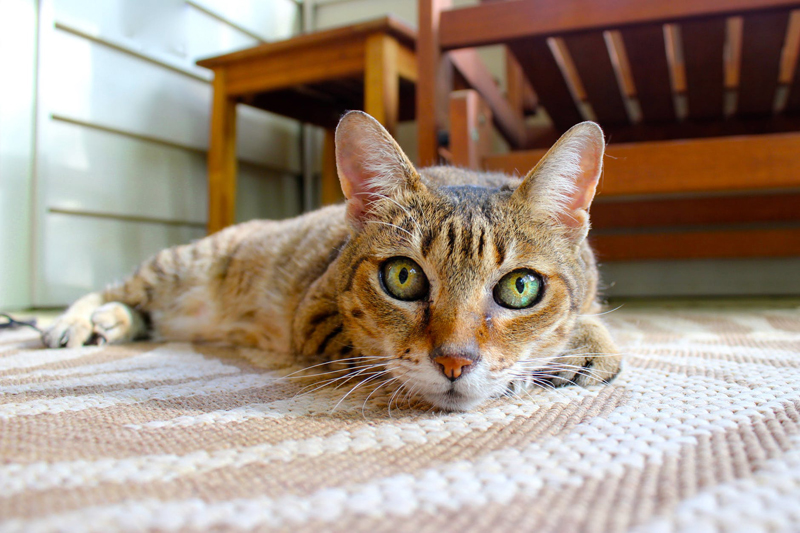 This is a different take on rug making, and on using fabric to make a floor covering. A different approach may be welcome in summer. Let's put our hooks and looms and knitting needles aside and have some fun with a painted rug. The result will resemble oilcloth, a name some will be familiar with. Since it consists of real woven fabric it can be stitched as well.

Encyclopedia.com describes oilcloth as follows:

"OILCLOTH [oilcloth] originally, cloth treated with oil or other substances so as to be waterproof and used for fishermen's and sailors' wear, for coach robes and covers, and later as a floor covering, called floorcloth. Subsequently it was made of heavy canvas, jute, or burlap, sized with glue, and coated with a thick oil paint, several coats being used and successively rubbed down with pumice stone. It was machine printed, dried in a drying room, varnished, and rolled."

As a first project, make a small rectangular or round rug for under a small table or baby's high chair. Once we create for children, designs can be simple and bold. Original oilcloth rugs used simple designs, often resembling tiles.This takes some precision, but it is still quite simple, and particularly suitable for a rectangular rug. For a round rug, try a pattern of broad semicircular strokes that hook into each other. The spaces in between can be filled in with another color and outlined in black if an accent is needed. For a child's rug one way is to use designs from a coloring book.

For best results start with a simple design that fills the whole rug - a flower, an animal, a train or a car. Add a border if you like, but it is not mandatory. Try a few small projects. It may be a great idea for an artistic summer camp project.

There are several artists who have made it their specialty. Their web sites are a joy to read and will certainly inspire.

In the October 1997 Crafts Report, Natalie Browne-Gutnik wrote an article "Centuries of Walking on Art From French Painted Canvases to American Floorcloths". Natalie writes that the manufactured oilcloth carpets seem to have originated in England. Oilcloth was quite an affordable product in later years, but in earlier times was a luxury item and was even imported to grace the White House.

On the Do-It-Yourself network you can see an article by Vivian Peritts with instructions to recreate one of her designs.

Another expert is Kathy Cooper, an artist who has her own web site.

At Rugmaker's Homestead, Diana Blake Gray guides you from traditional oilcloth to more modern versions, including a version that uses appliqué instead ofpaint to make the design.

Where are you going to put your creation? Here are some suggestions:
- Bathrooms - you can even make a creative around-the-base-of-the-toilet mat, for instance.
- Veranda - add a cheerful spot
- Kitchen - in front of the sink or stove.
- Wherever baby goes - take it along.
- Wherever you want to add an artistic touch with color and verve.

A quick overview:
Materials to use: canvas, base coat, acrylic paints, brushes in several sizes, topcoat.

Process:
- Turn down a 1" hem using double-sided tape, carpenters glue or fusing fabric.
- Cover the whole cloth with a base coat, gesso for a white background, or polycrylic (made by Minwax) to show the color of the cloth.
- Transfer the design (rub on a computer printed design, for
instance).
- Use your artistic talent and patience to paint the design or to
apply the appliqué.
- Dry and do touch-ups
- Finish with a coat of polyurethane or polycrylic

For greater detail visit some of the sites

Have fun. Maybe you will share the results? Let us hear from you in the forum with questions and tips.


This site needs an editor - click to learn more!

You Should Also Read:
Floorcloth Magic




Related Articles
Editor's Picks Articles
Top Ten Articles
Previous Features
Site Map





Content copyright © 2022 by Iris ten Holder. All rights reserved.
This content was written by Iris ten Holder. If you wish to use this content in any manner, you need written permission. Contact BellaOnline Administration for details.