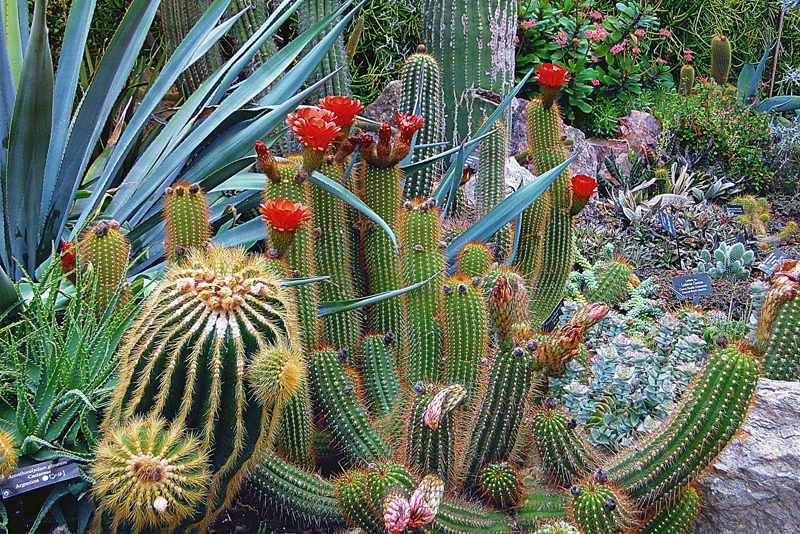 THE BUCK EYE DAISY
These succulents are in the family Aizoaceae. Originally native to South Africa, there are several species and numberous varieties of these available. They are named Buck Bay daisy because they were found at that location of the Cape.

One of the confusing things about this group of plants is that two different Latin names are used for them, depending on the source you use. While some sources call them Dorotheanthus, others list them as Mesembryanthemum.

These resemble perennial ice plants (Delosperma). Their shiny, light green foliage is cylindrical. This reaches two to 3½ inches in length. These are dotted with shiny, crystal-like dots.

Unlike some succulents, the Buck Bay daisies are annuals. They're grown both for the foliage and the showy daisy-like blossoms. The flowers come in a wide range of colors, including white, and pink as well as hot colors like yellow, orange, and red. The centers are sometimes bright red or blue.

Easy to grow from seeds, the germination occurs within two to four weeks.
They germinate best at temperatures between 60 and 85 degrees Fahrenheit.

These make excellent container plants. They can also be used as an annual bedding plant or annual ground cover. With their trailing stems, they are an excellent choice for hanging baskets. In the landscape, the Buck Bay daisies are a good choice for rock gardens. As nectar plants, they are recommended for butterfly gardens.

As an annual, they look just beautiful in flower beds where they provide a carpet of color when they're in bloom. These succulents are also used as edging plants and are planted between stepping stones.

As annuals, they can be grown in all areas of the country. Requiring full sun, these plants need a well drained soil.

So far as soil is concerned, the Livingstone daisies are adaptable to a wide range of pH levels from acidic to alkaline.

These plants will tolerate slightly wetter soils than most succulents.


Livingstone daisy (Dorotheanthus bellidiformis or Mesembryanthemum criniflorum)

Native to South Africa, this dwarf plant only reaches about ten inches in height. The stems can be four inches in length. In South Africa, this species is known as vygie.

The flowers of this species come in a variety of colors. These include cream, white, pink, orange, and all shades of red. The blooms are up to two inches in diameter. Around the center, the flowers often have a contrasting ring, which may be white. These bloom during the summer.

The 2007 Thompson and Morgan catalog offered a particularly lovely variety called Apricot Tutu. This features frilly blooms in a delicate apricot. Around the dark center is a deep pinkish ring. Apricot Tutu grows to about six inches in height.

The leaves of the Livingstone daisy are spatula-shaped, and have colorful iridescent dots.

In South Africa, the blooms normally appear in the late summer or fall. When grown as an annual, they bloom anywhere from late spring through late fall.

Unlike portulacas, the flowers of the Livingstone daisy open even during cloudy weather.


Dorotheanthus bellidiformis Mezoo

This is a delightful unusual variety that is being introduced to the U.S. in 2007. Available for some time in Europe, this is noted for its gorgeous variegated foliage. This would be reason enough to grow this stunning plant even if it didn't have lovely blooms. This variety forms a neat mound, and is perfect for hanging baskets. It has dark red blossoms.

Unlike some other Back Bay daisies, Mezoo is grown from cuttings rather than seeds. For that reason, you'll need to purchase plants at local garden centers or online.


Tricolor Mesembryanthemum (Dorotheanthus gramineus)

This is also native to the Cape of Good Hope. This species has spreading stems that can grow and spread to nine inches or so.

This site needs an editor - click to learn more!


Related Articles
Editor's Picks Articles
Top Ten Articles
Previous Features
Site Map





Content copyright © 2023 by Connie Krochmal . All rights reserved.
This content was written by Connie Krochmal . If you wish to use this content in any manner, you need written permission. Contact BellaOnline Administration for details.