Are you in the mood for a romantic winter getaway? Yes, Valentines Day is over and spring is just around the corner, but it's not too late to steal away for a romantic getaway. If the appeal of snuggling up next to a crackling fire with a bottle of fine wine warms your heart then you may want to check out the special deals Door County, Wisconsin offers with their Nature of Romance package deals through March 31st.
Located in Wisconsin's northeast corner, the Door Peninsula juts out 70 miles into Lake Michigan. With its three hundred miles of shoreline, eleven lighthouses, awe-inspiring natural beauty, and enveloping charm, Door County is often referred to as 'The Cape Cod' of the Midwest. With a wide array of unique shops, boutiques, art galleries, museums, and eateries, Door County offers plenty for visitors in addition to enjoying the many outdoor activities.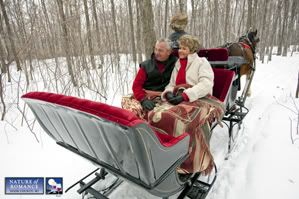 A couple enjoys a romantic horse-drawn sleigh ride through the woods in Door County. Photo credit: Mike Roemer/DoorCounty.com
While Door County is a joy to visit any time of year seeing it dressed in a blanket of snow is a special treat. From early December through the end of March, delightful Door County offers couples a chance to escape into the pampering luxury and scenic beauty of this Midwest winter wonderland with over twenty specially priced romantic packages for two.
Each of these Door County Nature of Romance packages includes two nights' lodging at one of Door County's renowned resorts, inns or B&Bs. Choose from among accommodations that include in-room fireplaces, four-poster canopied beds, water views, whirlpool tubs and indoor swimming pools.
Packages, which are value-priced for the winter season on the peninsula, also include romantic dinners or cozy breakfasts, and distinctive flourishes such as horse-drawn sleigh rides, massages, flowers, champagne or wine, scented candles, hand-dipped chocolates and more. Each package also includes a $25 Door County gift certificate upon check-in.
Also happening until May 2oth of 2013 is the WINE & CHOCOLATE PAIRINGS.
Location: Stone's Throw Winery in Egg Harbor
Dates: Jan 01 2013 - May 20 2013
http://www.stonesthrowwinery.com
Expand your love for wine & chocolate with a unique experience that will delight your palate! You'll taste a fine selection of handmade chocolates paired with our artisan wines, and leave with your logo glass, tasting notes and great memories... No reservation required, $15/person. Hours 10 to 5 PM. And, as always, only at Stone's Throw Winery. Info: 920-839-9660 or stonesthrowwinery.com
A new exhibit: PIRATES - SHIP TO SHORE
Location: Door County Maritime Museum in Sturgeon Bay
Dates: May 19 2012 - Jan 31 2014
http://www.dcmm.org
This new exhibit is at the Door County Maritime Museum in Sturgeon Bay. 920-743-5958.
For more info on Door County visit: www.DoorCounty.com, or call the Door County Visitor Bureau toll free at (800) 527-3529. For specific info on the Nature of Romance packages visit: http://www.doorcounty.com/nature-of-romance/lodging-packages.
For more of my writing and to read my blog visit: http://hazelfreeman.com/