Guest Author - Elizabeth Darrach
I've provided links for the books currently available, and for those out of print, go to
Romantic Notions Shop
.
Adam's Vow

Always Daddy

Shane's Bride

Cowboy at the Wedding

Most Eligible Dad

The Most Eligible Doctor (Silhouette Romance #1692)

A Groom and a Promise

The Dad Who Saved Christmas

Wealth, Power and a Proper Wife

Love, Honor and a Pregnant Bride

Promises, Pumpkins and Prince Charming

The Night Before Baby

Wishes, Waltzes and a Storybook Wedding

Just the Man She Needed

Just the Husband She Chose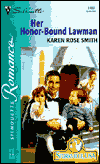 Her Honor - Bound Lawman (Storkville, USA)

Be My Bride?

Tall, Dark & True

Her Tycoon Boss

A Husband in Her Eyes

Searching for Her Prince

Abigail and Mistletoe

The Sheriff's Proposal

The Fortunes of Texas


With One Touch: Soulmates (Silhouette Romance)


Expecting the CEO's Baby; (Silhouette Special Edition #1535)


Good Doctor (Silhouette Signature Select, Fortunes of Texas).


Twelfth Night Proposal (Silhouette Romance #1794)

To Protect and Cherish (Silhouette Romance #1810).


Expecting His Brother's Baby (Silhouette Special Edition #1779)

Falling for the Texas Tycoon (Silhouette Special Edition #1807)


Written as Kari Sutherland:


Heartfire, Homefire

Wish on the Moon