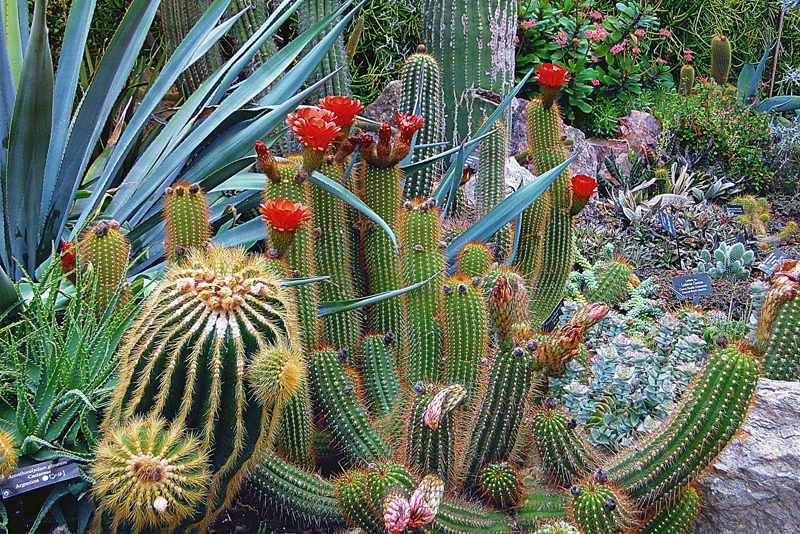 An excellent house plant that requires very little care and produces handsome eye-catching flowers for the holidays is the Christmas cactus.

The plants are low growing. Their segments resemble those of some other cacti. But, they don't have spines.

Sometime around Christmas these carefree plants will produce blossoms. As house plants, they can be very long lived. In fact, in some families these have become heirlooms.

These winter-blooming plants are originally from the tropical forests of South America. Growing on trees, they belong to a group of plants known as epiphytes. When grown indoors as house plants and in greenhouses, they adapt well to container culture.

Depending on the variety being grown, the flowers can reach three inches across. They can vary widely in color. Typically, they will be vivid reds, whites, and pinks. However, it isn't unknown for them to come in other shades.

In a lot of varieties, the stems have a tendency to hang over the edges of the pots. Under good growing conditions, the stems can also root wherever they touch the soil.

The varieties with pendant stems are very suitable for hanging baskets. While some have cascading stems, others have a more upright growth habit. These look lovely in pots and mixed container plantings as well as dish gardens. When they are combined with other plants, be sure that all of the species require the same growing conditions.

Propagation is easily done from stem cuttings. Just cut off pieces of stems with three segments. Allow the cuttings to dry for about 24 hours before potting them up. Always use clean pots and sterile potting soils. Place the cuttings upright in the potting mix. Keep the container in a shady spot until the cuttings develop good roots.

In my experience, the Christmas cactus blooms reliably each year. This may be because mine are kept outdoors on a shady porch throughout the growing season until the first threat of frost. So, they become attuned to the changing day length as fall approaches. This lets them know winter is coming. As a result, they start to form flower buds.

If your plants are kept indoors under artificial lights, this may be a different story. If you have had trouble inducing flower buds, try putting the pot in an unused room where the lights won't be turned on after dark. This allows the plant to adjust to a short day length. What if you don't have a dark room where your Christmas cactus can spend the long evenings? A closet will do fine. However, you'll need to repeat this process every evening.

If possible, protect the plant from abrupt change in room temperatures. This can cause the flower buds to drop.

When they're grown indoors, Christmas cactus likes to be in a bright spot where they're protected from direct sun. Since they are used to growing on trees that provide them with shade, they can't take pure sunlight for very long during the day. During the growing season from spring through the fall mine spend their time on the shady front porch. I have known some gardeners that hung the hanging baskets in trees for the summer months. That seems to work just fine too.

I have never seen any insect or disease problems on my Christmas cactus.

The Christmas cactus is related to the Thanksgiving cactus and the Easter cactus, all of which are named for the times that they bloom.

In addition, there are now hybrids between the Christmas cactus and some of its relatives. Typically, these hybrids will bloom around Christmas. They tend to come in a wider range of colors than the species plant.


This site needs an editor - click to learn more!


Related Articles
Editor's Picks Articles
Top Ten Articles
Previous Features
Site Map





Content copyright © 2023 by Connie Krochmal . All rights reserved.
This content was written by Connie Krochmal . If you wish to use this content in any manner, you need written permission. Contact BellaOnline Administration for details.