The Chase is on and Getting NASTY!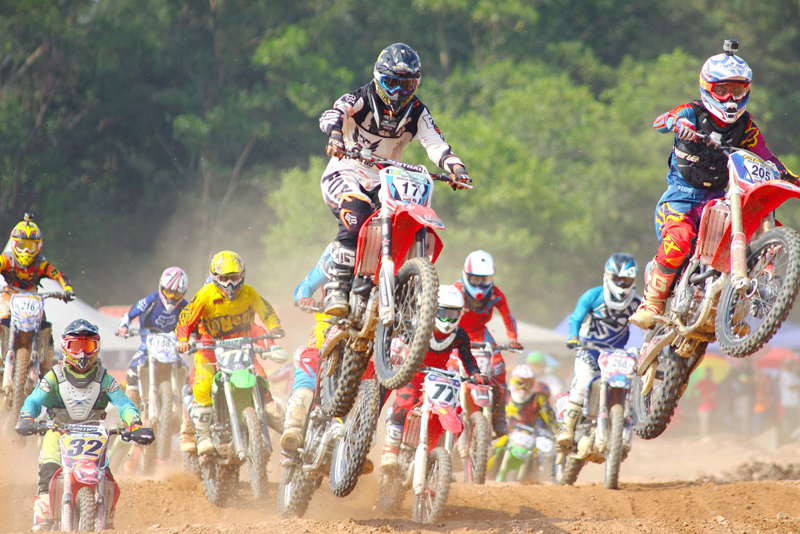 The Chase is on and getting NASTY!

Winning a NASCAR Championship is like a mathematical equation. Motivation and momentum plus teamwork and a little luck equals a Championship. Now you would think that all ten of the Chase drivers would have motivation. It's a Championship! Who wouldn't be motivated? But, when a driver is already facing a huge deficit, that motivation might be hard to come by.

Right now, the most motivated driver would be Kevin Harvick. It doesn't look like anything is going to cool his team down anytime soon. Harvick was the favorite going into the Sylvania 300 from Louden, New Hampshire this week, and he didn't fail to produce. He started in the front on the pole, led nearly 2/3 of the race and held off Tony Stewart and Jeff Gordon at the end. He now leads the Chase, 35 points in front of rookie Denny Hamlin.

Getting off to a horrible start in the Chase were drivers Jimmie Johnson and Kyle Busch, who both made more impressions on their cars than they did in their points chase. Both had horrible finishes, and now face a huge deficit to get back into contention for the Chase.

Until the Chase format is changed, all of the drivers must accept how it is. They do not have a special points format just for the Chase drivers, so if they finish last, they get last place points, not tenth place points. But there are 33 drivers on that track that aren't in the Chase, and they shouldn't be expected to just pull over and let the Chase drivers by - even if it's their teammate. Jeff Gordon doesn't seem to understand that his teammate Brian Vickers would like to win a race, even though he isn't in the Chase. Maybe that's why Vickers isn't going to be on the Hendrick's team next year.

Stewart, who remembers firsthand how quickly things can change in the Chase, is an advocate for a separate points system. "There should be a second points format, in my opinion," Stewart said. "That's the frustrating part. It's just like me getting between Kevin and Jeff. Jeff was the second Chase guy and he should get second points. "You're racing guys all year and you work with each other and you're friends with a lot of these guys and you know you're out there costing them points. The 33 guys that didn't make the Chase shouldn't have to feel that way if they have a good day and are able to pass guys." The non-Chase drivers should not be made to feel that their finishing positions are less important, nor should they even think about the fact that they are costing points to a Chase driver.

Only mere hours following the race, I was contacted about the post race inspections and something akin to cheating that had been discovered and announced. According to the report announced by Bob Dillner on the Speed Channel, the tires of both Harvick and Jeff Burton were found to have been manipulated in a way that would release pressure. Also in the report was that nothing was going to be done about this but that they were asked to not do it again.

Come Monday however, NASCAR denied any of this ever happening, as did the teams that were being accused of manipulating the rules. So, how or why did this happen? Dillner, a respected reporter, told a story with intricate detail that was reported to be totally unfounded. He had to have gotten this information somewhere, but where did it come from? Rumor is that a rival team gave him this information to possibly make the RCR teams of Harvick and Burton to lose their momentum. Whatever the reason or wherever it came from, it has had the opposite effect. These teams are now not only focused, they are livid that anyone would try to put a black cloud over their race program.

The normally even tempered Burton is furious. "It's made us mad. It's made us very mad. We've done nothing wrong. We have no trick that's made us run well", Burton said. "We've worked hard. We've worked smart. And someone in the media who chose to use unreliable sources has tainted that."

Harvick isn't going to let something like this distract him. "I absolutely think it was a plant from another team," Harvick told MRN Radio. "NASCAR didn't say anything, so it's pretty obvious to me where it came from. It's an attempt to try and distract us from what we're doing, but they're going to have to do a lot better than that."

As closely as NASCAR inspects the cars, this would have been something that would have been nearly impossible to pull off, especially since the tires are brought to the track by Goodyear and aren't really in the control of the raceteam. NASCAR spokesman Jim Hunter had his take on the situation, "Any team who believes or says that those two teams did anything wrong is giving an excuse for losing," he said. "It's sour grapes, that's all. Nobody gets beat anymore, it seems. They all lost because somebody else cheated."

This week we are heading for Dover for the Dover 400. Expect an exciting race with a lot of action. As we get closer to the end of the season, your e-mails get more expressive. Keep letting me know what you think!

Til next week....

This site needs an editor - click to learn more!


Related Articles
Editor's Picks Articles
Top Ten Articles
Previous Features
Site Map





Content copyright © 2022 by De Powell. All rights reserved.
This content was written by De Powell. If you wish to use this content in any manner, you need written permission. Contact BellaOnline Administration for details.