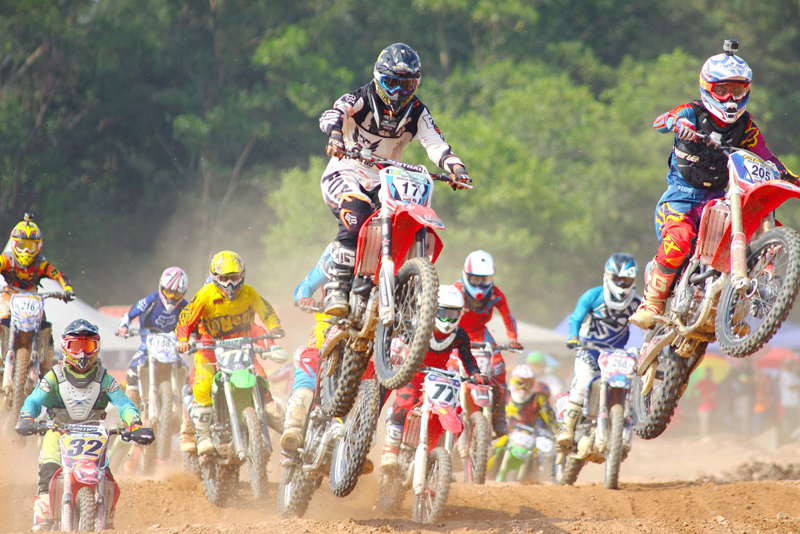 Good to the last drop! Taking a risky gamble on not getting fuel, Tony Stewart inherited the lead from what looked to be the sure winner Jimmie Johnson on lap 263, and quickly left the rest of the pack behind at the Banquet 400 from Kansas. As he neared the start/finish line on the final lap, he had to wonder whether it was a gamble that would pay off, as he ran out of fuel with the checkered flag in sight. He coasted to the start/finish line, still unsure as to whether or not his 17 second lead was enough to win. We didn't know either for a few seconds if he had won, as the coverage stayed on Stewart's car and not on Casey Mears, who could have snatched the victory out of Stewart's hands. In fact, Stewart himself had to ask his team on the radio where he finished. Stewart continued coasting around until teammate Denny Hamlin came along and pushed him to Victory Lane. "I got to see the checkered flag for a really long time for once," Stewart said. It was rather amusing to watch Stewart's crew chief Greg Zipadelli wildly searching the track through his binoculars for Stewart.

For the second week in a row, fuel mileage was a very major factor, in fact that is what cost Johnson the win. Forced to come in for fuel with only 2 laps to go, Johnson was penalized for speeding on Pit Road. One big question on the minds of many was when or even if Johnson ever served his penalty. The fact that he finished in 14th place and still on the lead lap made some wonder. As it turns out, he did serve it, but it wasn't until the last lap. By waiting until then, he was able to exit Pit Road and cross the start/finish line without ever going a lap down. Even though finishing 14th was clearly not where Johnson's team had thought they would finish after leading the majority of the race, he didn't finish as poorly as he would have if he would have served his penalty immediately, which would have certainly put him a lap down. I suppose serving a penalty on the last lap is yet another one of those grey areas that seem to abound in NASCAR. My only question is, would the same concessions be made to any other driver, or would they be made to serve the penalty immediately?

Mediocre finishes aren't going to allow any Chase driver to gain anything on points leader Jeff Burton. Burton is the only Chase driver to finish top 10 and lead a lap in all three Chase races. Burton's 5th place finish was not only enough to keep him on top of the standings, but also to gain on all of the Chase drivers except Mark Martin, whose 3rd place finish moved him up 3 points in the standings, the biggest gain of any other Chase driver. Taking the hardest hit this week was Jeff Gordon, who dropped 4 places in the standings to 6th place, after a fuel pump failure took him out late in the race.

With three entrants in the Chase, the odds of a Hendricks driver winning the Cup were greater than any other team. However, just three races in, all three of the Hendricks drivers find themselves in the bottom five. With as many changes in the points standings amongst the Chase drivers after just three races, it's anybody's guess as to where this will all play out.

So why is the Chase format still considered to be a failure in the eyes of so many? Perhaps a large part is because there are 43 drivers on the track, not just 10. Yet, the commentators tend to treat these other drivers as if they are mere obstacles in the way of the Big 10. When Stewart's team made that bold move to not get fuel, one commentator mentioned that Stewart had nothing to lose by staying out. Wrong! Stewart had a win to lose. Since when isn't winning important? I'll bet his sponsors and his team were thrilled with his win, even though he isn't in the Chase. There were many other non-Chase drivers that have had great finishes in these last few races, but unless you are watching the leader board, you wouldn't ever know it. Yes, the majority of the attention should be focused on the Chase drivers, but let's at least acknowledge the other drivers when they have a good day. They shouldn't only be mentioned during the starting lineup or if they crash.

This week we are heading to Talladega for the UAW-Ford 500, and if there is any race in the Chase that can totally shake things up, it's this one. One of the restrictor plate tracks, Talladega is one where drivers can get caught up in a huge pileup in the blink of an eye. In fact, it's nearly inevitable. Since the non-Chase drivers supposedly have nothing to lose, and the Chase drivers are tip-toeing around on proverbial eggshells just trying to get a good finish, anything can and probably will happen. We are very likely to see some tempers flare if one of the Chasers gets caught up in someone else's mess. It should be an interesting and exciting race to say the least.

Thanks for all of your e-mails this week! Many of you were commenting on the lack of interest in the non-Chase drivers and many of you were writing about how mixed up the Chase gets with every passing race. Keep letting me know how you feel!

Til next week....
This site needs an editor - click to learn more!


Related Articles
Editor's Picks Articles
Top Ten Articles
Previous Features
Site Map





Content copyright © 2019 by De Powell. All rights reserved.
This content was written by De Powell. If you wish to use this content in any manner, you need written permission. Contact BellaOnline Administration for details.