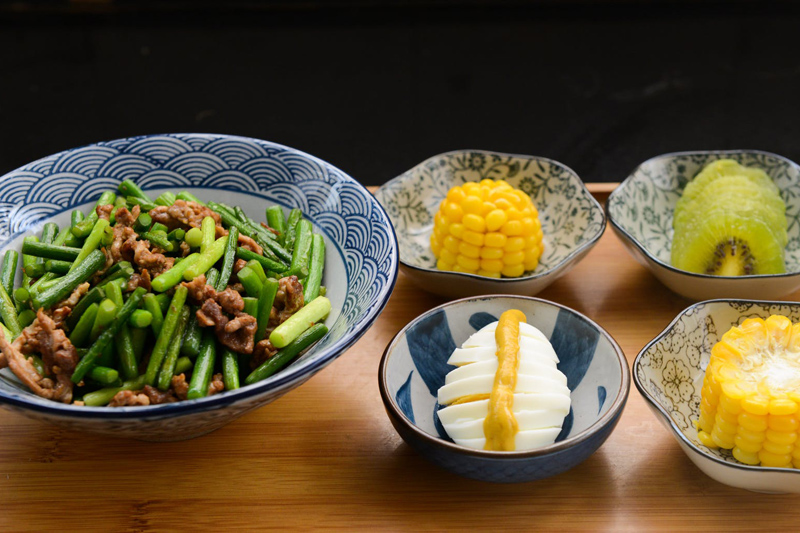 Tofu is one of the most versatile ingredients in Chinese cooking. It's almost like a chameleon. It has no flavor of it's own and it can be found in a variety of different textures. Therefore, it can be used in almost any dish! Here you will learn what tofu is, the different types and where to find them, and how to use it in Chinese cooking.
What exactly is Tofu?
Tofu is actually called doufu in China where it was invented over thousands of year ago. The name tofu actually came about from the Japanese after they had adopted it into their culture. There are many different legends as to how tofu was invented. The main theme however is that someone accidentally stumbled upon the process of curdling soy milk. This process is similar to that of producing cheese:
Soybeans are boiled and mashed and then strained. The liquid is known as soymilk.


The soymilk is then boiled and a coagulant is added to make the milk curdle and form lumps.


These lumps are then strained and pressed together to form tofu.
What types of tofu are there and where can I find them?
Tofu can be divided under three different categories, brand, type, and texture. There are tons of different brands of tofu on the market today. These brands however can be broken down into two types, either silken or regular.
Silken -Silken tofu is the Japanese type of tofu. It has a silky texture and falls apart more easily than regular tofu. Silken is good for cooking desserts, puddings, and some soups. It is usually sold un refrigerated in a box at your local grocery store either in the vegetarian or Asian food section. I have seen it in the refrigerated section as well.


Regular -Regular tofu is the Chinese style and has a rougher texture. This type is great for stir frying as well as replacing meat in some recipes. This tofu is sold in the refrigerated section usually near the produce area at your local grocer. It is packed in a plastic container with water.
Both types of tofu offer the following three textures:
Soft -Soft tofu is used in soups and desserts.


Firm -Firm tofu is used in many Chinese sauce dishes, deep frying, and stir fries.


Extra Firm -Extra firm is great for stir frying, grilling or baking.
The firmer the tofu, the less it will fall apart while cooking and the faster it is to marinate.
Now that I've bought it, what do I do with it?
Tofu is so easy to cook with! First, you want to marinate it to give it some flavor. Second, it can be cooked in almost any way imaginable!
Marinating tofu:
There are so many Chinese sauces to marinate your tofu in. Some of the most common are soy, oyster, and teriyaki sauce. Drain the tofu. Place the tofu and marinade in a tightly sealed container in the refrigerator. The time it takes to marinate depends on 3 things. The texture of the tofu, if you cut it prior to marinating, and the thickness of the sauce you are using. Remember tofu is like a sponge. If you use extra firm tofu and cut it into small pieces before marinating, and your marinade is very thin like soy sauce, then it should only take about 15 to 20 minutes to absorb enough flavor. After it marinates, simply drain it and cook.
Following are common Chinese cooking methods:
Stir Frying -Add a little oil to a wok or pan and stir fry tofu over high heat until brown. The tofu is then usually combined with vegetables and sauce and served with rice.


Deep frying -Heat oil to about 350 degrees then gently place in tofu and cook until brown. Deep frying tofu is used for appetizers and desserts known as Chinese "doughnuts."


Boiling -Bring water to boil. Cut tofu into desired pieces and place in boiling water for about 5 minutes. Boiled tofu is usually added to dishes with vegetables and a heavy sauce.


Baking - Make sure you use extra firm tofu and drain it well after marinating. Then bake at about 375 for 20 to 30 minutes. Baked tofu can be mixed with vegetables or eaten plain. I just snacking on baked tofu that has been marinated in teriyaki sauce!
Again, tofu is one of the most versatile ingredients in Chinese cooking. It is easy to cook and flavor the way you want. So please try it--experiment--and most importantly ENJOY!


Related Articles
Editor's Picks Articles
Top Ten Articles
Previous Features
Site Map





Content copyright © 2023 by Lila Voo. All rights reserved.
This content was written by Lila Voo. If you wish to use this content in any manner, you need written permission. Contact Lila Voo for details.